Encouraging Diversity in Robotics
The robotics industry is ever-changing. Engineers are always looking for new ways to create helpful tools and machinery, but those employees are often primarily men. Here are the benefits of encouraging diversity in robotics and how recruiting teams can improve their company's diversity this year.
1. Understand Where the Industry Stands
Some people look around the workplace and assume diversity isn't an issue because a few women are already on their team. The problem becomes more evident when recruiters look at the latest statistics.
The number of female engineers is often under 20% at some of the largest U.S. companies. This number is likely lower in startups. Understanding where the industry currently stands will become the motivation companies need to focus on solving this problem.
2. Advertise Directly to Women
Recruiters should begin analyzing where they're advertising jobs and who's seeing those posts. Are the jobs listed on male-dominated recruiting sites? Focusing more directly on women will help even the applicant field. Social media marketing campaigns could hone in on hashtags and trends popular with women. Companies could also post jobs on female-focused recruiting sites to directly reach applicants.
3. Emphasize the Career Potential
Women who want to have kids and potentially work from home often think that their career options are limited. They may avoid a STEM job because they believe it will be too demanding to take maternity leave, pause their employment or transition to a remote position.
The robotics industry has numerous potential avenues for women in STEM who also dream of raising children. After five years in the industry, robotics engineers can delegate robotics development by becoming managers at manufacturing firms or starting their own companies. Advertising this in job posts, hiring fairs and company websites will make this information more widely known and encourage additional female applicants.
4. Make the Workplace More Appealing
Women don't want to work in a room full of men. They may feel ostracized or left out based on being different. Company leaders must make the workplace more appealing by encouraging diversity in robotics offices. Hiring more women will automatically make any space more welcoming, as well as efforts like:
Enforcing anti-discrimination policies
Providing comprehensive health packages, including preventive female medical care
Offering substantial paid maternity-leave packages
In return, companies that hire more women will retain more productive teams in terms of the market value of their products and revenue. Every second and penny invested into hiring more diverse employees will return to any business, especially in the robotics field.
5. Facilitate More Diverse Innovation
Hiring more women brings new perspectives to the workplace. They may write engineering code for robotics that no one would have thought about before. In return, their work will connect with new consumers who retain brand loyalty based on the innovative products serving their daily needs.
Research shows that diverse teams boost their quarterly innovation as well, likely because every person feels valued for their unique perspective. Companies stand to benefit from the creativity that comes from women bouncing ideas off each other in brainstorming sessions and workday meetings.
6. Reach Out to Universities
Businesses frequently partner with universities to set up tables at job fairs and streamline internships. Robotics companies must do the same thing, but with a focus on working with female students.
Although only 21% of engineering majors are women, that number grows every year. Female college students who see companies seeking graduates with their academic interests will be more likely to enroll in STEM classes and dream of a future in robotics.
Promote Diversity in Robotics
There are many reasons why encouraging diversity in robotics is a good idea for companies and the women they hire. Everyone stands to benefit from the increased innovation, productivity and inclusive environment. Consider these factors when deciding how to proceed with recruiting campaigns to replicate them in the workplace this year.
Comments (0)
This post does not have any comments. Be the first to leave a comment below.
---
Post A Comment
You must be logged in before you can post a comment. Login now.
Featured Product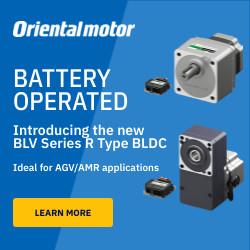 The BLV Series R Type brushless DC motor (BLDC motor) speed control system offers the design of motor and driver significantly reduced in size and weight, yet high-power, and contributes to the battery driven automation. The BLV Series R Type is compatible with the two interfaces of Modbus (RTU) and CANopen communication.