ABB unveils smallest industrial robot with class-leading payload and accuracy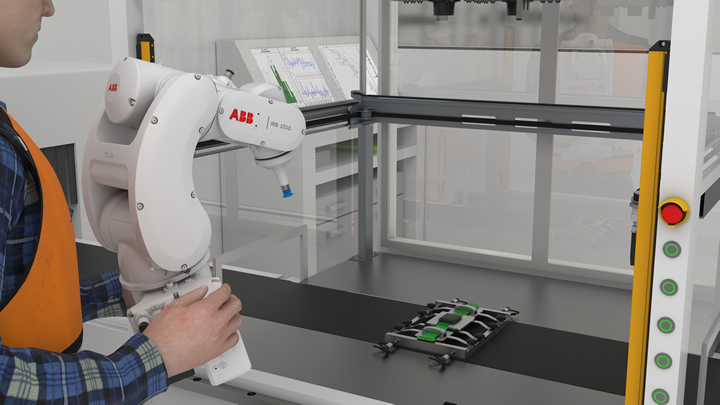 ABB has launched its smallest ever industrial robot, offering new possibilities for faster, more flexible and high-quality production of wearable smart devices. With its compact size, class-leading payload and unrivaled accuracy, the new IRB 1010 offers electronics manufacturers the opportunity to increase their production of devices including smart watches, earphones, sensors, and health trackers through automation.
"The market for wearable smart devices is accelerating rapidly, with projections estimating double digit growth between 2022 and 2028," said Rui Liang, Managing Director of ABB Robotics' electronics business line. "To meet this growth, companies are demanding compact robotic solutions that are suited to narrow production spaces in electronics manufacturing lines and that can accurately handle the small components used in wearable devices. As the most accurate robot in its class for 1.5kg payloads, our IRB 1010 meets these demands, enabling companies to maximize output and productivity while maintaining the highest levels of product quality."
The IRB 1010 is designed to suit the narrow spaces and special purpose machines typical of electronics production environments. With a reach of 370mm and a footprint of 135mm by 250mm, the IRB 1010 is 30 percent smaller than ABB's current smallest robot, the IRB 120. These compact dimensions increase the number of cells that can be fit into production spaces, enabling manufacturers to boost output through higher density factory layouts.
Capable of handling loads up to 1.5kg, the IRB 1010 has the highest payload in its class, with the ability to lift up to three times more weight than comparable robots. This increased payload capacity – coupled with a larger diameter air hose that provides added power for vacuum suction – enables simultaneous handling of multiple objects, allowing more objects to be processed per hour. It also opens opportunities for new applications including film peeling, material handling, assembly, gluing and inspection.
Productivity is further enhanced by the inclusion of six braking systems, which allow the robot arm to remain in its position even when stopped. By eliminating the time needed for the robot to recover its position after a stop or pause, production can be resumed more quickly, enabling the IRB 1010 to do more in less time than other robots in its class.
Key to the IRB 1010's high accuracy is ABB's OmniCore™ E10 controller, which offers class-leading position and path repeatability of 0.01mm. With its slimline design, the controller is well suited to small part assembly in applications where production cell sizes need to be minimized. The controller offers the flexibility to meet changing requirements, with built-in digital connectivity and over 1000 additional functions enabling easy scalability.
Consuming up to 20 percent less energy compared to ABB's previous IRC5C controllers, the OmniCore E10 also enables manufacturers to cut their energy costs and improve energy efficiency.
Robot Control Mate makes programming simple
Programming the IRB 1010 is made simple with ABB's Robot Control Mate. Available as an add-in to ABB's RobotStudio® programming software, Robot Control Mate enables users to move, teach and calibrate the IRB 1010 from their computer or mobile tablets without the need for programming skills.
This simple programming, together with the small size of the IRB 1010, also opens new possibilities for educational applications. The IRB 1010's compact design makes it suitable for installation on classroom desktops, while its ease-of-use enables both teachers and students to quickly master the skills needed for programming and operation.
The addition of the IRB 1010 complements ABB's comprehensive range of articulated industrial robots, with includes a full range of small, medium, and large options, including a growing family of collaborative robots that can be safely deployed alongside workers.
For more information, visit www.abb.com/robotics.
ABB Robotics & Discrete Automation is a pioneer in robotics, machine automation and digital services, providing innovative solutions for a diverse range of industries, from automotive to electronics to logistics. As one of the world's leading robotics and machine automation suppliers, we have shipped more than 500,000 robot solutions. We help our customers of all sizes to increase productivity, flexibility and simplicity and to improve output quality. We support their transition towards the connected and collaborative factory of the future. ABB Robotics & Discrete Automation employs more than 11,000 people at over 100 locations in more than 53 countries. go.abb/robotics
Comments (0)
This post does not have any comments. Be the first to leave a comment below.
---
Post A Comment
You must be logged in before you can post a comment. Login now.
Featured Product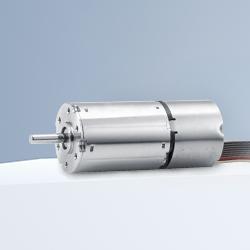 The FAULHABER Linear Actuator L series are designed to provide high performances in compact dimensions, these actuators can support large input speed, high output force and are suited for a wide range of applications like robotics, industrial machines and laboratory equipment.