Flexiv's Rizon Robot Used in Avant-Garde Art Installation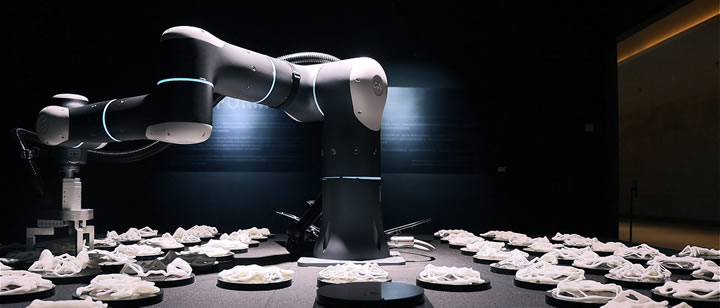 Flexiv, a world leader in general-purpose robotics solutions, is proud to report that it has collaborated with internationally renowned artist Stavros Didakis in the creation of his latest art installation, Xenoforms.
As an academic, researcher, and artist, Professor Stavros's work focuses primarily on technological futures with a particular emphasis on architectural augmentation, sensorial interfaces and technological frameworks as extensions of human environments.
His latest piece features a Flexiv Rizon 10 adaptive robot which randomly selects a 3D printed model, places it on a pedestal, and then replaces it in its original position.
With seven degrees of freedom and unmatched force sensitivity, the Rizon 10 provided Stavros with complete artistic freedom. Able to replicate the same range of motion as a human arm, he was able to create:
"A speculative scenario that demonstrates how an autonomous A.I. system follows its own strategies for colonizing the architectural space and as an extension to become a human symbiont."
With absolute precision and no oversight, Stavros's Rizon 10 has been in almost constant operation since the installation was commissioned on November 15th.
"We never thought of our robots as serving a creative means of expression," said Cewu Lu, Flexiv's Chief AI Scientist. "We normally see them in industrial settings, usually aiding the manufacturing process by screw fastening, component installation, or material removal. So, it's amazing how Stavros has used a Rizon 10 to create a true work of art."
Able to be re-tasked in minutes via the Elements drag-and-drop programming app, the robotic part of the installation was completed in under a day.
Stavros Didakis, Associate Arts Professor of IMA at NYU Shanghai, said: "I have full control over the robot, and it was a great experience working with the Flexiv team. Their engineers helped me optimize various algorithms to make the robot's movement as natural as possible. The Rizon 10 was the best fit for me in relation to its design, size, and features. In addition, because it has seven degrees of freedom, it is much more capable of handling the complexities of this project."
For more information about Flexiv's Rizon range of robots, please visit www.flexiv.com.
To learn more about Stavros Didakis, please visit https://soniconlab.com.
Comments (0)
This post does not have any comments. Be the first to leave a comment below.
---
Post A Comment
You must be logged in before you can post a comment. Login now.
Featured Product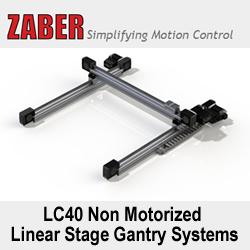 A Zaber gantry kit comes with everything you need to build a customized XY gantry system or XYZ gantry system. These gantry systems feature coordinated multi-axis motion, plug-and-play operation, easy integration with end-effector options, and built-in IO and E-Stop capabilities. An intuitive ASCII interface allows the user to easily communicate with the gantry systems using our free software, either Zaber Motion Library with APIs for several popular languages or Zaber Console. Third party terminal programs that can communicate over a serial port can also be used.