Automatic box palletizing in the food industry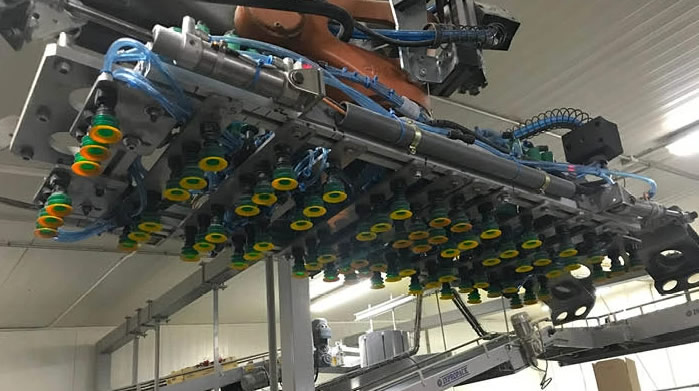 In recent years, the bakery market has made innovation an indispensable attribute for success. The most relevant trend change has been a decline in traditional white bread formats, giving way to a greater diversity of smaller sized options and different presentations. To adapt to this trend, Tradicional Panadera relies on Piab's expertise in vacuum technology applied to its production line to be able to handle different types of box formats quickly, easily and safely.
The vacuum gripping system used by Tradipan consists of BX double hardness Duraflex® suction cups and ejectors with COAX® technology, both from Piab. The gripper is implemented on an anthropomorphic robot located at the end of the bread and pastries production line to carry out the final palletization of the packaged bread, ready to be sent to the dispatch stage. Piab's COAX® vacuum generation technology minimizes energy consumption while offering safe and fast gripping due to its high initial flow rate.
The suction cups previously installed in the automatic palletizing system were oval in shape and had two characteristics that hindered correct operation. On the one hand, they had a single compensation bellows and, on the other, the lip did not have sufficient contact surface with the box. The configuration of the gripper itself and the need to handle new and different box formats did not allow to reach the required performance of the robotic cell, leading to regularly incurring production downtime or manual operation for certain presentations.
One of the requirements to be highlighted is that the process is characterized by having to handle cartons of different formats, including open cartons. "This was one of the biggest challenges of the application. We had to configure a gripper that, in addition to handling closed cartons, could also handle open cartons, with only two contact strips, each 45 millimeters thick," explains Pablo Castro, team leader of Piab's Vacuum Automation Division in Spain.
Cardboard is a material with variable characteristics that is often responsible for slightly different positioning than specified and can therefore lead to failures in this type of automated palletizing systems. Thanks to Piab's BX35P suction cups and piSAVE® sense technology, the palletizing of different types of cartons is now carried out with maximum safety and efficiency. The piSAVE® sense check valve makes it possible to take advantage of the simplicity and economy of a central vacuum system, even if one of the suction cups does not seal effectively against the surface of the carton. The automatic shut-off of the piSAVE® sense system when there is a flow rate makes the system highly flexible and efficient.
"We were looking for a simple and reliable solution that would minimize production downtime due to inaccurate carton positioning," explains Fernando Martín, head of engineering and maintenance at Tradicional Panadera. "After several meetings and tests with Piab's team of specialists, they offered us exactly what we needed," he adds.
The correct selection of the suction cup or gripping system is essential to ensure successful handling. The BX suction cups used in this application are made of Duraflex®, a material developed by Piab that combines the elasticity of rubber and the wear resistance of polyurethane. "The BX suction cups have exceptional performance and durability, significantly outperforming other previously used alternatives," says Fernando Martin.
The gripper has a dimension of 1200x400 mm [47x15 in], with the capacity to handle five different types of boxes. The same gripper can handle various combinations of weights and boxes (open or partially closed) with a cycle time of four boxes per minute ranging from two boxes to six boxes and weights between 11kg and 34 kg. [24 and 75 lb]
Tradicional Panadera has a maintenance department with an special division for developing improvement projects. Its manager, Fernando Martín, points out that "direct communication with Piab's specialists allows us to have the speed and flexibility we need for the loan of test components, facilitating and speeding up the completion of our projects".
Want to know more? Contact us!
About Tradipan
Since its beginnings in 1900, Tradipan has evolved uninterruptedly, investing in the automation of production and the introduction of the latest innovations in the production of both sliced bread and pastries. It has been part of the MIA FOOD Group since 2021 and has consolidated its position as a brand recognised for its quality and customer service.
Comments (0)
This post does not have any comments. Be the first to leave a comment below.
---
Post A Comment
You must be logged in before you can post a comment. Login now.
Featured Product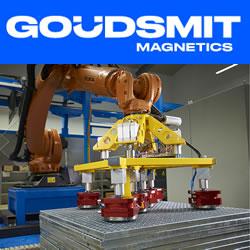 Magnetic robot end-of-arm tooling are suitable for the automated pick-up and positioning of steel or other ferromagnetic objects. They can be switched on and off and have a threaded mounting hole for robots. Magnetic grippers are an efficient alternative for traditional robot grippers. Application in automated production lines and for robots and pick-and-place systems. Magnetic product handling reduces the duration and number of operations. Goudsmit Magnetics is driven by magnetism since 1959. See how it works: https://youtu.be/hcXJ98mXHZE