North America Sees Record Robot Sales in 2022
ANN ARBOR, Michigan – February 10, 2023. Driven by the resurgence in robot orders from automotive companies, the North American robotics market set all-time records in both robots sold and value in 2022. According to a report from the Association for Advancing Automation (A3), North American companies ordered 44,196 robots valued at $2.38 billion last year, representing increases of 11% and 18%, respectively, over 2021, the previous record.
More than 50 percent of North American robot sales in 2022 came
from the automotive industry, which ordered 23,807
robots, up from 16,752 in 2021.
More than 50 percent of sales came from the automotive industry, which ordered 23,807 robots, up from 16,752 in 2021. While orders from non-automotive industries slowed from the previous three years, unique applications continued to emerge in such industries as food services, construction and agriculture, such as robots cooking and serving food, dry walling, and even harvesting and picking.
"Although labor shortage and supply chain issues impact nearly all industries in North America, automakers' public commitment to move to electric vehicles (EVs) has set in motion a resurgence of robot orders in this market," said Jeff Burnstein, president of A3. "Automotive OEMs and components suppliers alike recognize that investing in robots is instrumental to the emergence of EVs as well as to manufacturing all vehicles as they compete to meet customer demand."
Big orders in first nine months of 2022 compensate for slight drop in Q4
In the first nine months of 2022, North American companies purchased 35,804 robots, up 24% over the same period in 2021. While fourth-quarter orders slowed, with companies ordering only 8,392 robots, total numbers for the year from all industries resulted in the 11% record over 2021.
"While the numbers of robots sold to non-automotive companies isn't as staggering as it's been over the last couple of years, it's clear that companies in every industry see automation as necessary for success," Burnstein said. "We look forward to seeing more unique and increasingly easy-to-use robots that all industries can benefit from at Automate 2023 in Detroit this May."
Attend Automate 2023 in May to Learn About the Latest Trends, Best Practices in Automation
Find out more about the latest in cutting-edge robotics as well as vision, artificial intelligence, motion control and more, at Automate 2023, the leading automation showcase in North America. Registration for the four-day show, scheduled for May 22-25 in Detroit, is free.
About Association for Advancing Automation (A3)
The Association for Advancing Automation (A3) is the leading global advocate for the benefits of automating. A3 promotes automation technologies and ideas that transform the way business is done. Members of A3 represent over 1,160 automation manufacturers, component suppliers, system integrators, end users, academic institutions, research groups and consulting firms that drive automation forward worldwide.
A3 hosts a number of industry-leading events, including the International Robotics Safety Conference, the AI & Smart Automation Conference, Autonomous Mobile Robots & Logistics Week, The Vision Show, A3 TechCon, the A3 Business Forum and Automate (May 22-25, 2023, in Detroit).
Comments (0)
This post does not have any comments. Be the first to leave a comment below.
---
Post A Comment
You must be logged in before you can post a comment. Login now.
Featured Product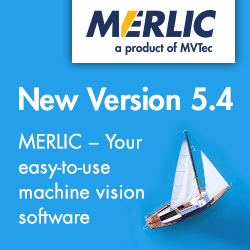 MVTec has launched the newest version 5.4 of its easy-to-use machine vision software MERLIC on Oct. 25. Its focus is on easier process integration. MVTec MERLIC 5.4 includes state-of-the-art machine vision technologies, plug-ins for direct communication with different PLCs and can be used to create complete machine vision applications. Try the new MERLIC 5.4 now!