BAE Systems, Inc. announced as Presenting Sponsor of the 2023 FIRST® Championship

BAE Systems has been announced as the Presenting Sponsor of the 2023 FIRST® Championship that will be held in Houston, Texas on April 19-22. Throughout the 2022-2023 season, teams were asked to reimagine the future of sustainable energy. The FIRST Championship will convene more than 35,000 students, coaches, and supporters from 43 countries for the world's largest celebration of science, technology, engineering, and mathematics (STEM).
"Our commitment to FIRST is essential to developing the talented STEM workforce we'll need to continue delivering on our mission, creating new and exciting technologies, and contributing to U.S. global competitiveness," said Tom Arseneault, president and CEO of BAE Systems, Inc. "The skills these young innovators and future leaders are cultivating as a part of the FIRST community are critical to ensuring we retain the technological edge our industry and our nation needs, for generations to come."
BAE Systems has proudly partnered with FIRST for more than 25 years to create opportunities for students from all backgrounds to pursue degrees and careers in STEM. The company currently sponsors more than 200 FIRST teams, including 120 FIRST® Robotics Competition teams in the U.S. Each year, employees dedicate countless hours for events and serve as mentors, coaches, volunteers, and more during the FIRST LEGO® League, FIRST® Tech Challenge, and FIRST Robotics Competition seasons.
In addition to BAE Systems' involvement in the 2023 FIRST championship, the company is committed to increasing access and equity to opportunities, mentorship, and engagement through FIRST.
Through collaborations with FIRST and Boys & Girls Club of America, the company is continuing to support robotics and coding programming in local clubs. BAE Systems' FIRST Robotics Scholarship Program also supports the development of students working towards a degree in STEM. The program grants a total of $40,000 in annual scholarships to eight students—broken into increments that span the course of four years—at a school of their choice.
For more information on FIRST Championship, please visit firstchampionship.org. Media interested in attending FIRST Championship should register at firstchampionship.org/media.
About BAE Systems, Inc.:
BAE Systems, Inc. and its 34,000 people are part of a global defense, aerospace, and security company with 89,600 employees worldwide. We deliver a full range of products and services for air, land, sea and space, as well as advanced electronics, intelligence, security, and IT solutions and support services. Inspired by the exceptional, our ambitious teams design, produce, and deliver to protect those who protect us in a high-performance, flexible, and collaborative culture.
About FIRST®:
FIRST® is a robotics community that prepares young people for the future through a suite of inclusive, team-based robotics programs for ages 4-18 (PreK-12) that can be facilitated in school or in structured after-school programs. Boosted by a global support system of volunteers, educators, and sponsors that include over 200 of the Fortune 500 companies, teams operate under a signature set of FIRST Core Values to conduct research, fundraise, design, build, and showcase their achievements during annual challenges. An international not-for-profit organization founded by accomplished inventor Dean Kamen in 1989, FIRST has a proven impact on STEM learning, interest, and skill-building well beyond high school. Participants and alumni of FIRST programs gain access to education and career discovery opportunities, connections to exclusive scholarships and employers, and a place in the FIRST community for life. Learn more at firstinspires.org.
Comments (0)
This post does not have any comments. Be the first to leave a comment below.
---
Post A Comment
You must be logged in before you can post a comment. Login now.
Featured Product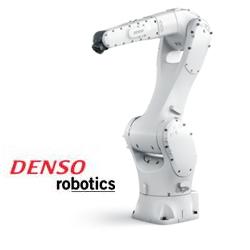 The new VMB series represent some of the newest members to our 6-axis family of robots. These high-performance, versatile units offer a longer arm reach and a higher load capacity than traditional models which make VMB an excellent solution for palletizing, packaging, and material handling. New features include greater air piping, valve and signal line options, as well as new programming options with state-of-the-art functions using our new WINCAPS Plus software. VMB offers an IP67 protection grade along with meeting ISO Class 5, which makes them suitable for electric parts, food manufacturing processes, and pharmaceutical and medical devices. With the addition of the new VMB large robots, all manufacturing processes can now be automated by DENSO Robotics.