Tompkins Industries Reaches New Heights with its Vertical Lift Automation System
From its start in J.L. Tompkins' garage in 1967, Tompkins Industries has become a significant manufacturer and distributor of hydraulic and pneumatic products and accessories. The company's mission has remained the same over the years: Provide reliable products at competitive prices while keeping customer service a primary goal. Today, the family-owned company has 14 store locations in the United States and one in Canada. Tompkins employs nearly 150 people, with the majority having over a decade of experience at the company.
Tompkins moved to a new facility two years ago, doubling its footprint due to the company's steady growth over the last 13 years. Unfortunately, the larger warehouse space slowed their order-picking process because of the extra footsteps required to complete orders. This new challenge and the difficulty of hiring labor to accommodate the company's continued growth led Tompkins to consider Modula's automated vertical lift (or "tower') to increase the number of lines picked daily at its headquarters in Olathe, Kan.
Tompkins' first step toward automation started back in the fall of 2015 when it implemented Latitude Warehouse Management System (WMS) by PathGuide Technologies to streamline manual picking and shipping processes. "Before Latitude, I spent hours each day stapling part cards to pick tickets before I could even give them to the warehouse for fulfillment," remarks Justin Kelly, Warehouse Operations Manager at Tompkins. "Not to mention, we would spend so much time just searching the warehouse for inventory."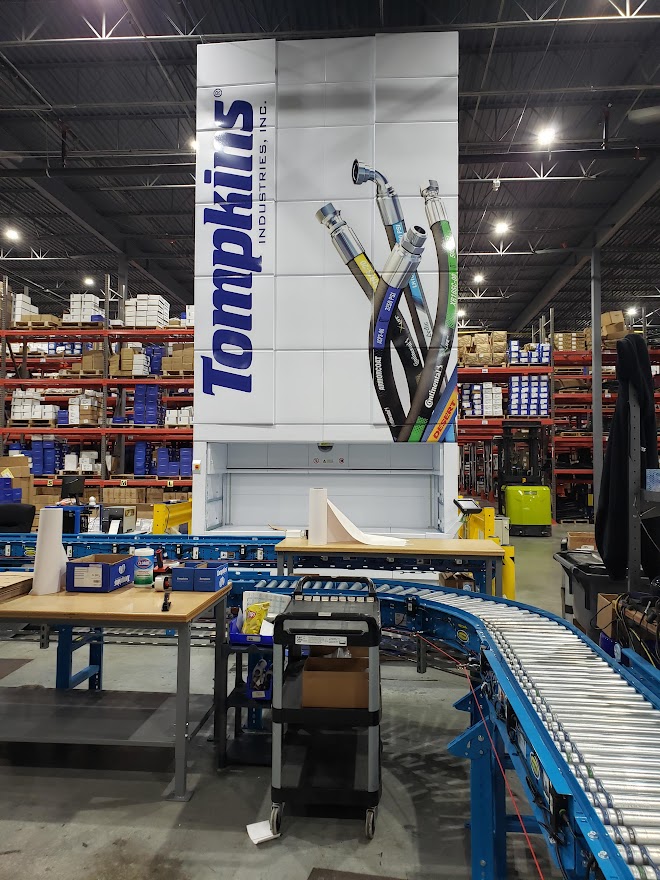 Seamless Integration Starts with Collaboration
The automated vertical lift project kicked off in January 2022 and relied heavily on technical assistance from the team at PathGuide to incorporate the automated vertical lift into Latitude. Lester Hooper, a Senior Software Engineer at PathGuide, elaborates, "The backend work consisted of setting up the communication layer between Latitude WMS and Modula."
Careful and close coordination was necessary between all three parties – Tompkins, PathGuide and Modula – to maximize the tower's capabilities and ensure proper functionality.
"Modula's vertical lift system supports dual tray picking, lightbar item and column identification, and a pick-to-light system," Hooper explains. "All of these features needed to be integrated into Latitude WMS. Fortunately, the Modula team was very accommodating and made themselves available for questions whenever required," notes Hooper.
It took the PathGuide team approximately two months to build and test the processes. "Justin played a critical role during development, as he was also able to provide useful, vital feedback during the testing phase," Hooper observes.
"It was quite simple to integrate the tower with Latitude WMS," Kelly points out. "Once Lester got everything set up on the IT side, it was just plug-and-play from there."
Prioritizing Top-Selling SKUs: Order Picking Takes Off
During the build-out, Hooper and the PathGuide team coded the system to include Tompkins' top 900 SKUs in the new tower, which amounts to approximately 60-70% of their order picks. "Consolidating all of that inventory into a 120-square-foot space for picking by just one person has immensely sped up order picking," Kelly acknowledges.
The beauty of the vertical lift system is that if top-selling SKUs change over time, swapping them out in the tower and Latitude WMS is a breeze.
"Tompkins can easily determine the trays with the highest velocity items and provide that SKU information to PathGuide," Hooper highlights. "We can then help Tompkins move items into those trays with the fastest-moving items resulting in lower picking times."
Knowing the item's location allows the PathGuide team to control the tower and request the bin for processing, which increases the value of the integration between Latitude and the tower over time. The WMS continues to manage the inventory, treating the vertical lift like any other bin location within the warehouse.
Reaching New Heights: Latitude Integration Unlocks Time Savings
From Kelly's perspective, ease of use makes the automated vertical lift's integration with Latitude WMS a no-brainer.
"Once we started implementing the system, I quickly realized how differently we would be able to operate," Kelly emphasizes. "With the tower integrated into Latitude, we can filter orders to a specific route. The employee operating the tower selects all the orders designated to be picked from the tower – and then they are off and running."
Latitude gives the team at Tompkins complete control of the vertical lift while also tracking item movement and inventory levels throughout the warehouse. "Without Latitude, we would need to track inventory in two separate applications, likely resulting in discrepancies that would ultimately translate to downtime for processing orders," Kelly indicates.
Fortunately, PathGuide had experience integrating carousel systems, which helped streamline the setup and configuration process. This also provided a time-savings advantage, as most of the challenges had already been identified, Hooper reports. Working closely with the PathGuide team, Tompkins completed the vertical lift project in early December 2022.
Productivity Gains with Ease: Efficiency and Accuracy Skyrocket
Before implementing the tower, Tompkins averaged approximately 20 lines picked per hour. Since using the tower, they now average 100 lines per hour, allowing one employee to do the work of five in the same amount of time. As a result, the Tompkins team has increased the number of lines picked each day from 80-100 previously to as many as 500-600 since installing the automated vertical lift.
"I thought running the tower would require one of our most technically savvy employees," Kelly reveals. "But once we started running it, we quickly realized it was so easy to operate. It's worked out really well, and we haven't had to cut any staff. In fact, I moved that initial employee operating the tower to an inventory control position."
What's more, the project has not only increased efficiency, but it's also led to more accurate picks. The automation and ease of use mean fewer shipping mistakes, resulting in a return rate well below one percent.
Just Getting Started: Exceeding Expectations and Achieving ROI
In addition to the time and cost savings, what Tompkins appreciates most about the tower is that it's so easy to use that any employee can be trained to use the system in just 10 minutes.
"Justin and I met for a one-on-one training on using the tower with Latitude, at which point he was able to quickly train his team on operating the vertical lift through the WMS," Hooper discloses. "Even if the tower operator is not here one day, I can talk any of our employees through the training on how to pick parts and operate the tower in just five minutes," Kelly adds.
As a result of this project, Tompkins expects to see a complete return on its investment from the purchase of the tower in just one year. The project has been so successful that the company has already purchased a second tower that will add another 1,400 SKUs, ensuring operations are even more productive.
"The project exceeded my expectations because the tower has dramatically sped up our picking," Kelly affirms. "We will be even more productive with a second tower and have one employee operate both simultaneously. I could never have imagined needing two of them, but after using the tower for just a few months, I can definitely see the benefit of adding the other."
Comments (0)
This post does not have any comments. Be the first to leave a comment below.
---
Post A Comment
You must be logged in before you can post a comment. Login now.
Featured Product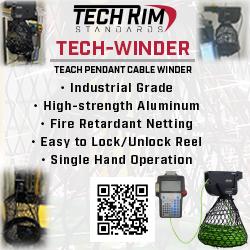 Tech-Winder is a robust solution for industrial cord management. Aluminum body, for hard impact protection. Flame retardant netting, for added protection against any sparks that may land on the cord. This industrial grade cord reel keeps your pendant cords protected and organized. Stores up to 50 meters (164 ft.) of cable in length with a diameter of 4.5 mm to 10.0 mm. Adapts to NAAMS or Modular Fencing when mounting. Help prevent your next $1,200 factory cable incident, by getting organized with Tech-Winder from Tech Rim Standards.