Dexterity AI and FedEx Unveil First-of-its-Kind Robotics Trailer Loading Technology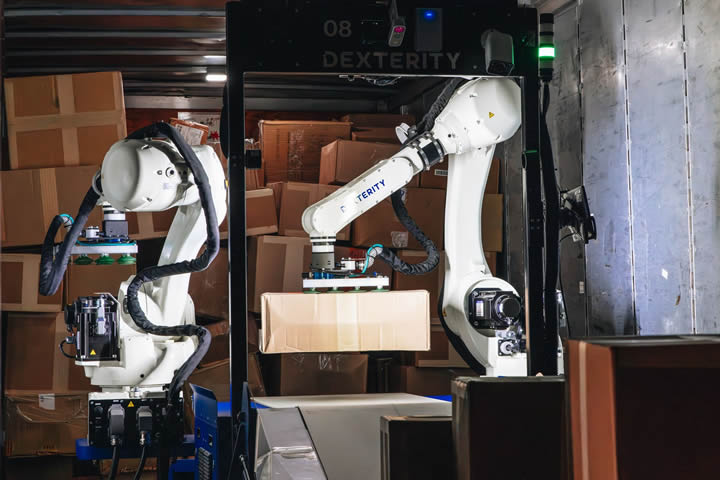 Dexterity AI today announced a collaboration with FedEx Corp. (NYSE: FDX), to leverage AI-powered robotic technology to load boxes into trucks and trailers.
Truck loading has long been considered one of the most challenging tasks in parcel hubs. Manual loading is taxing and previous technology approaches have not been able to handle the complex decision making required to stack the wide range of shipments encountered in FedEx network, which vary in size, shape, weight, and packaging material.
Dexterity AI focuses on the complexity of truck loading by giving mobile robots a suite of intelligence ranging from the ability to see, touch, think, and move quickly to pack trailers with stable, dense walls of randomized boxes.
"Our culture of innovation is driven by a desire to help our team members and customers succeed," said Rebecca Yeung, corporate vice president of Operations Science and Advanced Technologies for FedEx. "Based on feedback from our operations team, we have been looking for a solution that helps alleviate the challenges of truck loading. Collaborating with Dexterity AI to combine the latest in AI and robotics supports our operations team while meeting growing customer demand."
Introducing Next-Generation AI for Intelligent Truck Loading Robots
DexterityAI's proprietary mobile robot design, DexR, navigates autonomously to the back of trailers and connects to a powered conveyor system that feeds the robot boxes directly from the sortation system. The DexR's unique two arm design enables the robot to pick and pack boxes simultaneously, improving throughput.

Dexterity's AI platform uses a broad set of intelligence, so it can be used to handle the complexities of truck loading required by operations.
Some unique characteristics of the platform include:
● Generative Wall Planning: With every new box presented to the DexR, Dexterity's AI software takes 500 milliseconds or less to assess billions of wall build possibilities to pack trailers with tight, stable walls.
● A Sense of Touch: Dexterity AI-powered force control gives robots a unique sense of touch so they know how to gently nudge boxes together in creating tightly packed walls.
● Machine Learning-Based Pack Improvement: Machine learning helps ensure that with every box picked, the Dexterity AI truck loading software becomes even more efficient in handling a broader range of packing challenges.
● Integrated Motion Planning: By integrating its own trajectory and motion planning, the Dexterity AI platform helps the DexR's two arms move quickly inside trailers without colliding with each other or the truck walls.
Testing of the truck load technology is ongoing by FedEx with a goal to refine the technology and deploy commercially in the future.
"FedEx shares our belief that innovation should solve the most difficult tasks in operations," said Samir Menon, founder and CEO of Dexterity AI. "Our collaboration is driven by a vision of AI-powered robotics that is adaptable to our customer's most pressing needs."
The official unveiling of this innovative AI-powered robotics truck loading technology took place at the companies' joint event "Unlock the Dock" in San Francisco on September 26, 2023.
About Dexterity
Dexterity, Inc. is a Redwood City, California-based robotics company specializing in creating intelligent robots with human-like dexterity. By automating repetitive tasks, Dexterity's full-stack robotics solutions unlock the maximum value of the workforce, allowing employees to focus on higher-level, cognitive work. With applications in logistics, warehousing, and supply chain operations, Dexterity's robots excel in complex manipulations in unpredictable environments. To learn more, visit www.dexterity.ai.
About FedEx
FedEx Corp. (NYSE: FDX) provides customers and businesses worldwide with a broad portfolio of transportation, e-commerce and business services. With annual revenue of nearly $90 billion, the company offers integrated business solutions through operating companies competing collectively, operating collaboratively and innovating digitally as one FedEx. Consistently ranked among the world's most admired and trusted employers, FedEx inspires its more than 500,000 employees to remain focused on safety, the highest ethical and professional standards and the needs of their customers and communities. FedEx is committed to connecting people and possibilities around the world responsibly and resourcefully, with a goal to achieve carbon-neutral operations by 2040. To learn more, please visit fedex.com/about.
Comments (0)
This post does not have any comments. Be the first to leave a comment below.
---
Post A Comment
You must be logged in before you can post a comment. Login now.
Featured Product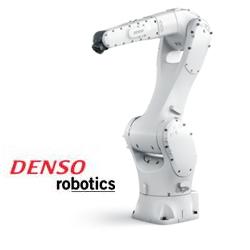 The new VMB series represent some of the newest members to our 6-axis family of robots. These high-performance, versatile units offer a longer arm reach and a higher load capacity than traditional models which make VMB an excellent solution for palletizing, packaging, and material handling. New features include greater air piping, valve and signal line options, as well as new programming options with state-of-the-art functions using our new WINCAPS Plus software. VMB offers an IP67 protection grade along with meeting ISO Class 5, which makes them suitable for electric parts, food manufacturing processes, and pharmaceutical and medical devices. With the addition of the new VMB large robots, all manufacturing processes can now be automated by DENSO Robotics.