ABB Robotics and Porsche Consulting collaborate to automate the construction industry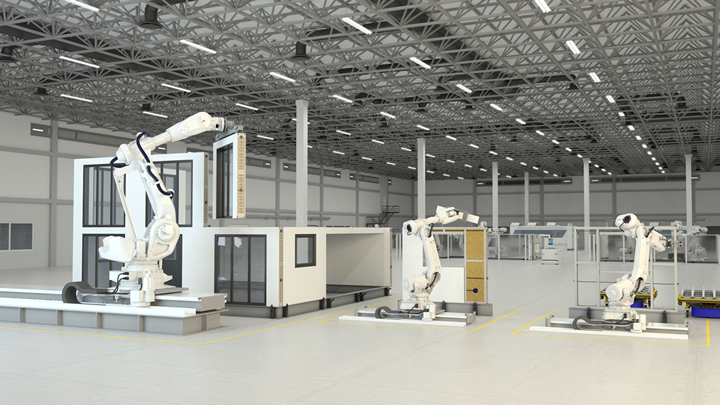 ABB Robotics and Porsche Consulting have announced their collaboration to drive automation in the construction industry with a pilot project to develop innovative new practices in modular housing manufacture. The collaboration will help to meet the need for more affordable and sustainable buildings and reduce the environmental impact of construction, amid widespread labor and skills shortages.
"The construction industry is facing numerous challenges. Highly automated factories for buildings can deliver higher quality and more affordable housing. In combining ABB's leading robotic solutions and Porsche Consulting's knowledge in planning and running state-of-the-art factories, we want to help transform this important industry" said Eberhard Weiblen, Chairman of the Executive Board, Porsche Consulting.
"We think there is a clear opportunity to transform this sector and the way homes are built by automating the process of manufacturing modular components," added Marc Segura, President of the ABB Robotics Division. "Greater, more intelligent automation is the answer to widespread labor shortages and this collaboration will boost productivity, allow greater customization and enable more sustainable and efficient construction practices."
Construction-related occupations typically dominate the list of labor shortages[1], a contributing factor to the shortage of housing in many countries. In the United States, labor shortages are contributing to a housing shortfall of nearly four million homes[2], while Germany is forecast to have housing supply shortages in 35 of its cities by 2030[3].
The traditional construction sector is struggling to meet the demand for new homes, while the environmental performance and efficiency of buildings needs to improve, along with the adoption of more sustainable construction methods. These include reducing the transportation of raw materials to construction sites and eliminating the corresponding costs and impact of removing unwanted materials and waste. This is estimated to account for up to 25 percent of the material transported to a building site[4].
Modular construction will yield efficiencies through the reduction in material wastage and the number of days lost to adverse weather conditions. Factories also provide a safer and more hospitable working environment, as construction workers account for around 30 percent of workplace injuries and are four times more likely to be involved in a fatal accident versus other sectors.[5]
Construction lags behind other industries in adoption of automation and robotics. In a global survey commissioned by ABB of 1,900 large and small construction businesses in Europe, the US and China, only 55 percent of construction companies say they use robots, compared with 84 percent in automotive and 79 percent in manufacturing. The survey also shows 81 percent of construction businesses plan to introduce or increase the use of robotics and automation in the next decade.[6]
"We understand the importance of sustainable housing and believe the transfer of technology and expertise to the construction sector will deliver the positive impact we have seen in other industries," added Porsche Consulting's Eberhard Weiblen.
"We will bring our blueprint to life and demonstrate how robotic modular construction can help support the changes our society is demanding. The joint approach will take modular construction to a new level in terms of quality, efficiency, design, and sustainability," concluded ABB's Marc Segura.
ABB Robotics & Discrete Automation, as one of the world's leading robotics and machine automation suppliers, is the only company with a comprehensive and integrated portfolio covering robots, Autonomous Mobile Robots and machine automation solutions, designed and orchestrated by our value-creating software. We help companies of all sizes and sectors - from automotive to electronics and logistics – become more resilient, flexible and efficient. ABB Robotics & Discrete Automation supports customers in the transition towards the connected and collaborative factory of the future. The business area employs approximately 11,000 people at over 100 locations in approximately 53 countries. go.abb/robotics
Porsche Consulting GmbH is one of Germany's leading management consultancies. It was founded in 1994, following the successful transformation of Porsche into one of the most profitable and admired sports- and luxury-car companies. Today, their experts support companies around the world as well as the Volkswagen Group in strategic transformation and performance management. The consultants work in various industries, including mobility, life sciences, industrial goods, financial services, energy, aerospace, construction, and consumer goods. They provide excellence in the fields of strategy and organization, operations, brand and sales, as well as development and technology from locations in Germany, Italy, France, China, Brazil, and the US. With heart and soul and a pioneering spirit. www.porsche-consulting.com
---
Comments (0)
This post does not have any comments. Be the first to leave a comment below.
---
Post A Comment
You must be logged in before you can post a comment. Login now.
Featured Product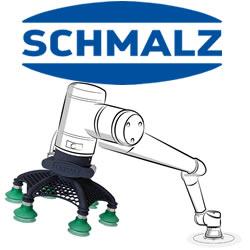 In order to interact with their environment and perform the tasks, lightweight robots, like all industrial robots, depend on tools - and in many cases these are vacuum grippers. These form the interface to the workpiece and are therefore a decisive part of the overall system. With their help, the robots can pick up, move, position, process, sort, stack and deposit a wide variety of goods and components. Vacuum gripping systems allow particularly gentle handling of workpieces, a compact and space-saving system design and gripping from above. Precisely because the object does not have to be gripped, the vacuum suction cupenables gapless positioning next to each other.