Delica Drives Efficiency with AGV Installation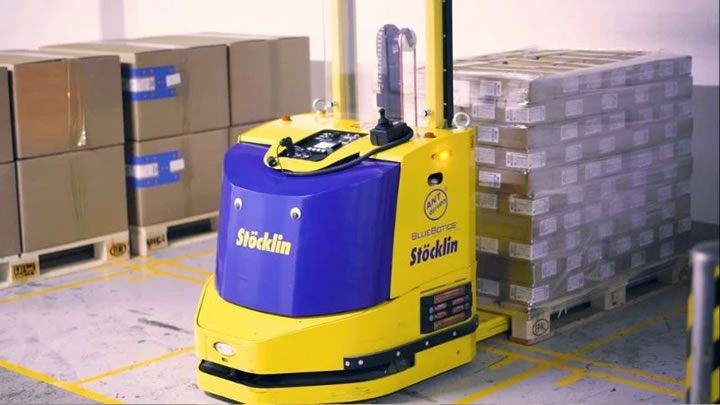 Delica AG, a developer, and producer of delicious top-quality chocolate, snacks, chewing gum, and coffee, faced the challenge of increasing its logistics capability to cope with demand. It introduced an automated guided vehicle (AGV) solution to improve its material handling capacity and free its workforce to focus on other production areas.
Delica has long material flows, with palettes taking around five minutes to get from production to the logistics storage facility. Tackling these manual operations took a great deal of labor, and although the production was running 24/7, the logistics department did not work during weekends, creating a large backlog of palettes on Monday morning.
"The task of moving the palettes is simple, but it was taking a lot of time," says David Baumann, Logistics Team Leader at Delica. "We felt it was a waste of our human resources and looked at the options available to automate the process."
Delica selected a Stöcklin AGV with BlueBotics' ANT navigation technology to automate their materials handling between production and logistics. The vehicle is small and accurate, meaning it can move between narrow aisles and use the elevator, a critical factor for Delica.
Baumann continues, "We worked out our requirements and compared various suppliers. We chose Stöcklin because it was one of the few suppliers that met our needs. We needed a small vehicle and one designed from the ground up as an AGV rather than being converted (from a manual vehicle). It is ideal for our application."
"The style of navigation was an important factor in our selection. We did not want to carry out major structural work and wanted an option that would allow us to expand with new material flows in the future. BlueBotics' ANT navigation technology gives us this, and it is incredibly easy to use and adapt to our changing needs," comments Baumann.
ANT is an advanced form of natural feature navigation that uses fixed features in the environment to allow a vehicle to identify where it is. While some other types of automated vehicle guidance necessitate adding lines or wires to a site, ANT does not require permanent changes to infrastructure and works with exceptional reliability and accuracy to +/- 1cm. The solution is easy to operate, low maintenance, and very cost-effective to modify.
Sensors have been added to Delica's production line. If the sensor is triggered, the AGV knows to collect and automatically transport the palette to the logistics warehouse.
"Everything is controlled with sensors. We know when a space is full, and the AGV will automatically carry out its mission to collect the right palettes. It saves an incredible amount of time and resources for our department," explains Baumann.
The Delica site introduced the driverless transport system in 2020. Implementation was hassle-free and did not need to stop production.
Baumann says, "The rollout was really smooth. We received the vehicle from Stöcklin, and we installed it ourselves. It took us just three weeks to implement the whole system and get it fully operational. It has been a great experience with the new system very well received by our workers."
"I would thoroughly recommend this technology for anyone with long material flows. It has not cost us a lot of money because of the low construction overheads, and the whole experience has been pleasant and easy for us. We are really reaping the benefits. The system operates 24/7, is safe and efficient, and frees our team to get on with other value-add tasks. What's more, when we come in on Monday morning, there is no accumulation of palettes that we need to shift!" concludes Baumann.
Nicola has been the CEO of BlueBotics since 2003 and joined its Board of Directors in 2015. He holds an M.Sc. in Computer Science from ETH Zurich and a Ph.D. in Robotics from the EPFL in Lausanne. He received the IEEE Early Career Award in Robotics and Automation in 2008 and has twice been included in Bilan's 300 Most Influential People in Switzerland. He also sits on the board of euRobotics AISBL.
Comments (0)
This post does not have any comments. Be the first to leave a comment below.
---
Post A Comment
You must be logged in before you can post a comment. Login now.
Featured Product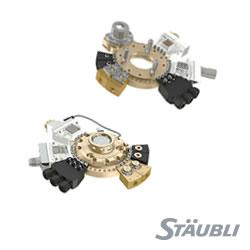 Stäubli is a pioneer in the construction and development of robotic tool changing systems. Our customers benefit from our many years of expertise in all industry sectors, as well as our modular product concept, which offers three efficient solution paths: MPS COMPLETE offers preconfigured robotic tool changers for immediate use. MPS MODULAR allows the user to determine the configuration, while MPS CUSTOMIZED allows the construction of special, application-specific systems.