Microscan Demonstrates Barcode Verification and Print Quality Inspection at PACK/PHARMA EXPO 2016
Pack Expo attendees will experience a comprehensive range of custom and standard model Texwrap shrink wrapping and Tekkra bundling solutions located in a combined booth exhibit. (Shrink Systems Booth Texwrap and Tekkra #S-3748)
The Fanuc LR Mate 200iD is a 6-axis articulated robot featuring fenceless technology which safely monitors the position or speed of the robot and shuts down motor power when the defined safety parameters are exceeded.
Pioneer of collaborative robots showcases new cobot-assisted, mobile packaging applications featuring vision-guided kitting and parts inspection.
In-booth demonstration to feature automated solutions designed to handle broad array of products, packaging types
Marlen International, Inc., a recognized global manufacturer of highly engineered food processing equipment and systems, plans to launch its next generation vacuum stuffer - the OptiServ 400 - at this years PACK EXPO International.
Award-winning packing automation system will be showcased at ProShip Booth #9805
Motion Controls Robotics will be in the thick of things at Pack Expo 2016 (booth N-4946). Stop by the booth to spot Know Nos of Case Packing and Palletizing.
Records 16 to 23 of 23
Featured Product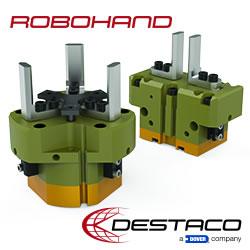 Automatically change end effector tooling quickly and easily with Destaco's Automatic Tool Changers. Designed with exceptional repeatability, high rigidity and load capacity, they are perfect for multiple tooling applications utilizing one robot. We offer different models and sizes to handle light-duty to heavy-duty applications. Our RQC/RTP Series provides a high level of flexibility with a configurable, modular design that accommodates up to four optional modular interfaces.