Pack Expo attendees will experience a comprehensive range of custom and standard model Texwrap shrink wrapping and Tekkra bundling solutions located in a combined booth exhibit. (Shrink Systems Booth Texwrap and Tekkra #S-3748)
The Fanuc LR Mate 200iD is a 6-axis articulated robot featuring fenceless technology which safely monitors the position or speed of the robot and shuts down motor power when the defined safety parameters are exceeded.
Pioneer of collaborative robots showcases new cobot-assisted, mobile packaging applications featuring vision-guided kitting and parts inspection.
In-booth demonstration to feature automated solutions designed to handle broad array of products, packaging types
Marlen International, Inc., a recognized global manufacturer of highly engineered food processing equipment and systems, plans to launch its next generation vacuum stuffer - the OptiServ 400 - at this years PACK EXPO International.
Award-winning packing automation system will be showcased at ProShip Booth #9805
Motion Controls Robotics will be in the thick of things at Pack Expo 2016 (booth N-4946). Stop by the booth to spot Know Nos of Case Packing and Palletizing.
Records 16 to 22 of 22
Featured Product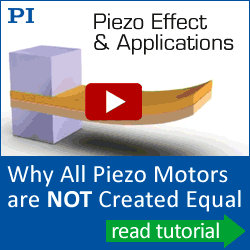 Tested to perform 100 billion cycles by NASA for the Mars mission, piezo actuators efficiently convert electrical energy into mechanical energy. If your application requires any combination of these parameters, you should be using piezo motion: • Fast response • High precision • High force • Long life • Maintenance and lubricants free • Compact dimensions • Non-magnetic, UHV compatible Piezo drives provide the best combination of stability, accuracy, responsiveness, and resolution. Brush up on piezo basics for precision motion, force generation, and nanopositioning applications. Learn more in the piezo tutorial