According to a new market research report, "Global Machine Vision and Vision Guided Robotics Market (2010 - 2015)", published by MarketsandMarkets (www.marketsandmarkets.com), the total global machine vision system and component market is expected to be worth 15.3 billion USD by 2015, out of which the camera & smart camera will account for nearly 27.3% of the total revenues. The global market is expected to record a CAGR of 9.3% from 2010 to 2015.
Global Machine Vision and Vision Guided Robotics Market worth US$15.3 billion by 2015
Contributed by | MarketsandMarkets
Machine vision is an automated technology where images are captured and transferred to the PC and processed thereafter, for inspection and reporting of the processed results. These systems have increasingly become more powerful while at the same time easy to use. Recent advancements in the machine vision technology, such as smart cameras and vision guided robotics, has increased the scope of the machine vision market for a wider application in the industrial and non-industrial sectors. Asia Pacific market is expected to grow faster. The European market is expected to grow better than the U.S. mainly due to the impact of the recent economic crisis in the U.S.

Traffic and security are the two application areas having high growth potential. The applications such as automatic number plate recognition, traffic flow monitoring, traffic surveillance and other related applications are witnessing more integration and utilization of machine vision systems. In the recent economic turmoil, badly hit application areas such as automotive and semiconductors are witnessing less demand, while medical and infrastructure industries are witnessing steady growth. The report also analyzes the impact of infrastructure slow down on the machine vision market.
The machine vision system and component market has advanced very fast to meet the growing demand for traditional and non-traditional applications areas. Advancement in processing capabilities has made the machine vision systems more powerful; coupled with the development of smart camera and new interfaces. These advancements have also increased processing power, reduced cost and operational complexities, thereby increasing the scope of machine vision technology for a wider application. The global machine vision system and components market is estimated to reach $9,830.4 million in 2010; growing at an estimated CAGR of 9.3% from 2010 to 2015.
Amongst all the market segments, the optics, lighting & frame grabbers commanded the largest share in terms of revenues in 2010, while camera & smart camera came second in terms of revenues. However, camera & smart camera is the fastest growing market, growing at a CAGR of 10.2% from 2010 to 2015, due to the higher demand for smart camera because of its lower cost of the system and easy to install and use. Processor, software, and hardware market is expected to reach $3,641.6 million in 2015 with an estimated CAGR of 8.8% from 2010 to 2015.

At present, Asia Pacific region dominates the global machine vision system & component market, which is also the fastest growing region, at a double digit CAGR of 11.1% from 2010 to 2015 and this trend is expected to continue in the forecasted period as well; followed by North American region, the second largest market for machine vision, which occupied market share of 32.2% of the overall market in 2010. However, ROW was the smallest market for machine vision system & components in 2010.

Scope of the report

This report analyzes the global machine vision markets based on:
Camera & smart camera
Optics, lighting and frame grabber
Processor, software and hardware
Miscellaneous components
Area and line scan cameras
Camera by frame rates
CCD and CMOS sensor
Cameras by color
Industrial

Automotive
Semiconductor
Glass
Metal
Wood and paper
Pharma and cosmetic
Container & packaging
Medical devices
Printing
Food
Other industrial

Non-industrial

Transportation, Traffic management, and road safety
Security & surveillance
Medical Imaging & lab automation
Postal & logistic
Document processing
Military & defense
Other non-industrial
Camera & smart camera manufacturer
Sensors manufacturers.
Processor and frame grabber manufacturers
Machine vision cable manufacturers
Machine vision lightings manufacturers
Machine vision system manufacturers
LED manufacturers
R&D equipment manufacturers
Distributors and value added resellers
In addition to market sizes and forecasts, the report also provides a detailed analysis of the market trends and factors influencing market growth, offering in-depth geographic analysis of the machine vision systems and component markets in the U.S., Europe, Asia Pacific, and Rest of the World (ROW). The report draws the competitive landscape of the global machine vision market, providing an in-depth comparative analysis of the technological and marketing strategies adopted by key players in order to gain an edge over their competitors.


MarketsandMarkets (M&M) is a global market research and consulting company based in the U.S. We publish strategically analyzed market research reports and serve as a business intelligence partner to Fortune 500 companies across the world.
MarketsandMarkets also provides multi-client reports, company profiles, databases, and custom research services. M&M covers thirteen industry verticals, including advanced materials, automotives and transportation, banking and financial services, biotechnology, chemicals, consumer goods, energy and power, food and beverages, industrial automation, medical devices, pharmaceuticals, semiconductor and electronics, and telecommunications and IT.

We at MarketsandMarkets are inspired to help our clients grow by providing apt business insight with our huge market intelligence repository. To know more about us and our reports, please visit our website
www.marketsandmarkets.com
The content & opinions in this article are the author's and do not necessarily represent the views of RoboticsTomorrow
---
Comments (0)
This post does not have any comments. Be the first to leave a comment below.
---
Post A Comment
You must be logged in before you can post a comment. Login now.
Featured Product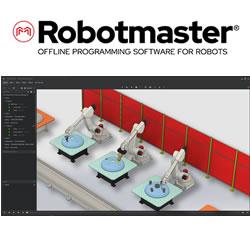 Program multi-robot cells and automatically solve robotic errors with ease. Hypertherm Associates announces a new version to its robotic programming software. Robotmaster 2024 addresses key market trends including the support for programming multiple robots in a single work cell and the demand for automatic trajectory optimization and robotic error correction.