The controller is built inside the mechanism eliminating the need for external controller cabinets or external harnessing. This reduces floor space requirements and cost. The only external cabling necessary is a standard AC power cord, reducing the cost of cable management.

Jim Shimano | Precise Automation
Can you tell us a bit about Precise Automation and your business goals?
Precise Automation was founded in 2004 by Brian Carlisle and Bruce Shimano. They were key members of the team that developed the PUMA robot for Unimation and they founded and ran Adept Technologies before founding Precise.
Precise's goal is to help our customers "automate with ease". Our founders have been in the robotics industry for over 30 years and have assembled an extremely experienced team of automation experts. Our team combined our years of experience with advances in modern technology to create products that are easy-to-use and user-friendly. A major goal of our hardware and software architecture is to eliminate the need to bring in an automation expert to set up and run systems developed with our products. Users without a lot of automation experience can create automation solutions that are powerful, complex and elegant using our products.
What is co-operative robotics?
Generally the term co-operative robotics refers to safe interactions between humans and robots. For Precise, our interest in co-operative robotics is the development of products that can be safely integrated and used in automated workcells. Typically, robots are enclosed behind safety shields that protect the operator. These shields are both expensive and take up a lot of floor space. Precise's newest product, the PreciseFlex 400 Sample Handler, is designed to work in desktop applications without the need for safety shields. The PF400 is a four-axis SCARA mechanism with an integrated servo gripper. All of the forces (including the vertical, horizontal and pinching forces) generated by the PF400 are regulated so that the robot cannot hurt the user even if it collides with them at full speed in any direction. Even with these safety precautions, the PF400 is still powerful enough and fast enough to handle most life science and laboratory automation applications.
What is unique about the laboratory environment that requires co-operative robotics?
Historically, robots were used in factory-like environments. Operators in these environments are comfortable working around a wide variety of heavy machinery and are familiar with the safety precautions necessary to protect themselves and others. The safety shields used with industrial robots are common and part of day-to-day operations. In laboratory environments, scientists are often times not versed in automation safety and do not have the experience to maintain these systems.
In addition, floor space is at a premium in many labs. There isn't room to house a dangerous robot behind extensive safety shields. In this environment, a tabletop automated station close to other benchtop applications is preferable. So, there is a huge need to have automated systems working without safety shields in close proximity to their operators.
What is unique about your product that hasn't been available in laboratory environment?
Until now, most of the robots used in laboratory and life science applications have been large industrial robots that are too large and too powerful for these applications, or small, computer-controlled, stepper motor driven robots that do not have the features found in most modern industrial robots. Both of these solutions pose significant problems for lab automation and life science users.
The larger industrial robots are typically much more powerful than necessary in this industry. They require the safety shielding previously discussed and take up more room than is available. They are also considerably more expensive than the smaller stepper driven robots.
The small stepper motor robots are typically much cheaper, much safer and take up less space. However, these robots are loud and much less reliable. They lack the modern programming languages and control features found in most industrial automation. This makes them much harder to use and to program. Many times, systems developed with these robots lack the reliability necessary to successfully automate modern lab applications
Precise saw a need for a robot developed to specifically address the needs of the lab market. Our PF400 is extremely compact and safe to use in desktop applications without safety shields. It is driven by a built in robotic motion controller and contains all programming features you'd expect in industrial automation (free mode teach, kinematic control for Cartesian coordinate programming, etc.). Thus, the PF400 is a perfect combination of power and safety for labs. It is safe and small enough to use in desktop applications while providing the user with the features typically found in larger industrial robots.
What enables all of the special features?
It all starts with the controller. We developed a controller specifically for use in life sciences/lab automation. The Guidance 1400 is a four-axis motion controller, with built in amplifiers, that is small enough to fit in the palm of your hand yet powerful enough to drive a tabletop robot. This controller has all of the features of our larger, more powerful motion controllers, but at a size, price and power profile that are perfect for table top laboratory applications.
Once we developed the controller, the next step was to design a mechanism that uses the capabilities of the controller to meet the unique demands of laboratory automation. The controller is built inside the mechanism eliminating the need for external controller cabinets or external harnessing. This reduces floor space requirements and cost. The only external cabling necessary is a standard AC power cord, reducing the cost of cable management. The PF400's z-axis is stationary allowing it to be mounted against the back wall of a cell. Additionally, the PF400 switches from lefty to righty configuration by swinging the outer link under the inner link rather than swinging in front of it. This allows the robot to cover a large active workspace while maintaining an extremely small footprint. We also designed a servo gripper specifically for this market. This gripper allows the mechanism to grab a wide variety of parts typically found in life sciences in a variety of different configurations.
The controller's features (such as kinematics for Cartesian control, dynamic feed forward, high speed servo loop processing, etc.) give the PF400 its smooth, quiet motion while making it extremely easy to program. Combined with the innovated mechanical design, the PF400 is unique positioned for uses in life sciences/lab automation.
What are the primary applications that your products are best suited for?
Precise's robots were specifically designed for tabletop applications where space and safety are at a premium. So areas like life science and lab automation are ideal.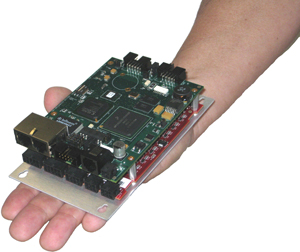 As previously mentioned, our G1400 Controller was specifically designed with this market in mind. However, we have other controllers in our Guidance Controller family that supply more motor power and are more suited for traditional robot applications. These more powerful units are also extremely compact and small enough to fit in your hand. They are intended to integrate inside the robot's structure, eliminating the costs associated with external controller cabinets and harnessing. With our extensive kinematic library, integrated amplifiers built into the controller, integrated vision option and powerful programming language, we have controller solutions for almost any type of automated system.
Is the robotics industry growing at a fast pace or is it just business as usual?
Our experience is that the demand for robotics is different depending on the industry. So in industries that our currently growing, such as life science, laboratory equipment and solar, the demand for robotics is growing. However, in other industries where the overall demand for capital equipment is flat or down, the demand for robots follows the overall demand.
What's next for Precise Automation and Robotics in general?
For Precise, we continue to add features to our PF400 family of productions, including a version of the sample handler mounted on a linear rail and additional software features that will make programming the robot even easier than before. We hope to be releasing these new products in the next few months.
In addition, we continue to add new kinematic modules to our controller packages and continue to reduce the size and cost of our controllers without sacrificing power or performance. This includes adding accessories to our existing controller products that will add flexibility to our available configurations.

I think on a whole, there is a demand for safer, tabletop robotics that are more user friendly. Removing some of the barriers that currently exist with factory automation (floor space requirement, safety, programming complexity) can open up robots to a wide variety of industries that have not considered robotics up to this point.



About Mr. Jim Shimano
Product Manager
Mr. Shimano has almost 10 years of experience in product management and operations. Before joining Precise, he was a Professor of Chemistry at Cerritos College and a senior research assistant and lab manager at the University of Pennsylvania. He holds a MBA from the University of California, Irvine and a MS in Chemistry from the University of Pennsylvania.
The content & opinions in this article are the author's and do not necessarily represent the views of RoboticsTomorrow
---
Comments (0)
This post does not have any comments. Be the first to leave a comment below.
---
Post A Comment
You must be logged in before you can post a comment. Login now.
Featured Product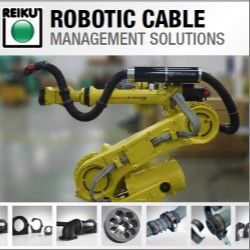 REIKU's Cable Saver™ Solution eliminates downtime, loss of revenue, expensive cable and hose replacement costs, maintenance labor costs. It's available in three sizes 36, 52 and 70 mm. All of the robots cables and hoses are protected when routed through the Cable Saver™ corrugated tubing.The Cable Saver™ uses a spring retraction system housed inside the Energy Tube™ to keep this service loop out of harms way in safe location at the rear of the Robot when not required. The Cable Saver™ is a COMPLETE solution for any make or model of robot. It installs quickly-on either side of the robot and has been tested to resist over 15 million repetitive cycles. REIKU is committed to providing the most modular, effective options for ensuring your robotic components operate without downtime due to cable management. www.CableSaver.com