What would you do if you saw a robot approach you and start talking to you? How would you react if a robot looked sad when you walk away? Would you enjoy a robot rolling up to your table in a restaurant and showing you the menu?

Len Calderone for | RoboticsTomorrow
What would you do if you saw a robot approach you and start talking to you? How would you react if a robot looked sad when you walk away? Would you enjoy a robot rolling up to your table in a restaurant and showing you the menu? How about if you can walk up to a kiosk and choose items using a touch screen, and then pay for your purchases with a credit or debit card, as the selected items are dispensed by a sophisticated robotic arm or other robotic method in the machine? Welcome to the kiosk robot.
Future Robot has unveiled a new service robot called FURO-K that will function as a friendly kiosk. Instead of sitting against a wall, the robot scoots around greeting customers in a synthesized voice to explain its features. FURO-K comes with an integrated circuit card reader, and near field communication for non-contact data transactions, and if you're old-fashioned it will also accept credit card payments, presenting you with a receipt.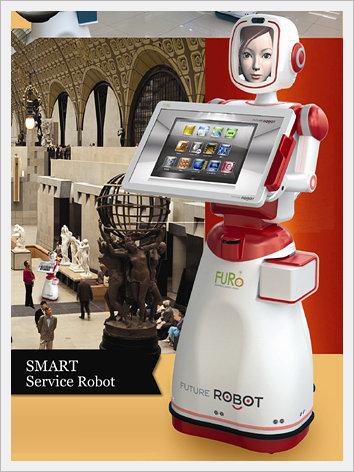 A camera and microphone are mounted at the top of the robot accompanied by laser, ultrasonic and bump sensor s to allow FURO to navigate. It will operate 24/7 with a patented charging station, with which FURO automatically connects. The camera and microphone allow for human to robot emotional interaction with multi-function intelligent service, such as customer reception, using a movie or voice directions. It can take orders, help a customer make selections by touch screen, accept payments and give a receipt. A customer can communicate with FURO by saying key word expressions. FURO can communicate and give directions in more than thirty languages.
FURO can be used at events receiving guests, giving directions, and making PR pitches. It can show a movie, multiple images and talk. FURO can also issue gift coupons or QR Code printing service.
How would you like for a robot to make and serve you ice cream? The Robofusion® interactive robotic ice cream kiosk does exactly that. You walk up to the kiosk and order a five layer ice cream/topping treat and a robot will make it to your expectations.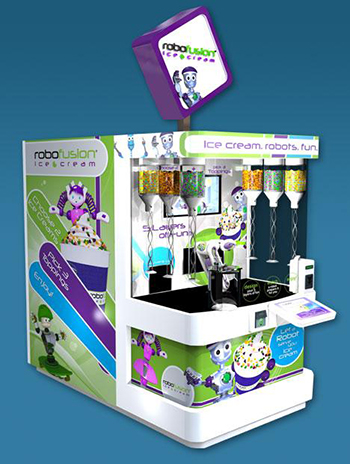 The interactive robotic ice cream kiosk can make 45 servings of five layer/toppings ice cream in an hour and hand deliver them in a 14 oz. plastic souvenir cup. Like FURO, Robofusion operates 24/7, is simple to use, and accepts cash, credit or RFID payments.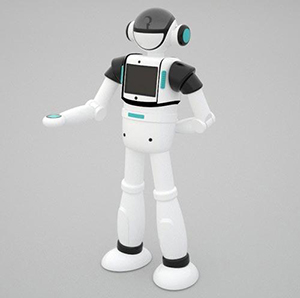 Shandong Kang Bai Robot Automation Co., Ltd is working on a robot security kiosk, which checks employees entering a facility to confirm their I.D. For many companies, an identity card is necessary to enter a building. The BaiROBOT stands nearly two feet tall on a podium. It uses a head mounted camera and face recognition software to let registered employees pass automatically, waving its arm in a stilted greeting.
The first time that an employee passes the robot the employee must confirm his/her credentials by swiping their ID card. It takes a photo, registers them into a database, and will recognize them automatically from then on. The robot records all the comings and goings of employees and will sound an alarm if someone passes without identification.
Imagine a grocery store without checkout lanes, cashiers, or shopping carts. Cincinnati-based Kroger, the nation's largest supermarket chain, opened a robotic grocery kiosk in Ada, Ohio on the campus of Ohio Northern University that could be part of the company's future.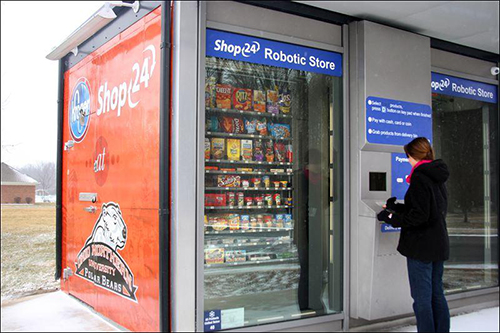 The kiosk is a self-contained, refrigerated mini grocery store that stands ten feet tall and thirteen feet wide. It holds up to 200 items, from snacks and sodas to bread, milk, fresh produce, basic toiletry items, cleaning supplies and frozen entrees. It also offers timely items, such as subs and chicken wings before the Super Bowl, or flowers and candy for Valentine's Day. It accepts cash, debit cards, credit cards, and federal supplemental nutrition-assistance program cards for payment. Items in the kiosk are priced the same as in the store and the kiosk accepts the Kroger Plus Card for discounts. Imagine a Kroger Kiosk combined with the Kroger gas station. Convenience stores could be in danger of stiff competition.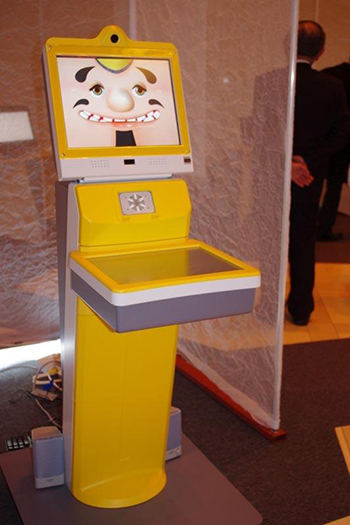 PFU Limited, a subsidiary of Fujitsu, is working on a robotic display kiosk, which uses face recognition to deliver a personalized advertising experience. Fujitsu is looking to market in-store advertising systems, and is trying out different methods to see which one works best. The kiosk's top screen features a silly animated face created by Big Towns, a company specializing in computer graphics, while the bottom touch screen is an interface. The software determines a person's gender and estimates their age, which affects what products are advertised and how the digital character interacts with the customer. If it can make you laugh, it scores your smile against others in its database.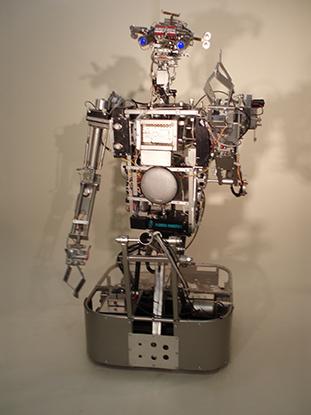 A supplier of entertainment and promotional robots, Florida Robotics, has released their latest robot, named KIRK (Knowledgeable Interactive Robotic Kiosk). Other complex robots need many levers and buttons to control, but KIRK can be operated with one hand using a proprietary remote control and wireless microphone. In the autonomous mode, KIRK can detect visitors and deliver pre-recorded messages, give directions, or tell jokes.
KIRK utilizes an all electric actuator system with a proprietary pneumatic damping system, which allows for a reliable, smooth and simple animation. All of the kiosk's components fit in a 2x2x2' space.
KIRK is different from other robots in that he has a proprietary hybrid control system that not only allows live operation but also can be programmed for repetitive presentations or greetings.
A company, named Briggo has developed a robotic kiosk "coffee shop." This kiosk is ideal for university campuses, airports, hospitals and malls. A customer can order drinks from the web, smart phone or at the kiosk itself. Before ordering, the customer is informed of the time it will take before the kiosk delivers the drink; giving the customer the option of a quick-make drink or a longer wait drink should there be a back-up of orders. Since payment is made at the time of the order, all the customer has to do is grab the drink on the way out.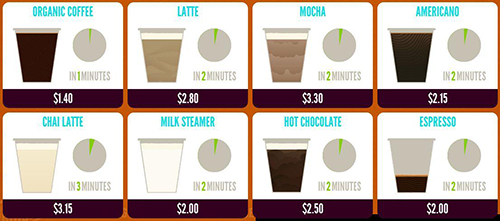 The current menu offers a wide variety of drinks, including espresso, Chai, milk steamers and even hot chocolate. Customers have options of sweeteners, milk or non-dairy creamers. A favorite drink can be saved and re-ordered with a single click. The Briggo coffee shop creates each drink with robotic precision so that each drink will be the same each time that it is made.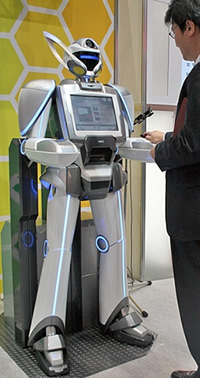 Just because the object in front of you looks like a robot, it might not be one. Robots are very cool, but only if it functions as a robot
Like with this ticket kiosk that's supposedly a "robot." Clearly, it's just a ticket kiosk, not a robot and it doesn't walk around. It's just shaped like a robot. Those legs are for decoration
There are lots of examples of routine, middle-skilled jobs that involve relatively structured tasks and those are the jobs that are being eliminated the fastest by robotic kiosks. These jobs are the easiest to replace by the artificial intelligence industry. Robots do not confuse orders or make mistakes. Robots are precise and will work day and night without a break. After the initial cost, maintenance and servicing is usually routine and cost effective.
Don't turn around. A robot might be standing behind you, holding a pink slip.
The content & opinions in this article are the author's and do not necessarily represent the views of RoboticsTomorrow
---
Comments (0)
This post does not have any comments. Be the first to leave a comment below.
---
Post A Comment
You must be logged in before you can post a comment. Login now.
Featured Product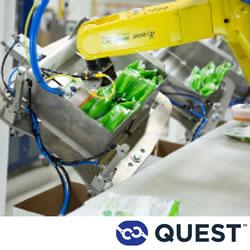 Quest is a leading manufacturer of industrial automation equipment focusing on robotics and vision-guidance. With expertise in the food, beverage, and dairy, Quest optimizes floor space for customers experiencing growing demand and helps improve their overall production line flexibility and efficiency. Quest offers application-specific software on their robotic products, including pick and place, case packing, and palletizing systems to simplify system setup and streamline configurability. Quest is a product brand of ProMach, a global leader in packaging line solutions.