The success of the AR.Drone and now the AR.Drone 2 has proven Henri's conviction that there is a large consumer market for this type of entertainment product and that there are other related high-potential markets on the horizon.

Frank Tobe | The Robot Report
A growing business within Parrot S.A., is their AR.Drone line of products, parts and software. Their first quadcopter product was developed internally by (1) observing the $1 billion market in radio controlled helicopters, (2) seeing gamers interest in using their game devices to drive cars, planes and copters, and (3) the increasingly widespread use of MEMS inertial sensors and high-definition digital cameras in consumer products. These were the building blocks from which came the AR.Drone, a super successful quad-motored copter flown partially autonomously and also by an app on your iPhone or smart tablet. AR.Drones have been sold to an eager audience of global consumers 400,000 strong!
As an aside, part of the business plan for selling the AR.Drones is to also sell parts to repair the devices when they crash - an inevitable outcome of the adventure of flying them. Parrot has made buying replacement parts easy and provides visual tutorials on how to install replacement parts and make needed repairs. A bit like printer companies selling their own brand of paper and ink.
I had a brief chat with Henri Seydoux, founder, chairman and CEO of Parrot S.A., who said that there are more innovations coming. The success of the AR.Drone and now the AR.Drone 2 has proven Henri's conviction that there is a large consumer market for this type of entertainment product and that there are other related high-potential markets on the horizon. But that's not all that's in store: Henri has a large cache (about €40 million) to invest in acquisitions to further his pursuit of innovations and products for this market, a market composed of any entertainment, consumer or professional use of drones (but not for defense, military or police activities).
Three recent acquisitions along those lines include senseFly, a Swiss start-up of a series of UASs for commercial survey, mapping and monitoring work; Pix4D, another Swiss start-up providing aerial image and 3D mapping processing software, and Varioptic, a provider of miniature cameras with adjustable lens offering autofocus and image stabilization solutions.
Professional drones providing mapping and geographical information for surveying, construction, mining, agriculture, forestry, environmental observation and protection and town planning also fit Seydoux's vision.
Henri says that there may be an overabundance of UAS vendors at present however he is confident that Parrot, with their extensive experience in mass production and product engineering will continue to be able to achieve low-cost affordable products, and will thus prevail as a market leader.

About Parrot
Parrot, a global leader in wireless devices for mobile phones, stands on the cutting edge of innovation. The company was founded in 1994 by Henri Seydoux as part of his determination to drive the inevitable breakthrough of mobile phones into everyday life by creating high-quality, user-friendly wireless devices for easy living. Parrot has developed the most extensive range of hands-free systems on the market for cars. In 2008, Parrot launched a prestigious line of high-end wireless multimedia products geared towards audiovisual applications bearing the hallmark of renowned artists and in 2010, the AR.Drone, the first quadricopter piloted via wi-fi and using augmented reality.
Parrot, headquartered in Paris, currently employs more than 550 people worldwide and generates the majority of its sales overseas.
The content & opinions in this article are the author's and do not necessarily represent the views of RoboticsTomorrow
---
Comments (0)
This post does not have any comments. Be the first to leave a comment below.
---
Post A Comment
You must be logged in before you can post a comment. Login now.
Featured Product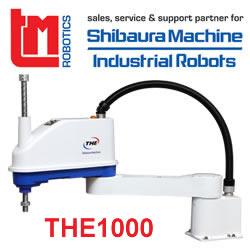 Designed for assembly and inspection applications in the electronics equipment and automobile components industries, the THE600 SCARA is a powerful automation tool. Advancing from the specifications of the existing THE400 SCARA, the THE600 has been developed to meet growing demand for fast-cycle automation. The THE600 model includes improvements in synchronised control and tracking precision. The THE600 is compact in design and offers improved high speed, with 60 per cent higher payload capacity than competing SCARA models in the same price range, making it the price-to-performance leader. Affordable price, impressive performance.