What is RoboLogix, and why is simulation so important in the understanding of robotics?
RoboLogix is a 3D robotics simulator that basically converts your computer into a fully functioning industrial robot. It is the ideal way to learn how to program a robot since it provides a realistic "world" in which the robot operates. Simulation allows for trial and error, or "what if" scenarios. Users can simulate the operation of equipment worth hundreds of thousands of dollars, and perfect their skills in programming and de-bugging robots.
What makes your online robotics certificate program so unique?
It is the only program of its kind in the world, and we have over 1,500 students enrolled in 22 countries. The program is offered in an asynchronous format, which means you can study any time, any place. We also offer a "pay as you go" tuition option where students pay for each course as they complete it. Most Colleges insist on tuition fees being paid at the beginning of the program, we allow students to pay for each course as they complete it, and take as much time as required to complete each course. This is the same format we use in our other distance ed tech programs including electronics and PLCs, and it has helped to make us the largest College in North America for online technical training.
What are the latest trends in industrial robotics?
Manufacturing in North America is experiencing a large jump in "insourcing" where everything from appliances to bicycles are being manufactured again in the U.S. This is largely the result of automation and the significant increase in the use of robotics in manufacturing. A $40,000 robot now costs as low as 40 cents an hour to operate. With this large increase in robotics usage, there is a significant increase in demand for robotic technicians, engineers, etc.
What types of jobs are available for graduates of your program?
Employment opportunities for graduates of our program include fields such as servicing and maintaining robots, designing robot programs, and installing robotic equipment. We also have a lot of students who are seeking a second credential to go with there current skill set. For example, we have electricians, millwrights, maintenance mechanics and other tradespeople who have a knowledge of electricity, pneumatics, and mechanical devices and who want to learn about robotics but can't commit to full-time studies.
What skills and interests should a student have to make robotics their career path?
To be a good robotics technician you need to have strong analytical and critical thinking skills. You need to be good at problem-solving, and you need to have a strong interest in programming - not necessarily computer programming, but some sort of programming. Robotics programs and algorithms are the heart and soul of the robot, and knowing how to write and de-bug these programs is an essential part of the study of robotics.
Can you give us an outline of the program and describe the study process?
The program consists of 19 courses, or modules. The course material is in an interactive multimedia format with text, animations, and simulation. It takes approximately 32 weeks of part-time study to complete the program, but you can take as long as you need to finish. Some students complete it in less time, and others take longer. It is entirely self-directed, but you have e-mail and telephone access to a tutor who can provide assistance if you have any questions during your studies. Exams are completed online and there is one exam for each module.
Is your program accredited and recognized by industry?
Our College is fully accredited by the Government of Ontario, Canada. Our program is recognized by the Robotics Industry Association (RIA).
What is a typical starting wage for a job after obtaining the robotics certificate?
Graduates of our program with prior related work experience, such as electricians, can start at over $60,000. Graduates with no related work experience would typically find entry-level employment in the $30,000 range, with opportunities to earn more as they gain more experience.
Are there many jobs available in the robotics industry today --- and what is your expectation for the future?
Robots have been around for over 60 years but it is very much a new and emerging industry. The main reason is that robots have gotten smarter, faster, stronger, and cheaper with most of these break-throughs happening in the last five years. So, the prospects for robotics in the near future and the long term are very bright.
How do I get started?
Call us or visit our website. We can be reached toll-free at 1-888-553-5333 or online at www.onlinerobotics.com
About Colin Simpson
Dean and Developer of George Brown College Online Robotics Technician
Colin Simpson has been employed at George Brown College for the past 20 years and has held a variety of positions, including roles in faculty and administration. As Dean of the college's Centre for Continuous Learning for the past eight years, he has grown continuing education enrolment from 35,000 to 65,000 registrants per year.
His innovative approach to lifelong learning has played a significant role in establishing George Brown College as one of the largest providers of distance education in North America with nearly 11,000 distance education learners. He is recognized as a leading authority on distance education and has been interviewed on the subject by several media outlets, including the CBC, PBS, CTV, TVOntario, The Globe and Mail, The Toronto Star, Macleans and the Chicago Tribune.
The content & opinions in this article are the author's and do not necessarily represent the views of RoboticsTomorrow
---
Comments (0)
This post does not have any comments. Be the first to leave a comment below.
---
Post A Comment
You must be logged in before you can post a comment. Login now.
Featured Product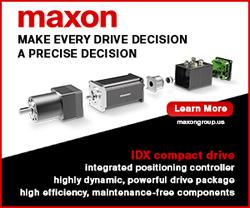 Discover the world of drive technology from a leading worldwide supplier of innovative customized drives. - Manufacturer of brushed and brushless DC motors, gearheads and motion controllers - Custom drive systems, quantities as low as a single unit - Certified for aerospace and medical applications