The emergence of robotic technologies for architectural design raises questions about how methods of construction might change in the future. Effective architectural robots have a great future in structured environments.

Len Calderone for | RoboticsTomorrow
The use of robotic fabrication in architecture, art, and design, closely links the industry with cutting-edge research institutions. For years, robots have been employed by industrial manufacturers, but not until recently, have they been considered seriously by architects. In the age of digitalization, virtualization, and computerization, the relationship between architects and robots seems to be growing.
In architecture it is difficult to define what a robot is. The word is inclined to refer to anything from robotic arms to CNC milling machines to 3D printers. Basically, robots are programmable automated mechanisms that help out in the process of digital fabrication. In reality, a robot is a more proficient process that could reduce the time and cost of construction.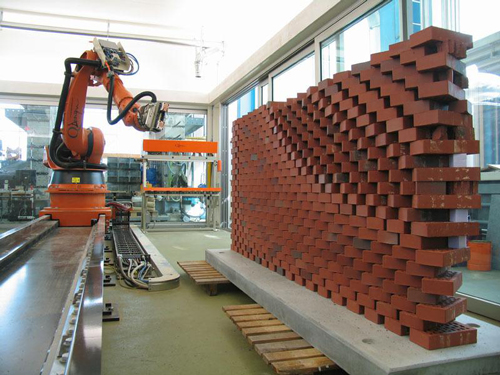 Brick wall fabricated by an industrial robot
The technologies for controlling robotic machines are especially adaptable for a transition into architecture and design. Out of a collaboration between KUKA (a robot manufacturer), Rhinocerous (a NURBS modeling program), and Grasshopper (Rhino Plugin), KUKA/prc allows designers to not only control robots with a program already widespread in the architectural profession, but to simulate the actual fabrication process digitally.
KUKA has developed the KR100 L80AH 6-axis robot for large scale tooling, prototyping and molding architectural parts. The system is capable of milling pieces as large as 50' wide by 12' high, with the ability to machine smaller more detailed sculpture type pieces. The robot has highly accurate milling for different material hardness, and different materials, such as foam, wood, fiberglass, and composites.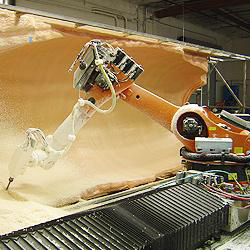 Resin spraying and chopper gun systems are integrated into the head of the robot saving space and time during application changes.
NURBS, Non-Uniform Rational B-Splines, are mathematical representations of 3-D geometry that can accurately describe any shape from a simple 2-D line, circle, arc, or curve to the most complex 3-D organic free-form surface or solid. Because of their flexibility and accuracy, NURBS models can be used in any process from illustration and animation to manufacturing.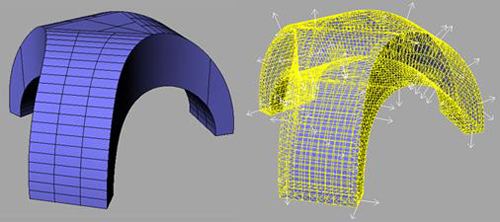 Fabrication of free-form structures
For designers who are exploring new shapes using generative algorithms, Grasshopper® is a graphical algorithm editor tightly integrated with Rhino's 3-D modeling tools. Grasshopper requires no knowledge of programming or scripting, but still allows designers to build form generators from the simple to the awe-inspiring.
In Manhattan a few years ago, a robot built a 72 foot brick structure. The architects are Fabio Gramazio and Matthias Kohler with ETH Zurich, two very progressive designers.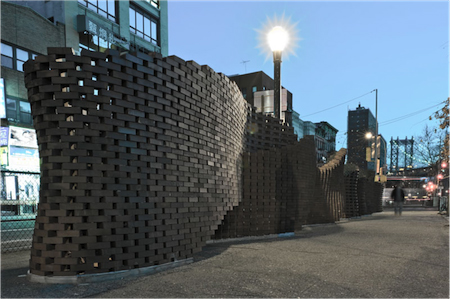 In another project, they used the robot as a milling machine, to create parts that could shape the acoustics of a room.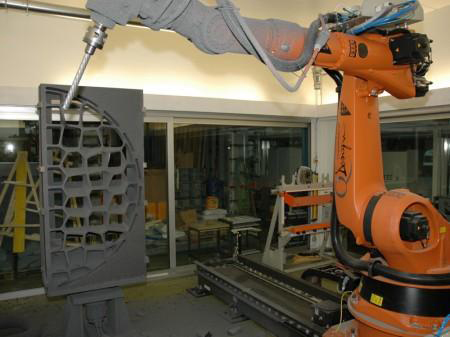 Some of their more interesting creations are the ones that use robots to construct intricate environments.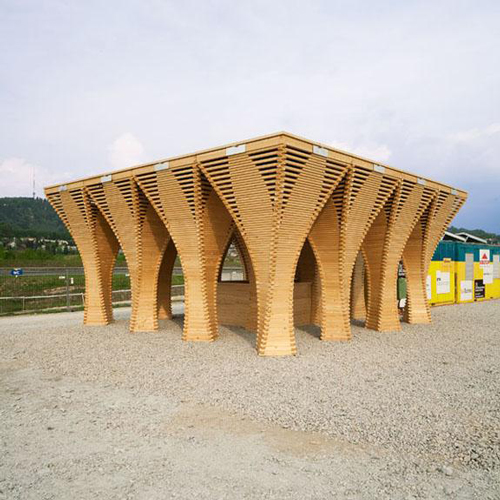 Though robot arms are currently the most prevalent form of robotics in architecture, architects and designers have begun to employ other, and sometimes more radical, robotic strategies for design. A small quad-rotor robotic helicopter assembled an 18' tall and 11' wide tower out of 1500 polystyrene foam blocks in Orléans, France.
Note the robotic helicopter setting the bricks
There is a system of small robots that would regulate building facades, including energy usage, by checking thermostats, closing windows, adjusting blinds, etc. They would even communicate with building users who they identify as wasting energy.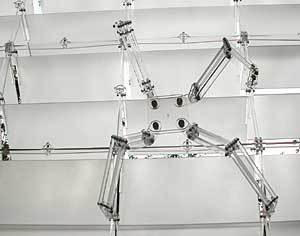 Edge Monkey
The use of "edge monkeys" allows us to re-examine the notion of the use of robots in the environment, by situating them in local building habitats. The architect / engineer can design both robot and habitat, creating a secure ecology with a role in which the robots might succeed. Edge conditions are very specialized habitats where the occupants can communicate and co-operate to regulate energy use. Edge conditions of buildings are complex boundaries.
Recently, facades act as double skin systems where substantial gaps between the inside and outside faces exist to assist airflow in heating and cooling. The boundary is a crucial area in the design of buildings, both technically and aesthetically. This boundary could be a place for the edge monkeys, which are designed together with the boundaries that they serve. Edge monkeys are visible, as they have a job to do in the boundary zone; they also have the power of communicating beyond it, because they are energy misers. Part of their role is to signal to internal occupants when the internal occupants are clearly wasting energy, for example, keeping the blinds down and the lights on when this is unnecessary.
Edge monkeys could create Mexican waves and similar façade effects to entertain passers-by. The edge monkeys can be delightful to watch as they perform their daily assignments. Now, you won't have to go to the zoo to watch a monkey swing on bars.
In architecture, robots have mostly been used to choose and position materials, such as bricks. Using multiple robots, architects can control movement, and coordination, as an alternative to design and programming, followed by fabrication and construction. Robots are ideal for real-time design and construction. A robot can account for gravity or material properties as they work; whereas a computer cannot work with the physical properties of the different materials.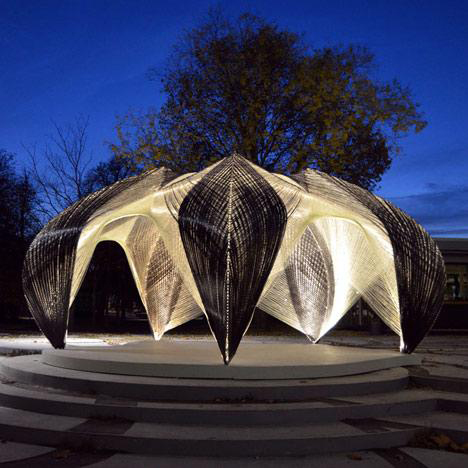 Researchers at the University of Stuttgart programmed a robot to wind 196,850 feet of carbon and glass fiber filaments into this pavilion inspired by a lobster's exoskeleton.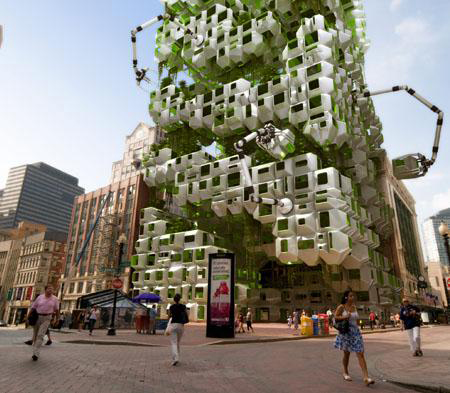 Notice robotic arms on each side
Eco Pods are an architectural design that can act as a temporary algae bio-reactor in a vertical way. This concept was designed for Boston and features robotic arms, powered by a micro-algae system, which will constantly reorganize the pods to different positions to ensure the best possible growing situation for the algae. Moreover, these eco-pods are intended to inform the public about the potential of producing micro-algae vertically. In this case, the building was empty. This design element can be placed in a variety of locations around Boston, filling empty building sites.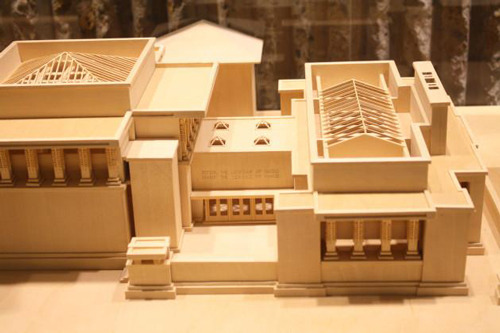 Robotic technologies at the Yale School of Architecture
At the Yale School of Architecture, robots are changing the way students approach the design process. In the school's fabrication labs, architecture students have access to a wide range of robotic technologies, including computer control (CNC) tools, waterjet cutters, laser scanners and 3-D printers.
The most well-known of the machinery used in architectural design is the Kuka HA 60-3 Automatic Scale Arm, which revolutionizes the design and construction process. 3-D printers spit out successive layers of material to transform computerized designs into fully-formed architectural models.
The Southern California Institute of Architecture (SCI-Arc) teaches future architects how to program robotic arms. By using multiple robotic arms, architects can design complicated forms, build them, and add coatings. Exploring opportunities outside of traditional digital production, SCI-Arc offers a new design environment which focuses on approved research.
The emergence of robotic technologies for architectural design raises questions about how methods of construction might change in the future. Effective architectural robots have a great future in structured environments. Robots are different from most machinery used in architecture in that they are capable of learning, adapting and acting on their own senses and perceptions.
For additional information:

About Len
Len has contributed articles to several publications. He also writes opinion editorials for a local newspaper. He is now retired.
This article contains statements of personal opinion and comments made in good faith in the interest of the public. You should confirm all statements with the manufacturer to verify the correctness of the statements.
The content & opinions in this article are the author's and do not necessarily represent the views of RoboticsTomorrow
---
Comments (1)
Len, well done. In 2008 we released our 6-wheel robotic vehicle with a section for doing dry stack retaining walls. Acceptance at that time was very limited. I am glad for these articles that show others are doing similar work. Bill
Post A Comment
You must be logged in before you can post a comment. Login now.
Featured Product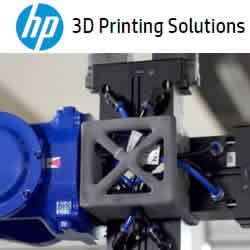 From molds to final and spare parts, produce quality 3D printed parts with optimal mechanical properties without the long lead times. See how HP 3D Printing with HP Multi Jet Fusion helps these companies reinvent the design and manufacturing of custom robotics and grippers.