While todays technology is highly advanced and offers sufficient end user applications, there is room for advancement in both the areas of research in the current technology as well as new and unique solutions in applications that have not been tried before.

Akshay Bandiwdekar | Trimble
Are you seeing more private sector applications for your unmanned solutions and can you tell us about some of them?
There has been a definite increase in private investment in unmanned solutions for unique applications using our technology. High precision centimeter-level accuracy GPS/GNSS modules are finding applications in various industries like robotics, agriculture, disaster management, construction, forestry and are being used on autonomous / robotic vehicles that service these segments. These can range from vehicles operating on land, water or air that utilize our precise positioning technology to enhance and improve productivity and offer solutions that have not been tried before.
Do you see any major advances in positioning technology in the near future or are we at a point where the existing technology is sufficient and applying it to new solutions is where the thrust of development is taking place?
While today's technology is highly advanced and offers sufficient end user applications, there is room for advancement in both the areas of research in the current technology as well as new and unique solutions in applications that have not been tried before. For instance, GNSS positioning today offers centimeter level accuracy and heading with high reliability and one can use high positioning equipment and combine web technologies to form unique internet and cloud based solutions to niche segments. Our Ashtech and Trimble OEM modules fuse this technology with other existing technologies like Ethernet, communications and other complementary sensors that offer our customers the convenience and advantage of creating unique web based or networked positioning solutions that have never been envisioned before.
What advances have you observed across the GNSS field in recent years? How has Trimble adapted its services accordingly?
The GNSS (global navigation satellite system) industry is continuously evolving, both in terms of technology and its user base. With the development of multiple GNSS constellations like GPS, GLONASS, Galileo, COMPASS, IRNSS and QZSS, GNSS receiver technology is taking into account the need of support for multiple constellations, keeping in mind the distinct requirements for each regional user segment.
The support for multiple GNSS constellations in GNSS receiver design is a trend that we have witnessed in the last few years, as more and more regional satellite navigation systems continue to be developed. Additional technologies like real-time kinematic (RTK) systems and global differential GNSS positioning are continuously trying to raise the bar for receiver positioning and performance in unique applications. RTK positioning, traditionally prevalent in the construction, agriculture and survey industries, has begun to be incorporated into applications in industries such as defense, unmanned vehicles, robotics, marine, mining, ports and container logistics.
GNSS positioning has traditionally been viewed as a stand-alone positioning technology, but with the recent advancements in sensor Ashtech GNSS receivers. These different sensors complement each other and function in such a way that the degradation of performance suffered by one in a particular environment is often offset by the superior performance of another in the same environment. Trimble has always been committed to supporting the growing regional and global satellite navigation systems, and offers products and services to help our customers increase their productivity.
Could you provide an overview of Trimble's RTK solutions? What factors were taken into consideration during their development?
Trimble uses positioning, communications and software technologies to improve productivity for customers and businesses. Trimble's integrated technologies division offers navigation and communication products for original equipment manufacturers (OEM) and systems integrators. The Trimble-Ashech range of GNSS receiver modules and rugged box solutions offer the best of GNSS RTK technology in small and robust form factors.
With software upgradable configurations, our customers have the flexibility to integrate a single version of hardware in their design and upgrade to the configuration of their choice. Various software upgrade options like choice of GNSS constellation, frequencies, varying positioning modes with different levels of accuracy and output choices offer the freedom to test different versions in the field with the help of simple upgrade passwords. Positioning modes range from the very precise 1cm-level RTK to decimeter-level global differential GNSS augmentation, 2–3 decimeter differential GNSS and meter-level autonomous positioning.
While Trimble continues to invest in core positioning technology, factors such as ease of integration for customers, sensor fusion concepts, and the use of traditional positioning technology with communication and cloud-based tools like Ethernet, Wi-Fi and cellular are all factors that are contributing to the company's next-generation products. With the launch of the Trimble BD920-W3G – the industry's first OEM GNSS receiver module with onboard 3G modem, Wi-Fi and Bluetooth communications – Trimble remains committed to providing its customers with the latest technology in a smart package for ease of integration.
In the military/unmanned vehicle segment, what do you see as the potential applications that are able to integrate moving baseline RTK technology?
Moving baseline GNSS technology primarily offers two important solutions: a very accurate 1cm-level vector measurement, and accurate static and dynamic attitude (heading, roll, and pitch) with the help of multiple GNSS receivers and wireless links. This combination serves as a powerful solution in the defense and unmanned vehicle industry with potential applications such as:
autonomous landing
autonomous mid-air refuelling
precise formation flying
robotic sensor swarms
waypoint navigation
battlefield ISR.
What wireless communication links does RTK support?
RTK works by sending satellite observation data and other information from the base station GNSS receiver to a rover GNSS receiver on which RTK differential algorithms calculate for the precise vector between the antennas of the two receivers. The information from the base to the rover is normally sent over a communication link such as VHF/UHF radio, Wi-Fi, Ethernet or cellular (GSM, 3G).
While Wi-Fi and Ethernet communication can be used for short baseline distances between the receivers doing RTK, radio and cellular communication is often used when the distances range from a few to tens of kilometers. The choice of communication link often plays an important factor in the overall performance of RTK positioning. Factors such as region-specific radio certification, link latency, distance between receivers, line of sight and obstructions are often considered when making this choice.
How does Trimble go about supporting its military and defense clients in this area? Is there a particularly salient case study that you would like to mention?
Trimble is a trusted supplier for US and allied military GPS users worldwide. Our goal is to provide our defense clients with world-class GNSS positioning technology in an easy-to-integrate form factor, so that while we focus on the technology, they can focus on end user productivity.
As mentioned earlier, a lot of potential military applications – autonomous landing/refueling, precise formation flying, sensor UAV swarms and battlefield ISR –are possible with the help of Trimble's moving baseline RTK Technology. The use of this innovative technology offers clients a unique advantage over regular GPS receivers in these specific applications. Furthermore, advancements in RTK and inertial technology will let military systems integrators develop highly customized military and civilian applications.
What technology and area in the unmanned space do you see the greatest opportunity for growth in the next 5 years?
[Akshay] – In terms of the highest potential for growth in technology in the unmanned space, we foresee the need for high precision positioning and sensor fusion as a key requirement for all unmanned and autonomous vehicle operation. The ability to position any asset or vehicle globally with an accuracy of a few centimeters offers unprecedented advantages for applications needing accurate geo-location of the vehicle or a sensor carried by the vehicle. If one is able to accurately position and provide 3D attitude (roll, pitch & yaw) for any vehicle or asset, this information can be linked with data flow from the sensor or payload to form a complete picture of situational awareness and geo-tagged data. This can be used in almost all applications that will use a remotely operated or autonomous vehicle because knowing these two pieces of information is mandatory for location awareness and productivity. Sensor fusion involves using multiple sensors in a compact single package to give all the required data parameters for vehicular operation and will possibly see the highest technological growth and use.


About Trimble
Trimble is a leading provider of advanced positioning technology and mobile solutions that maximize productivity and enhance profitability.
Trimble products are used in over 141 countries around the world. Employees in more than 30 countries, coupled with a highly capable network of dealers and distribution partners serve and support customers worldwide. As the market leader in most of our businesses, we offer a compelling value proposition to our customers based on productivity, return on investment and environmental stewardship. Come position yourself with an innovative industry leader and position yourself for success.
The content & opinions in this article are the author's and do not necessarily represent the views of RoboticsTomorrow
---
Comments (0)
This post does not have any comments. Be the first to leave a comment below.
---
Post A Comment
You must be logged in before you can post a comment. Login now.
Featured Product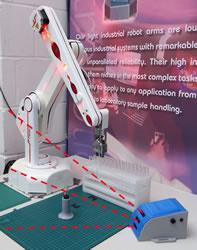 The ST Robotics Workspace Sentry robot and area safety system are based on a small module that sends an infrared beam across the workspace. If the user puts his hand (or any other object) in the workspace, the robot stops using programmable emergency deceleration. Each module has three beams at different angles and the distance a beam reaches is adjustable. Two or more modules can be daisy chained to watch a wider area. "A robot that is tuned to stop on impact may not be safe. Robots where the trip torque can be set at low thresholds are too slow for any practical industrial application. The best system is where the work area has proximity detectors so the robot stops before impact and that is the approach ST Robotics has taken," states President and CEO of ST Robotics David Sands.