The main objective was to install a flexible robotic palletizing solution that can handle heavy stacks up to 130 lbs at the end of the printing line, and handle the highest throughput of 8 stacks per minute on one particular product.

Contributed by | Axium
Our customer, a well-known manufacturer of flat carton products, needed to replace their manual palletizing operations by a new robotic palletizer to palletize automatically their stacks of cartons onto pallets. The main objective was to install a flexible robotic palletizing solution that can handle heavy stacks up to 130 lbs at the end of the printing line, and handle the highest throughput of 8 stacks per minute on one particular product.
The complete system consisted of one robotic palletizing cell to palletize stacks of cartons following customer predetermined pallet patterns.
Axium supplied the end of press robotic palletizing system, a system able to handle carton stacks, turns them in the correct orientation, squares them, and places them on a pallet per a specific pre-selected pattern.
CHALLENGES
Handle many stack combination and orientation at the exit of the platen cutter;
Manipulate stack without damaging the bottom carton;
Handle high stack throughput of 8 stacks per minute;
The robotic tool must not damage the carton finish on both side;
Fit the robotic cell in a minimum floor space;
Axium needed to provide a palletizing solution able to handle more than 50 different carton sizes and shapes and palletize them in diffferent pallet patterns;
The system had to comply with both customer's standards and the Canadian robotic safety standards);
System had to integrate stack pattern engine software to create in-house new & future pattern;
Mechanical & Electrical Installation on site;
Start-up and commissioning on site;
Training on site.
SOLUTION
Axium designed a flexible material palletizing system to handle the required combination of infeed /outfeed conveyors.
The system is able to undertake the following actions:
Transfer and convey stacks of cartons;
At the beginning of the run, have the capability to exit stack to the manual inspection air table;
Rotate stack + or – 90 degrees and 180 degrees with two rotary tables built in conveyor and belt transfer;
Square each stack into the two squaring devices installed in parallel mode. Stack turning (print side down) is optional. Convey stacks to an existing bundler, bundler supplied by the customer;
Convey and receive stacks into the robotic cell;
For rates faster than 4 stacks per minute, double stack product using the Axium double stacker installed at the outfeed of the existing bundler;
Convey and receive double stacks into the robotic cell;
Receive one stack of empty pallets to the pallet dispenser by lift truck;
Dispense empty pallet and convey them to the palletizing station via the pallet conveyor circuit;
Pick a slip sheet and place on the wooden pallet, one size pallet of 40x48x5;
Pick the simple stack or the double stacks of cartons with a tool mounted on a robot.
Place the stacks on the pallet as per the pallet pattern;
Slip sheet is picked and placed between layers as per the pallet pattern;
Upon completion, the full load pallet shall automatically exit the cell while the robot continues his cycle time;
Full pallets stop at the unloading pallet station;
All operations are executed automatically;
Lift truck operators pick the full load pallet and remove it.
Axium
Axium is specialized in robotic material handling and assembly. Axium designs, manufactures and installs a complete range of automated solutions for robotic material handling (palletizing, depalletizing, case packing, and peripheral equipments) and transformation of plastic products. Axium solutions meet all clients' needs as for factory and manufacturing automation, in most industries: Food, dairy, consumer goods, beverages, tissue, distribution centers, folding carton, automotive.
The content & opinions in this article are the author's and do not necessarily represent the views of RoboticsTomorrow
---
Comments (0)
This post does not have any comments. Be the first to leave a comment below.
---
Post A Comment
You must be logged in before you can post a comment. Login now.
Featured Product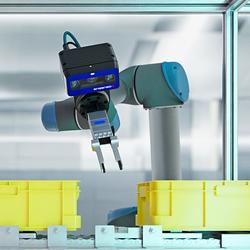 Combining the ease of use of a webcam with the performance and reliability of an industrial camera? The uEye XC autofocus camera from IDS Imaging Development Systems proves that this is possible. Its high-resolution imaging, simple setup and adaptability make it an invaluable tool for improving quality control and streamlining workflows in industrial settings - especially for cases where users would normally employ a webcam. The uEye XC autofocus camera features a 13 MP onsemi sensor and supports two different protocols: USB3 Vision, which enables programmability and customization, and UVC (USB Video Class). The UVC functionality enables a single cable connection for easy setup and commissioning, while delivering high-resolution images and video. This makes the uEye XC camera an ideal option for applications that require quick setup and need to manage variable object distances. Additional features such as digital zoom, automatic white balance and color correction ensure precise detail capture, which is essential for quality control.