Having a UR5 robot tend four CNC machines milling dental crowns optimizes a substantial part of the production cycle at Glidewell Laboratories in Newport Beach, California.

Scott Mabie | Universal Robots
From the dentist takes an impression of a patient's teeth until the finished crown arrives from the lab is usually a process that takes five days. A process, that Glidewell Dental Laboratories wanted to optimize. In looking for automation solutions, engineering manager at Glidewell, David Leeson, had his eyes on Universal Robots' collaborative robot arms:
"I had followed the collaborative robot development for a while and hearing that the UR robots were used at BMW was a vote of confidence in this new type of robot. I finally got to play around with a UR5 at Automate 2013 and realized it was real industrial piece of machinery and not just a toy," says Leeson, who bought the first UR5 robot in 2012 and is now waiting for the seventh to be delivered.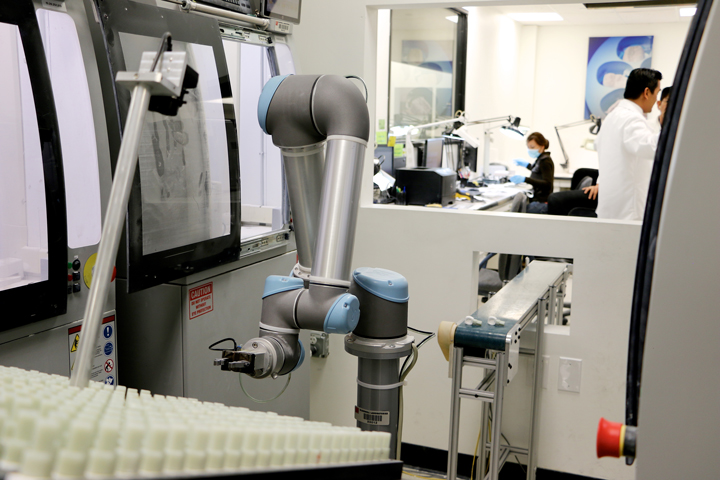 Glidewell Laboratories has now integrated seven UR5 robot arms. They each tend four CNC milling machines.
The UR5 robot picks a crown to be milled from dispensers with blanks in 16 different shades, places the blank in the milling lathe, picks it back out and places it on a conveyor after the 10 minute milling cycle. A vision camera monitoring the dispensers with shades communicates with the robot. If a dispenser is empty or jammed, the vision guidance enables the robot to work on a crown in a different shade, ensuring continued production while an operator can be alerted to fix the dispenser issue.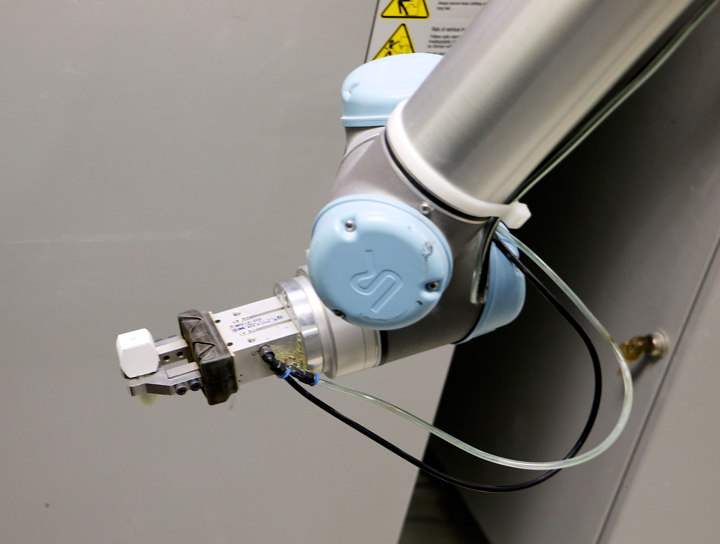 After the UR5 picks the blank out of the dispenser, it places it in front of the scanner to assign the specific patient information to the block serial number, ensuring that the crown goes to the correct patient.
The benefits of single part flow
Since the milling cycle is 10 minutes, it was not feasible for Glidewell to have an operator stationed at the machine to manually load and unload each blank into the machine. Instead, the lab inserted the crowns in batches of 15 each which only needed to be done every two hours.

"But now with the UR robot, we can insert each blank immediately into the mill when we receive the CAD scan without waiting for 15 cases to arrive, having the operator nest them into the 15 piece block," explains David Leeson.
Achieving a dynamic, single part flow with the UR5 robot has cut the production cycle time from 28 hours to 17 hours.
"That is less time that our customers are waiting and it has efficiency benefits throughout our process," says the engineering manager.

The optimized production cycle also means that Glidewell can save two operators per shift in the milling room.
"We run a 24/7 operation and our mission is to fully automate the 80% of our production that is fairly simple, while still keeping the high complexity for manual labor. The robot has freed our employees up to focus and improve on handling the complex tasks which also improves our overall product quality," says David Leeson.
No human-robot separation
Being "collaborative" means that the UR robot can work without any safety fencing right next to employees due to the built-in force-sensing technology enabling the robot to stop operating if it comes into contact with an employee.

"In our history of automation, we used conventional industrial robots. We had to build a large enclosure and separate the people from the robot, which is expensive, takes up space, and is less flexible. It is also a safety concern if somebody defeats the interlocks on a robot enclosure. We don't have to worry about that with the force sensing in the Universal Robot," says Leeson, who thinks the collaborative robots heightened the awareness of the benefits of gradual transition from manual to automated processes.
"Working with a collaborative robot still requires some degree of human interaction and our employees like that. They see the robot as less threatening."

Interfacing with external machinery
Automation engineer Daniel Phee had not worked with collaborative robots before and was surprised at how easy it was to program the robot:
"The interface on the touch screen makes it very easy to program the robot. I used a combination of the teach method and my own script. I really liked how reliable the UR robot is, you don't have to worry about maintenance and we have had no big operation issues come up."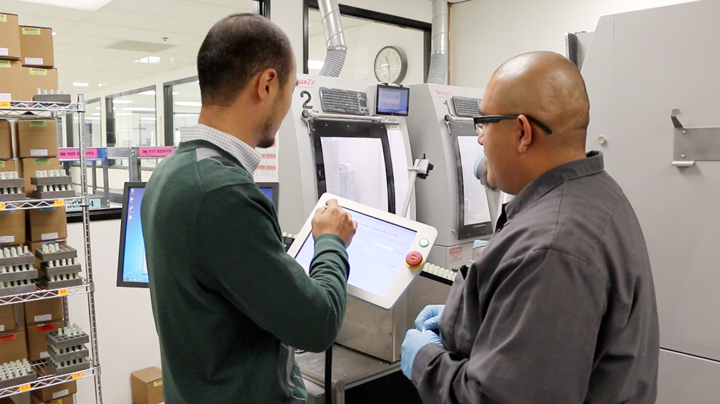 Automation engineer Daniel Phee teaches milling operator Jose Flores how to use the UR5 robot. "Teaching the operator to do a basic trouble shoot was easy. I just had to show them to use the touch screen and make some basic moves. They were able to catch that right away. It made me able forget about the operating and just leave it up to the operators," says Daniel Phee.

The teach method allows the user to simply grab the robot arm and move it through the way points in the desired task. It took Glidewell about 5-6 months to fully integrate the first application.
"But after this it was easy. With the next robots, it only took us 2-3 days to install the complete system," says Daniel Phee.
David Leeson was struck by the fact that interfacing with external equipment was a native capability of the UR robots.

"We wanted to use TCP/IP to easily work with inexpensive, non-industrial hardware instead of having to buy Modbus or something costly like that. As a result, we've got simple integration with a machine vision that we did all the coding in-house for while avoiding having to buy a proprietary expensive system."
Enabling sustained growth
Glidewell Laboratories has had an annual growth of 10% in recent years. David Leeson sees robotic automation as key to sustaining this trend:
"We will likely get 3-4 more UR robots in the near future. The only limiting factor right now is that we need more blocks for the individual crowns. As soon as we have those, we'll get more robots to handle the one crown one batch process. We're also looking into automating other steps in our production where we see the UR robots playing a key role."
Phil Hollingsworth, Senior Application Engineer with Sparkem Technology, distributor of Universal Robots in Southern California, says that repeat customers make up an increasing share of the business now:
"Once manufacturers experience the benefits of the UR robots, they realize what other tasks in their production they could possibly automate. The majority of our customers are within machine tending, but we are also starting to see a new, very diverse application field spanning everything from testing LED lightbulbs to loading and unloading trays of biochemical vials."

About Universal Robots
Universal Robots is a result of many years of intensive research in robotics. The six-axis robot arms weigh as little as 40 lbs. with reach capabilities of up to 51 inches. Repeatability of +/- .004" allows quick precision handling of even microscopically small parts. After initial risk assessment, the collaborative Universal Robots can operate alongside human operators without safety guarding. If the robots come into contact with an employee, the built-in force control limits the forces at contact, adhering to the current safety requirements on force and torque limitations.
Intuitively programmed by non-technical users, the robot arms go from box to operation in less than an hour, and typically pay for themselves within 195 days. Since the first UR robot entered the market in December 2008, the company has seen substantial growth with the robotic arms now being sold in more than 50 countries worldwide. The company is headquartered in Odense, Denmark where all development and production is carried out.
The content & opinions in this article are the author's and do not necessarily represent the views of RoboticsTomorrow
---
Comments (0)
This post does not have any comments. Be the first to leave a comment below.
---
Post A Comment
You must be logged in before you can post a comment. Login now.
Featured Product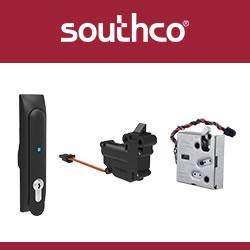 Many robotics engineers need to securely mount and latch sensitive electronic components in their robotics applications; Southco is able to help reduce theft and vandalism with our proven and reliable access technologies. Learn how Southco can help secure your robotics, or other smart city application, from theft and vandalism.