Reliability, ability to travel across varied terrains, and accurate operation are essential elements for the drive system and camera controls on mining rescue robots.

Contributed by | Maxon Precision Motors
Mine rescue robots are designed to replace humans in the most dangerous, early stages of rescue planning and response during a mining accident. When mines collapse, speed in reaching those affected is important. Search and rescue teams need information, and that's where robotic rescue offers key capabilities. First arrival crews cannot enter an already dangerous situation where structural weakness, poisonous vapors, explosive gases, flooding, and much more are probable. Such potentially deadly conditions create multiple challenges for first responders, and often limit their ability to assess the situation quickly and efficiently. Plus, once the dangers are determined, it is critical that proper supplies are delivered to trapped miners or other personnel.
The Gemini-Scout Mine Rescue Robot, developed by Sandia National Laboratories through a National Institute for Occupational Safety and Health (NIOSH) sponsored program, is a robotic first responder that functions primarily as a scout, carrying a payload of analytical equipment, its own lighting system, and several cameras. The unit enters, exits and maneuvers the terrain through the use of track propulsion with an articulated body configuration that allows it to climb over and through rubble piles, over uneven terrain, through water, and small openings. The system can also climb stairs and travel through gravel and sand pits. The unit can pivot in place and traverse 45-degree climbs with few problems. maxon motor supplied four EC45 brushless DC motors for the drive wheels. The Gemini-Scout has a split frame and features four tracks. Each track uses one drive motor. The motors are 2-pole, electronically commutated devices, which provides them with extremely long motor life because there are no mechanical brushes to wear out. Electronic commutation further minimizes electrical noise caused by mechanical brushes. These motors are designed for high-torque capability, which is what aids in the Gemini-Scout's ability to travel across such rough and unusual terrain. High-energy neodymium magnets are used to make the motors highly responsive and to keep the motors compact.

The Gemini-Scout easily climbs stairs to get into and out of buildings or underground facilities.
To drive the Gemini-Scout's tracks, each maxon motor is paired with the company's GP42 planetary gearhead with a 113:1 ratio. Planetary gearheads are used to increase the amount of torque available in a small diameter package, and their concentric input and output facilitates simple mounting arrangements. maxon gearheads are available in a wide variety of ratios and incorporate either ball or sleeve bearings depending on the application requirements. They also operate between temperature ranges from -15 degrees C to 80 degrees C (5 to 176 degrees F). For lower torque applications, maxon supplies a lower-cost plastic version of their gearheads.

The Gemini-Scout Rescue Robot built by Sandia is designed to traverse a variety of types of terrain, including sand, gravel, fallen debris, and rocks, or through water ® Picture credits: © 2013 Sandia National Labs
The Gemini-Scout is able to carry a payload of about 50 pounds of batteries, and can handle an additional 50 pounds of payload, whether for diagnostics of the environment or supplies and clothing for those trapped in the affected area. The unit weighs 190 pounds and moves at a speed of 3.5 mph using a four-foot by two-foot footprint. It is only two feet tall at the tower, which houses the lighting system and surveillance camera.
The robot is equipped with wireless communications or a fiber optic tether option (with additional I/O port interfaces). Although there are forward facing and rear facing cameras to help with navigation, the unit also houses an inspection camera with pan and tilt capabilities. The surveillance camera's pan and tilt capabilities use two maxon EC22 brushless DC motors, plus a GP22 planetary gearhead with an 84:1 drive ratio. As with the other maxon components, the motors and gearheads are designed for compactness and efficiency even under the harsh and hazardous conditions that the Gemini-Scout often entails.
The Intelligent Systems, Robotics, and Cybernetics (ISRC) group at Sandia developed the Gemini-Scout as a platform designed to be scalable—from smaller, more compact robots to larger robots able to handle very heavy payloads. Each robot is completely configurable to accommodate heavier payloads such as additional sensors and analytical equipment, to support a wide variety of missions including boarder tunnels, payload deployment and delivery, search and rescue missions, as well as intelligence, surveillance, and reconnaissance. The maxon components were selected for their accuracy, high efficiency, compactness, power, and long life.

About Maxon Precision Motors
Maxon Precision Motors is a leading supplier of high-precision DC brush and brushless servo motors and drives. These motors range in size from 4 - 90 mm and are available up to 500 watts. We combine electric motors, gears and DC motor controls into high-precision, intelligent drive systems that can be custom-made to fit the specific needs of customer applications.
The content & opinions in this article are the author's and do not necessarily represent the views of RoboticsTomorrow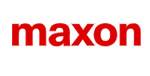 maxon group
maxon is a leading supplier of high-precision DC brush and brushless servo motors and drives. These motors range in size from 4 - 90 mm and are available up to 500 watts. We combine electric motors, gears and DC motor controls into high-precision, intelligent drive systems that can be custom-made to fit the specific needs of customer applications.
Other Articles
Revival Bionics was looking for the best performing materials. The quality of the products and the know-how of the teams convinced the start-up to rely on maxon for the propulsion. A look back at a successful collaboration.
Harmonic Bionics has developed a patented robotic actuator, which uses a load cell that is mechanically isolated from any extraneous loads. The result is that each load cell can sense the force exerted by only the joint of the robot it is mounted to.
Zurich-based startup MyoSwiss has developed a lightweight exoskeleton that works like an e-bike for the legs. It assists the wearer's movements with electronic reinforcement.
---
Comments (0)
This post does not have any comments. Be the first to leave a comment below.
---
Post A Comment
You must be logged in before you can post a comment. Login now.
Featured Product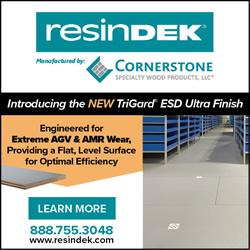 ResinDek flooring panels are designed for elevated platforms such as mezzanines, pick modules, and work platforms. They have the proven structural integrity to support dynamic and static rolling limits from 2,000 to 8,000 lbs. ResinDek flooring panels are available in a multitude of options that are customized for load capacities, required finish type, volume and type of traffic including heavy rolling pallet jack loads and robotic traffic with AGVs and AMRs.