The devices and technology enhance the capabilities of a human surgeon allowing them to perform better than they can "free hand," and potentially allow them to remain active for many more years than has been typical in the past.
Telesurgery and New Robotic Surgery Training Curriculum
Dr. Roger Smith | Florida Hospital's Nicholson Center
Can you provide an overview of what the Florida Hospital Nicholson Center does with regard to robotics on a day-to-day basis?
The Nicholson Center is a post graduate education center for all types of medical providers. Our predominant clients are surgeons seeking to upgrade their skill sets, training over 10,000 surgeons every year. In recent years one of the most sought after programs has been the use of one of the new robotic surgery platforms. These platforms are transforming the practice of surgery in urology, gynecology, thoracics and spinal procedures. The Nicholson Center has become world renowned for offering courses with the da Vinci and Renaissance robots, with other programs in the works. Almost daily we host surgeons in our robotic courses.
What kind of equipment do you use for training?
A surgical course requires the application of a complete suite of surgical equipment, support staff and unique facilities. For robotics courses, these are all brought together in support of primary learning with the robotic surgery device. The two leading systems at this time are the da Vinci robot (Intuitive Surgical Inc., Sunnyvale, CA) and the Renaissance robot (Mazor Robotics Ltd, Tel Aviv, Israel). The da Vinci is used for minimally invasive procedures in the abdomen and chest cavities. It has become the de facto standard for radical prostatectomies and is rapidly gaining ground for hysterectomy procedures. It is also used for specialized procedures in thoracics, Ear, Nose & Throat and general surgery.
The technologies behind the da Vinci robot were originally created by DARPA for military surgical applications. DARPA and the military services envisioned a system which could improve a surgeon's technical skills and extend them to remote locations for telesurgery. Those rough experimental systems and technologies were brought together under a single umbrella to create the da Vinci system which is used in thousands of hospitals today.
The Mazor Renaissance Guidance system is a spinal robotic surgical device used to assist in optimizing surgeons' performance and accuracy in both minimally invasive and open spinal surgeries. Renaissance is transforming spinal surgery by transcending surgical techniques from the traditional freehand methods to state-of-the art, guided procedures. The device uses imaged-based planning and guided instrumentations to assist procedures with increased accuracy.
How many surgeons visit the Center each year to train?
Nicholson Center trains over 10,000 attending surgeons, fellows, and residents every year. The most popular programs are in robotic skills, minimally invasive surgery and orthopedics, but courses are also offered to almost every surgical specialty as well.
What kind of research has the Center conducted and what is its mission?
With our strength in robotic surgery education we have been able to attract funding for research around that topic. Since we are part of a hospital system which uses robotic systems, the focus of our research is on improving the skills, effectiveness and safety of surgeons who use these systems. We have explored a number of problems in this area, published our findings in medical journals and presented at a range of conferences.
We have studied the possibility of remote telesurgery, the educational effectiveness of simulators in teaching robotic surgery, and the ROI that can be achieved when using simulators for surgeon education. In addition, we also deconstructed surgeons' hand movements so that AI software embedded in a simulator can identify errors and automatically provide corrective guidance, and created physical devices that are effective at measuring a surgeon's level of proficiency in robotic surgery.
Is telesurgery something that is practical and possible today or is there still work to do to make it safe and reliable?
The research topic that has attracted the most attention has been our study on the feasibility of robotic telesurgery in a civilian, metropolitan setting. The original DARPA work hoped to create a robotic system which could operate on injured soldiers from a distance. The hope was that the most talented surgeons could perform procedures in combat surgical hospitals, while they actually remain at established military and civilian hospitals.
When these ideas were being explored in the 1990's and early 2000's, the IT infrastructure could not support the volume and speed of data transfer needed to make this a viable practice. As a result there are no commercially available telesurgery robots today. At the Nicholson Center, however, we felt that the IT infrastructure that currently exists within US metropolitan hospital systems might be sufficient to do telesurgery today. Therefore, we conducted a two pronged experiment.
The first experiment presented surgeons with robotic surgery tasks in which we could insert controlled levels of latency that might exist when data travels back and forth across a city or state. This helped us determine the levels of latency which could exist within a system without unduly interfering with surgeon performance and endangering a patient. We found that surgeons generally could not detect latency levels below 250 milliseconds. Above this level, they could feel or see the latency, but were able to successfully compensate for it up to about 400 or 500 milliseconds. Above 500 milliseconds, most surgeons could not adjust their behavior to complete the procedure successfully and safely.
Armed with this information, we set about to measure the latency within our own hospital system for data typical of that generated by a robot (dual HD video streams, audio and control signals). We found that within four of our hospital campuses within the Orlando metro area, data could be delivered with an almost constant latency level of just 5 milliseconds. Assuming that a maximum threshold is 250 milliseconds, this is 50 times faster than we need. Encouraged, we extended the experiment to our sister hospitals across the state of Florida, as well as out to Fort Worth and Denver. These experiments showed latency levels with more variation, but the range was consistently between 30 and 150 milliseconds. Based on this information, we believe it is technically possible to do telesurgery in the USA today.
Tell me about the FRS curriculum you've developed and what it aims to provide to robotic surgeons?
There are a number of excellent robotic training curricula in existence around the country, but each of these is either created by the medical device company or the brainchild of a few surgeons at a single institution. None have become a prescribed standard by the surgical or hospital professions. The Fundamentals of Robotic Surgery (FRS) is the first to be created by 60 of the leading robotic surgeons around the world, a group comprised of all of the major specialties which use the da Vinci robot. These surgeons worked together over a period of two years to come up with a curriculum that should form the foundation for anyone who is beginning their robotic surgery training. They also worked together to design a psychomotor skills device which could be used evaluate surgeons during and at the conclusion of their training. This was a global community project supported by multiple educational grants.
The curriculum that resulted has been made freely available online to any institution or surgeon that wants to use it. The curriculum is also undergoing a multi-site validation trial to determine whether it successfully accomplished the educational goals it was designed to deliver. The engineering designs for the psychomotor skills device are also publicly available for institutions that have the resources to manufacture it themselves, or they can purchase the devices pre-made from the Nicholson Center.
Who should be interested in receiving training at your facility and what are the prerequisites?
Medical professionals, especially surgeons, who are seeking to improve their clinical and team performance can find programs available to them at the Nicholson Center. Our courses and events are organized in multiple forms. They may be unique Nicholson Center programs, symposia created in collaboration with medical societies and associations, industry-led programs, and resident and fellowship boot camps, and custom remedial programs.
What do you envision the future of robotic surgery training looking like?
Robotic-assisted surgery has proven its place in medicine through devices like the Intuitive da Vinci, Mazor Renaissance and Mako Rio. The devices and technology enhance the capabilities of a human surgeon allowing them to perform better than they can "free hand," and potentially allow them to remain active for many more years than has been typical in the past. Properly configured within the hospital, these systems can also improve the productivity of a surgical team.
However, the systems that exist today are just the tip of a new and emerging trend. Robot, computer and information-enhancing surgical assistance systems like this will continue to emerge and transform the practice of surgery. This will drive the demand for education and training programs on how to use these devices and how to integrate them into a hospital system. Providing objective, performance enhancing training which is supported by the medical professionals will become more essential in coming years. Nicholson Center is one place where this training will be hosted, along with a number of other similar centers around the world. We are just at beginning of a very exciting growth trend.
Do you have a wish list for technology and equipment development that you would like to see take priority in this field?
Today's robots are extremely precise mechanical systems. They really do enhance the capabilities of a human at the controls, but these systems are still very "dumb." They collect and understand almost nothing about the procedure or the patient under operation. Future systems should be smart enough, via sensors and data processing, to recognize what is happening and offer assistance based on the very best medical knowledge available in the world. These kinds of smart robots are under development by companies like Google and Ethicon, and they will also be much smaller than the current multi-hundred pound systems that are required to do the job today. Just keep your eyes on this field, it is going to be even more exciting.
About Dr. Roger Smith
Dr. Roger Smith is the Chief Technology Officer for Florida Hospital's Nicholson Center. He was previously the CTO for U.S. Army Simulation, Training and Instrumentation and a Research Scientist at Texas A&M University. He remains on the Graduate Faculty at University of Central Florida and President of Modelbenders LLC. He is focused on bringing innovative technologies into medical education, treatment and services.
The content & opinions in this article are the author's and do not necessarily represent the views of RoboticsTomorrow
---
Comments (0)
This post does not have any comments. Be the first to leave a comment below.
---
Post A Comment
You must be logged in before you can post a comment. Login now.
Featured Product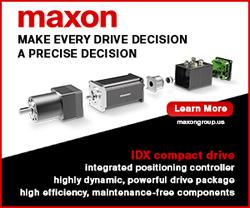 A brushless DC motor solution for use in hip and knee exoskeletons. This complete joint actuation unit consists of motor, gearhead, encoder and position controller. Fitting absolute encoder directly at the joint rotation provides designers increased positioning accuracy. The unit will deliver 54Nm of continuous torque and 120Nm on a 20% duty cycle. The system can be operated on supplies between 10 and 50V DC and the actuation speed is up to 22rpm.