With robotics protocols, hospital length of stay (LOS) after some thoracic procedures at LVHN has declined significantly.
Robotic Surgery a Key Factor Driving Down Hospital Length of Stay
Contributed by | Dexur
Robotic Surgeries are a key healthcare trend revolutionizing the way surgeries & operations are performed. According to Goldman Sachs, total installed robotics systems are expected to be more than 1200 in the US by 2020.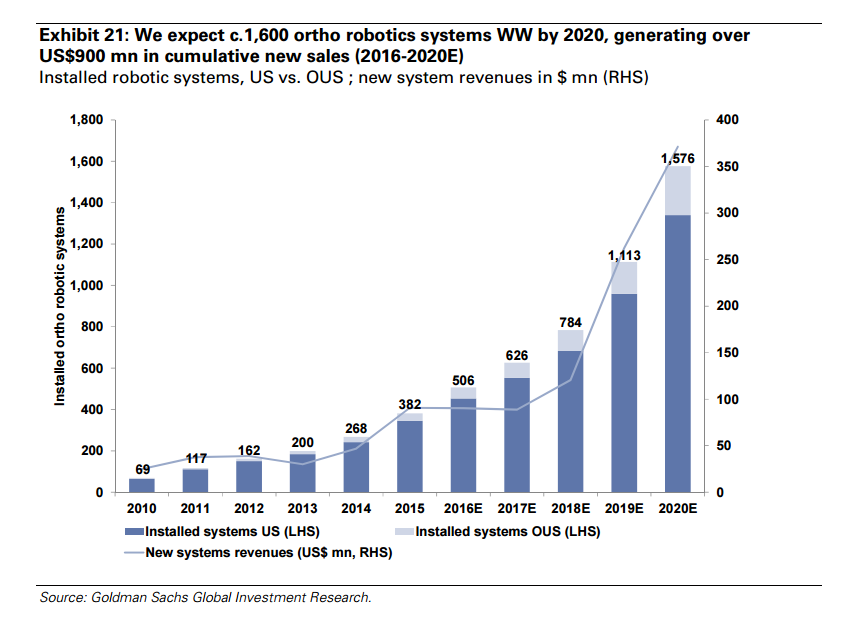 A key use of robotic surgeries is joint replacements such as knee replacement. According to Dexur, DRG 470 is the primary discharge code for Joint replacement & there about 1 Million total joint replacements without complications done in the US every year. Dexur's analysis of medical claims database shows that Medicare patients (which make about 50% of DRG 470) has an average length of Stay of about 2.7 days. A representative list of other major Ortho procedures & the length of stay for each of those DRGs is shown below.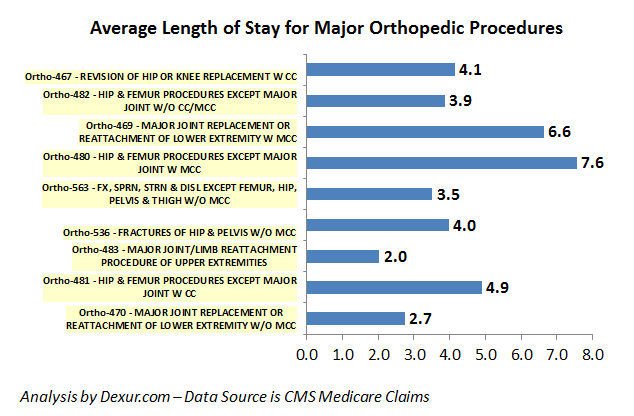 NYU Langone has found that typical hospital stays after robotic surgery are only one or two days, quicker than those experienced with conventional surgery. In some cases, hip or knee replacement are done as a same-day discharge procedure. Computer-assisted surgery relies on technology such as accelerometers, gyroscopes, and pressure sensors, which help doctors properly position implants.
Marshall University examined 29 different studies on the impact of Robotics on Orthopedic surgeries & found that Hospitals reduce costs & improve outcomes beyond length of stay. An excerpt from one of the studies they examined is given below:
A prospective randomized case control study comparing hand rasping and robotic milling for stem implantation in cementless Total Hip Arthoplasty (THA)'s was performed on 156 patients from September 2000 through September 2002. At a three month follow up, there were no significant differences in outcomes of pain and range of motion, but did find statistically significant differences in favor of Robodoc at two year follow up. From the robotic group, 41 patients were able to walk more than 6 blocks without a cane within 13 days compared to only 28 in the hand rasping group. Significant differences were noted in operating time, as well as, in femoral canal preparation time, in favor of manual rasping, while the estimated blood loss was of significance 5 in favor of the Robodoc milling group. No intraoperative femoral fractures were noted in the Robodoc group, which was statistically significant when compared to the hand rasping group.
Other major types of surgeries where robotics are a critical element of surgeries include thoracic & oncology. Le High Valley Health Network's experience with robotic surgeries have shown dramatic improvements in Hospital Length of Stay.
Here is an excerpt of their experience:
With robotics protocols, hospital length of stay (LOS) after some thoracic procedures at LVHN has declined significantly. For esophagectomy, the average LOS at LVHN is five-and-a-half days, compared with nine days for open procedures. In lung cancer robotic lobectomy, LOS is two days, as opposed to six days for an open surgery -- getting patients back to their families more quickly. LVHN data also show that robotic thoracic patients may experience a lower rate of postoperative complications than is traditionally seen with open procedures.
About Dexur
Dexur uses large public & proprietary databases such as medical claims data to generate detailed insights at the territory, condition, drug, and hospital & physician level.
The content & opinions in this article are the author's and do not necessarily represent the views of RoboticsTomorrow
---
Comments (0)
This post does not have any comments. Be the first to leave a comment below.
---
Post A Comment
You must be logged in before you can post a comment. Login now.
Featured Product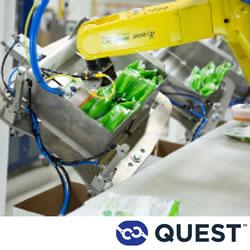 Quest is a leading manufacturer of industrial automation equipment focusing on robotics and vision-guidance. With expertise in the food, beverage, and dairy, Quest optimizes floor space for customers experiencing growing demand and helps improve their overall production line flexibility and efficiency. Quest offers application-specific software on their robotic products, including pick and place, case packing, and palletizing systems to simplify system setup and streamline configurability. Quest is a product brand of ProMach, a global leader in packaging line solutions.