"Our focus on growing this network of technology partners to ensure fast and easy deployment of our robot arms is what really differentiates us from competitors. Were hoping to grow the platform to feature around 100 UR+ solutions by the end of 2017."
Talking AUTOMATE 2017 with Universal Robots
Douglas Peterson and Esben Østergaard
Your company will be exhibiting at Automate 2017, what is it that makes this an important event for your company?
Automate is largest trade show for robotics solutions in North America. The show is smaller than many other shows we exhibit at, but it has the highest concentration of attendees actively looking for the products and solutions that we provide.
What can a visitor to your booth expect to see this year?
Our new two-story booth occupies one of the largest spaces at the show. We will showcase more than 20 new Universal Robots+ products from 14 different developers. The UR+ platform is a new online showroom that takes the trial and error process out of creating a robot application by providing access to products verified to work optimally with UR robots. From grippers to software, sensors, vision cameras, and accessories, Universal Robots+ not only enables end users to hit the ground running when integrating UR robots, it's also an un-paralleled collaboration between Universal Robots and the flourishing developer ecosystem.

Our focus on growing this network of technology partners to ensure fast and easy deployment of our robot arms is what really differentiates us from competitors. We're hoping to grow the platform to feature around 100 UR+ solutions by the end of 2017.
Any new products you will be introducing?
One of the partners currently in the UR+ process is FESTO. At Universal Robots' Automate booth #1245, the company will show a new reliable and cost-effective solution for extending the reach of UR 6-axis robots through a horizontal or vertical 7th axis. This new solution is based on the FESTO electric linear-axis EGC-HD and CMMP-M3 servo-drive with the company's advanced safety module. The servo-controlled actuators have been seamlessly integrated within UR's programming environment and are compatible with the full range of UR robots.
Automate is also the launch pad for the new low-cost, multi-axis force torque sensor Axia80 from ATI Industrial Automation that will debut at the UR booth embedded with a UR5 robot. Featuring an interactive booth demo, attendees will be able to move a work piece and force the cobot to adjust its path while it maintains a constant force. Unlike load cells, which only operate on a single axis and measure only push, the Axia80 senses torque and side loads along all six axes.
To further document how UR+ solutions can work in tandem, a lineup of UR3 robot demos, each equipped with up to five different UR+ products, will also be ready for attendee interaction. The demos feature UR+ solutions from Millibar, Airgate, SICK, OnRobot, Robotiq, Weiss, OptoForce, Reiku, Schunk, Igus, Roboworld, and Afag.
When you get a chance to walk the exhibit hall floor yourself, what is it you will be most interested to see?
This year, we're really excited that more than 20 other exhibitors will be featuring a UR robot in their Automate or Pro-Mat booths. We're looking forward to seeing how these partners implement our robots in new innovative applications spanning everything from packaging, quality inspection, bin-picking, metrology, machine tending, gluing and assembly.
We will also be on the lookout for new interesting 3rd party software solutions, end of arm tooling, and other accessories to expand our UR+ developer ecosystem. New exciting technologies that are entering the robotics space, such as sensor technologies, gripper technologies or AI will also be on our radar.
Automate 2017 has over 100 educational sessions, is your company involved in any of them this year?
Yes, Universal Robots representatives will deliver three presentations at Automate this year:
Tuesday, April 4:
10:00 am - 11:30 am:
Collaborative Robots: Opportunities and Challenges
Roberta Nelson Shea, Global Technology Compliance Officer, Universal Robots:
This presentation examines the collaborative robot landscape from the standpoint of environments of use, what this means, how similar needs should have similar requirements yet can diverge due to lack of coordination. What are these implications and how might we move ahead?
1:30 pm - 3:00 pm:
Collaborative Robots: Getting Started
Douglas Peterson, General Manager Americas Region, Universal Robots
For almost any size manufacturer, global competition is driving the need to increase output, improve quality, and reduce costs. But many small and mid-sized enterprises (SMEs) believe their volumes are too small or processes too dynamic to be effectively automated, or that they just can't afford robotics. Fortunately, market dynamics and new technologies are finally changing the automation equation in favor of SMEs. A new type of robotics—called collaborative robots, or "cobots"—work alongside human workers to cost-effectively automate even low-volume, fast-changing processes and improve competitiveness.
Wednesday, April 5:
3:00 pm - 5:00 pm:
Collaborative Robots: The Future of Human-Robot Interaction
Esben Østergaard, CTO and founder, Universal Robots
Mass production of standardized products is a dying breed with the end users of tomorrow demanding "unique" rather than "standard" offerings. The manufacturing industry, faced with rapid and radical changes, must adjust accordingly and needs some first aid in doing so; partly from new, flexible technologies and partly from that special quality that only humans possess: creativity.
Esben Østergaard sets the stage for the future of manufacturing in an age where the train of technology does not wait for delayed passengers. It's a future where manufacturers need the courage to give back power to their employees, ushering in an era that departs from "man VS. machine" to arrive at "man WITH machine", fusing flexible robotic capability with human creativity.
When you book a booth for a tradeshow like this what are your expectations and what does your company hope to accomplish at the event?
A tradeshow like Automate is a unique opportunity for UR to meet prospective new cobot users. A visit to our booth is a hands-on experience unlike any other at the show; you simply walk right up to one of our robots on display, grab a touchscreen, follow the intuitive user interface, and in less than two minutes you've mastered a robot move. We always look forward to that "wow" moment when visitors realize just how easy it is to program a UR robot.
The content & opinions in this article are the author's and do not necessarily represent the views of RoboticsTomorrow
---
Comments (0)
This post does not have any comments. Be the first to leave a comment below.
---
Post A Comment
You must be logged in before you can post a comment. Login now.
Featured Product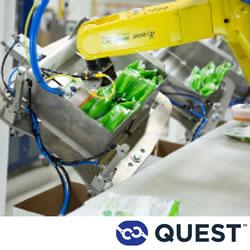 Quest is a leading manufacturer of industrial automation equipment focusing on robotics and vision-guidance. With expertise in the food, beverage, and dairy, Quest optimizes floor space for customers experiencing growing demand and helps improve their overall production line flexibility and efficiency. Quest offers application-specific software on their robotic products, including pick and place, case packing, and palletizing systems to simplify system setup and streamline configurability. Quest is a product brand of ProMach, a global leader in packaging line solutions.