Robots that deliver essential items, entertain and inform, or teach your kids are becoming more common - and theyll become even more so in the coming year.
Trends in Service Robots
Steve Cousins | Savioke
What will be new for Relay and other service robots in 2017?
This year we will continue to see service robots helping people in ways never imaginable -- from coffee making and pizza delivery to robots that assist the elderly or people with special needs. For Relay in particular, you can expect to see widespread growth into more hotels throughout the world, along with new use cases into other busy, dynamic environments where people live, work, and play including high-rise residences, office buildings, healthcare centers, and industrial facilities.
What are the hottest trends in robotics right now?
I see two important changes in the robotics industry happening now.
First, the number of people personally helped by robots will skyrocket in the coming months. Robots that deliver essential items, entertain and inform, or teach your kids are becoming more common - and they'll become even more so in the coming year. As a December 2016 report on from Silicon Valley Robotics association says, robots' roles in society are moving from "doing dirty, dull, and dangerous work to helping improve the lives of ordinary people". My company's delivery robot, Relay, already helps tens of thousands of people at hotels every year. Relay is also launching in apartment buildings, elder care facilities, office buildings, industrial environments, and other locations. People are now relying on "virtual robots" such as Siri on their smartphones and Amazon Alexa at home. In 2017, being helped by physical robots is a natural progression.
Second, robot design for human interaction will take center stage. The base technology building blocks for robots - sensors, open source robotic operating system (ROS), 3D printing, AI software - are now sophisticated and inexpensive enough to build robots that work safely around people. But safety is only a piece of the puzzle when designing robots that live and work in human environment. The overall design - size, shape, sounds, movement, and personality - are critical to a robot's success if robots are to be accepted and trusted by humans.
Can you give some examples of robots that have excited or inspired you recently?
The conference rooms at Savioke are all named in honor of our robot heroes including the famous R2D2, who, like Relay, is warm and friendly and effectively communicates without having to speak. We also celebrate Japan's Astro Boy, a wildly popular, animated robot who has become a hero in that country. Another robot we honor is Shakey. Developed in the late 1960s, he's the world's first mobile robot, and had a big influence on the development of Relay.
How is the growth of AI and robotics changing academia and the job market?
Despite claims that robots will eliminate millions of jobs, the robotics market is growing so exponentially fast, there will be huge demand for robot designers, engineers, programmers, and business experts. To respond to this demand, higher education institutions have already added new robotics majors that span instruction in engineering, computer science, psychology, and kinesiology.
And robots won't just create jobs for highly-educated people. Service robots will help improve foot traffic in retail stores, malls, hotels, and other consumer-facing businesses where they're deployed, leading to increased sales and thus more hiring in these sectors. In addition, the skill sets of people who work in those environments will grow alongside the robotics industry, increasing their value as employees.
New collaborative robots will also increase productivity in the industrial sector, improving companies' bottom lines and thus spurring more hiring.
What are the design elements that make robots appealing to people? Why do people tend to attribute human qualities to robots vs. other types of technology?
As robots working around and interacting with humans become more and more common, it's critical that people trust and feel comfortable around them, and that the robots don't intimidate or frighten them in any way. Robots that gain widescale acceptance need to be approachable, easy to use, non-threatening, and aligned with specific cultural norms. In Japan, for instance, people prefer anthropomorphic robots, whereas Americans find robots that look too human "creepy". That's why our design team went to great lengths to incorporate human psychological principles like empathy and emotional connection in Relay's DNA.
What are your customers most excited about in terms of the future of robots?
Our customers have helped open up new unlimited opportunities and capabilities of Relay. In the hotel sector, we started this journey thinking Relay would be used strictly for snack and amenity deliveries in hotels, but now we see him delivering birthday balloons, cakes, flowers, and even an engagement ring for a surprise proposal. Beyond that, many innovators from other industries and countries have reached out to us to explore delivery services and opportunities we never dreamed of when we started the company. We're hoping to share more details on that in the months to come.
What is the next step for Savioke and your Relay robot?
It's an exciting time at Savioke. We have a vision of Relay being ubiquitous; the number-one delivery robot in the world and have significant growth plans taking shape. We're focused on new opportunities to deploy multiple robots in new and existing markets. At the same time, we're launching globally with a strategic sales and systems integration partnership in place in Japan, as well as installations in Singapore and Dubai.
How did CES work out for you this year? Is it what you expected?
We were thrilled with CES this year. Robots were everywhere and Relay got a lot of interest and attention from the press and attendees. The best part is we noticed a definite shift in people's attitude toward robots. The days of human-facing robots being just a novelty, toy, or character in a movie are gone. These robots are becoming recognized as valuable technology that can help improve people's lives. That shift is good for Savioke and great for the entire robotics industry.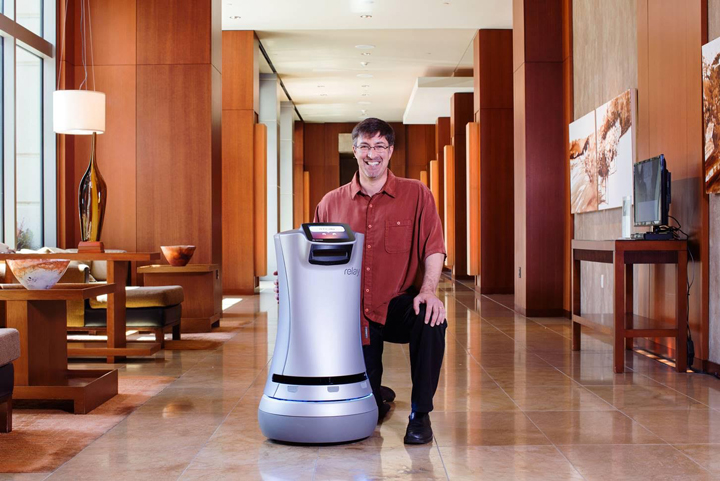 About Steve Cousins
Steve Cousins is founder and CEO of Savioke, which develops and deploys autonomous robots that work in human environments to improve people's lives. Steve was previously president and CEO of robotics incubator Willow Garage.
The content & opinions in this article are the author's and do not necessarily represent the views of RoboticsTomorrow
---
Comments (0)
This post does not have any comments. Be the first to leave a comment below.
---
Post A Comment
You must be logged in before you can post a comment. Login now.
Featured Product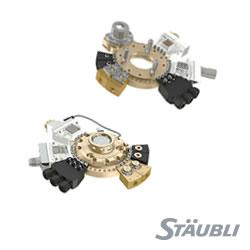 Stäubli is a pioneer in the construction and development of robotic tool changing systems. Our customers benefit from our many years of expertise in all industry sectors, as well as our modular product concept, which offers three efficient solution paths: MPS COMPLETE offers preconfigured robotic tool changers for immediate use. MPS MODULAR allows the user to determine the configuration, while MPS CUSTOMIZED allows the construction of special, application-specific systems.