When the sensor is integrated into a wearable device and placed across a joint, it is stretched when the joint moves. We can correlate the joint's movement and sensor's capacitance change in order to monitor motion.
Soft Stretchy Sensors
Conor Walsh and Asli Atalay | Wyss Institute
There are already soft sensors made of silicone, fabric, and/or other materials out there. What distinguishes your sensor from the rest?
Conor: We are not the first group to make capacitive soft sensors, but we found that there is a need for robust strain sensors that are affordable, robust and easily customizable for different applications. This work focused on developing a batch fabrication methodology for creating these sensors and in particular we focused on using textile-based materials so that the sensors could be easily integrated into wearable garments. In addition, we hope by sharing the details of the approach in the paper and online via the Soft Robotics Toolkit that other groups can also employ them in their own work.
Explain how the stretching motion enables the sensor to "sense" movement (i.e., how the capacitance changes are interpreted/registered)
Asli: Since the developed sensor is responsive to stretching action, the sensor changes its capacitance value relative to the degree of stretching. When the sensor is integrated into a wearable device and placed across a joint, it is stretched when the joint moves. We can correlate the joint's movement and sensor's capacitance change in order to monitor motion.
What are the most relevant or likely applications of this technology in the real world?
Conor: In the paper, we present how these sensors can be used to measure the movement of the fingers in a glove and in the future we potential for integrating them into soft wearable robots as well smart clothing for sporting and gaming applications.
Are there any limitations to this sensor design? Are there instances in which it won't capture a certain type of motion? (i.e., can it only sense "movement" but not "movement in a particular direction?)
Conor: The current sensor can measure either strain or pressure independently but measuring both together is not possible at present.
How are you building on this work to develop it further?
Conor: Our team is currently working to integrate this sensing technology into fabric-based soft wearable robots to help people who have physical impairments due to diseases such as spinal cord injury or ALS. These sensors can monitor the movement of the wearer and their interaction with objects to so that the device can be very intuitive for them to use.
About Conor Walsh
Conor Walsh is the founder of the Harvard Biodesign Lab, which brings together researchers from the engineering, industrial design, apparel, clinical and business communities to develop new disruptive robotic technologies for augmenting and restoring human performance. This research includes new approaches to the design, manufacture and control of wearable robotic devices and characterizing their performance through biomechanical and physiological studies so as to further the scientific understanding of how humans interact with such machines. Example application areas include enhancing the mobility of healthy individuals, restoring the mobility of patients with gait deficits and assisting those with upper extremity weakness to perform activities of daily living. His research group actively engages with industry and multiple technologies have been licensed, and his group has active collaborations with multiple companies including ReWalk Robotics and New Balance.
The content & opinions in this article are the author's and do not necessarily represent the views of RoboticsTomorrow
---
Comments (0)
This post does not have any comments. Be the first to leave a comment below.
---
Post A Comment
You must be logged in before you can post a comment. Login now.
Featured Product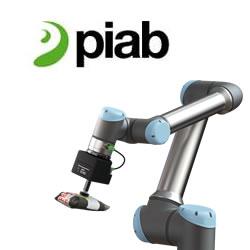 Piab's Kenos KCS gripper enables a collaborative robot to handle just about anything at any time. Combining Piab's proprietary air-driven COAX vacuum technology with an easily replaceable technical foam that molds itself around any surface or shape, the gripper can be used to safely grip, lift and handle any object. Standard interface (ISO) adapters enable the whole unit to be attached to any cobot type on the market with a body made in a lightweight 3D printed material. Approved by Universal Robots as a UR+ end effector.