Since the medical and manufacturing industries both handle sensitive materials, the shift to having robots handle them instead can save lives and cut costs.
Four Robotic Adoption Tips Manufacturers Can Learn From Medical Industries
Kayla Matthews | Productivity Bytes
The medical industry is a great model for robotic adoption strategies that make work more efficient and successful. Manufacturing businesses, especially, can point to medical industry strategies as a basis for incorporating robotics into their operations.
Although the medical and manufacturing industries differ in their services, the continuing rise in robotics provides room for comparable uses. Robotics continue to get more accessible regarding both pricing and functionality, and experts anticipate the robot market will approach $135 billion by 2019. The robotics industry is in an early stage, though the promise of greater efficiency and lower costs for businesses across all industries have made robotics investments significant.
These four robotic adoption strategies within the medical industry are effective points of inspiration for manufacturing industries seeking to implement robotics.
1. Start with cobots
Collaborative robots are anticipated to grow by 175 percent over the next nine years. What's particularly appealing about this niche of robots is how they are smaller and efficient than traditional robotics. Despite only accounting for 3 percent of industrial robots sold in 2016, collaborative robots are a big part of the future in the medical industry.
For example, a medical device manufacturer with a small factory can automate its assembly line through collaborative robots, whereas the large and expensive traditional industrial robots would not be worth the investment. There is an abundance of medical and manufacturing businesses alike whose resources are limited to smaller factories, so the increased usage of collaborative robots within the medical industry is something the manufacturing industry can note, especially for manufacturers with limited space and resources.
The upward trend regarding robots is already very noticeable. The first quarter of 2017 saw 32 percent more robots purchased than at the same time in 2016, indicative of increasing accessibility thanks to the likes of collaborative robots.
2. Put them where humans don't want to be
Workers in the medical and manufacturing industries share a need for precaution in certain environments. Medical professionals often deal with infectious bacteria that need to be handled delicately, just as manufacturers handle resources that can be molten-level hot and heavy. Within the medical industry, robots like Petman test clothes that protect from chemicals.
Petman is used primarily to test and evaluate next-generation hazmat suits. Such use emphasizes the role of robots both as test subjects for protective clothing, as well as handlers of sensitive materials that can help avoid human injury and casualty. Since the medical and manufacturing industries both handle sensitive materials, the shift to having robots handle them instead can save lives and cut costs.
Robots can also help in surgical visualization, especially since other kinds of instruments instruments have the potential to cause surgical smoke, which significantly decreases surgeon visibility. Alternatively, robots can use greater precision and modernized materials to make visibility improved for both the robot and spectators.
3. Use them for remote work
The medical industry has already seen success with robotic functions like Intouch Health, which is a telehealth network that provides high-quality emergency consultations. In this video example, you can see a doctor diagnosing a patient from a remote location, with the ability to examine his inner ear with specialized technology that's connected to the video feed.
The manufacturing industry can use similar technology for specialized troubleshooting, proving especially useful when an expert or manager is at a far-off location, and a machine needs repairs ASAP. Camera-equipped robots that follow a team around as they diagnose various issues, with the ability to connect and provide visual information on the facets of manufacturing, could help significantly with a virtual collaboration that results in effective, timely repairs.
Since the da Vinci surgical system has already completed 1.5 million successful surgeries to date, it's not unrealistic that similar robotic technology can become available for manufacturers to automate repairs similarly.
4. Use them to improve workplace sanitation and efficiency
Robots have aided medical facilities through automated infection control. Specifically, Xenex Disinfection Services robots use UV disinfection to help combat health care-associated infections and reduce the rate for many infections. Since robots are already in use in hundreds of hospitals, who use a single robot to clean up to 64 rooms per day, it's safe to expect that these robots will become more commonplace even beyond medical facilities.
Though disinfecting every nook and cranny in a manufacturing plant is not nearly as vital as doing so in a medical facility, the same practicality of using a robot to improve a workplace environment is worth considering.
For example, robots can analyze a floor plan to determine optimal efficiency, suggesting moving certain machines for the best result. Additionally, disinfecting areas and reducing the chances of employees taking off sick is a benefit in itself.
Experts predict the market for disinfection robots will grow to $80 million by the end of 2017, thanks largely to the medical industry, though with expressed interest from other industries, as well.
These four areas have already improved the safety and efficiency of many medical practices, from helping in surgery to reducing the chances of bacterial infection in medical facilities.
The manufacturing industry can look to each of these benefits as a reason to invest in and implement robotics as a part of their daily operations.
The content & opinions in this article are the author's and do not necessarily represent the views of RoboticsTomorrow
---
Comments (0)
This post does not have any comments. Be the first to leave a comment below.
---
Post A Comment
You must be logged in before you can post a comment. Login now.
Featured Product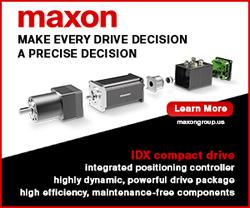 Discover the world of drive technology from a leading worldwide supplier of innovative customized drives. - Manufacturer of brushed and brushless DC motors, gearheads and motion controllers - Custom drive systems, quantities as low as a single unit - Certified for aerospace and medical applications