Our Pack Expo booth S-8257 will showcase a new mobile and modular tabletop system featuring vision-guided multiple part feeding and kitting with conveyor tracking and case loading/unloading.
Talking PACK EXPO with Craig Tomita of Universal Robots
Craig Tomita | Universal Robots
Your company will be exhibiting at PACK Expo, what is it that makes this an important event for your company?
This Show is important to Universal Robots because our collaborative robot products are commonly used in loading/unloading applications which are certainly one of the operations of any packaging system. As opposed to hard automation where a system is pretty much relegated to doing the same thing over and over, collaborative robots can provide a measure of flexibility in terms of usage and application. One of the added advantages that collaborative robots (or cobots) from Universal Robots provide is the safety. As a force-sensing robot, our robots in most cases can be used without the need for physical guarding or cages. Because guarding is not necessary, and because our robots are also low voltage (operating on 110V AC), our robots are mobile and can easily be deployed and redeployed throughout a manufacturing facility as needs change. Finally, our robots are easy to program and can be programmed by non-programmers. All of these features and benefits which align very well with the packaging industry are why we exhibit every year at the PACK EXPO.
What can a visitor to your booth expect to see this year?
At Universal Robots we like to partner with our Certified Systems Integrators (CSIs) in developing new cobot-assisted applications. Our Pack Expo booth S-8257 will showcase a new mobile and modular tabletop system featuring vision-guided multiple part feeding and kitting with conveyor tracking and case loading/unloading, developed by CSI Allied Technology.
In a market where high mix/low volume is becoming the norm, we believe a robot cell should be modular, flexible, and easy to use. Allied's new system is scalable and allow for a company to easily make changes when production has new requirements or a new product to run. The UR robots are simple to program from a low and high-level standpoint and holds the collaborative certifications required to support unique, flexible robot cell designs.

The new mobile tabletop system includes:
Intelligent Part Feeder using Vision Guidance to singulate multiple different small parts

Articulating End of Arm Tooling to pick multiple parts

Conveyor Tracking and automation for crowding groups of parts on a conveyor

Variety pack case loading and unloading of cases to be resorted

All self-contained on a mobile tabletop system
Any new products you will be introducing?
For this show, we are working on a brand new demo that invites attendees to interact with the UR10 robot by interrupting its palletizing routine by pressing a button, prompting the cobot to present a bottle of water to the attendees. This demo shows several different types of applications/uses for the robot:

Palletizing/de-palletizing with flexible use
This type of application utilizes the UR to remove items from a tray, cart, box, or any other container that can be placed by the robot. After removing the items from a tray, the operator can use the robot for any number of operations, examples would be inspection, machine loading, presenting to an operator, or even manipulating the parts around other equipment.
Interpreting input from outside resources
The UR10 robot is constantly monitoring for a signal from the button and once received, the programming uses a logic check to then maneuver the robot into performing a different action which, in this case, is presenting the water bottle to the person who requested one. Interpreting digital signals or more complex communication allows the UR Robot to perform a multitude of tasks depending on what's needed and when.
When you get a chance to walk the exhibit hall floor yourself, what is it you will be most interested to see?
I am interested in seeing exhibits that currently include standard industrial robots to perform loading/unloading tasks and the opportunity to direct companies and their personnel to our booth to see how their existing systems might benefit from using Universal Robots as a safer and more user-friendly alternative. There are already numerous PACK EXPO exhibitors that are now integrating UR robots in their applications including ADCO Manufacturing, Belden and FP Developments. I always enjoy seeing our cobots in action in other exhibitor booths; ADCO will show an integrated packaging system featuring our UR5 cobot mated to an ADCO model Compact 4 vertical rotary cartoner, FP Developments is demonstrating how our robots can perform both product inspection, filling and labeling of syringes, while Belden has their Lumberg Automation LioN-P μDCU control our UR3 via discrete commands in a pick and place application.

PACK Expo has many educational sessions & Demo's, is your company involved in any of them this year?
Yes, I'll be presenting at FP Developments' in-booth seminar as they demo UR robots with their Robotic Syringe Fillers, a hands-free automatic syringe filling system designed to operate within a typical LAF booth. The presentation is September 26, 11:00-11:30am at booth N-414. .
When you book a booth for a tradeshow like this what are your expectations and what does your company hope to accomplish at the event?
Primarily, the expectation is developing awareness. Collaborative robots are relatively new entrants onto the industrial robot scene. The concept and benefits of "cobots" are still not widely known. We find that many visitors to our booth might have heard the term and marvel at how easy they are to program. Once people become aware of what our cobots can do for them, it's fun to watch the light bulbs turning ON in their heads!
The content & opinions in this article are the author's and do not necessarily represent the views of RoboticsTomorrow
---
Comments (0)
This post does not have any comments. Be the first to leave a comment below.
---
Post A Comment
You must be logged in before you can post a comment. Login now.
Featured Product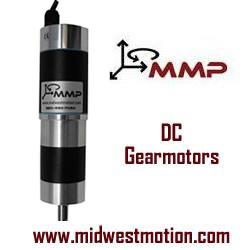 MMP is well known for our Lightning-Fast Delivery Capability, Huge On-Hand Inventory, High Volume Capacity and Time Tested and Proven Reliability Methods. Our 100+ years of combined work experience and being able to deliver continual committed service to design and engineer ideas into reality gives us a competitive advantage in the motion control industry. If you need a sample right away, we can be a project-saving convenience for you, so contact us today!!