Mouser stocks the widest range and most technologically advanced robotic products in the industry. The Empowering Innovation Together program invites readers and viewers to consider the unexplored possibilities that advanced technology such as robots can offer.
Mouser Electronics - Empowering Innovation Together
Jeff Newell | Mouser Electronics
Can you give us a quick background on Mouser Electronics and the products and services you offer?
Mouser is an authorized global distributor for more than 700 suppliers. We stock a wide breadth of inventory across all product categories, and all of it is available for same-day shipping through Mouser.com or any of our 22 and growing customer service operations around the world. We offer a large range of services for our customers, including no minimum orders, a best-in-class inventory management tool, an industry-leading BOM tool, easy ways to search and browse and much more.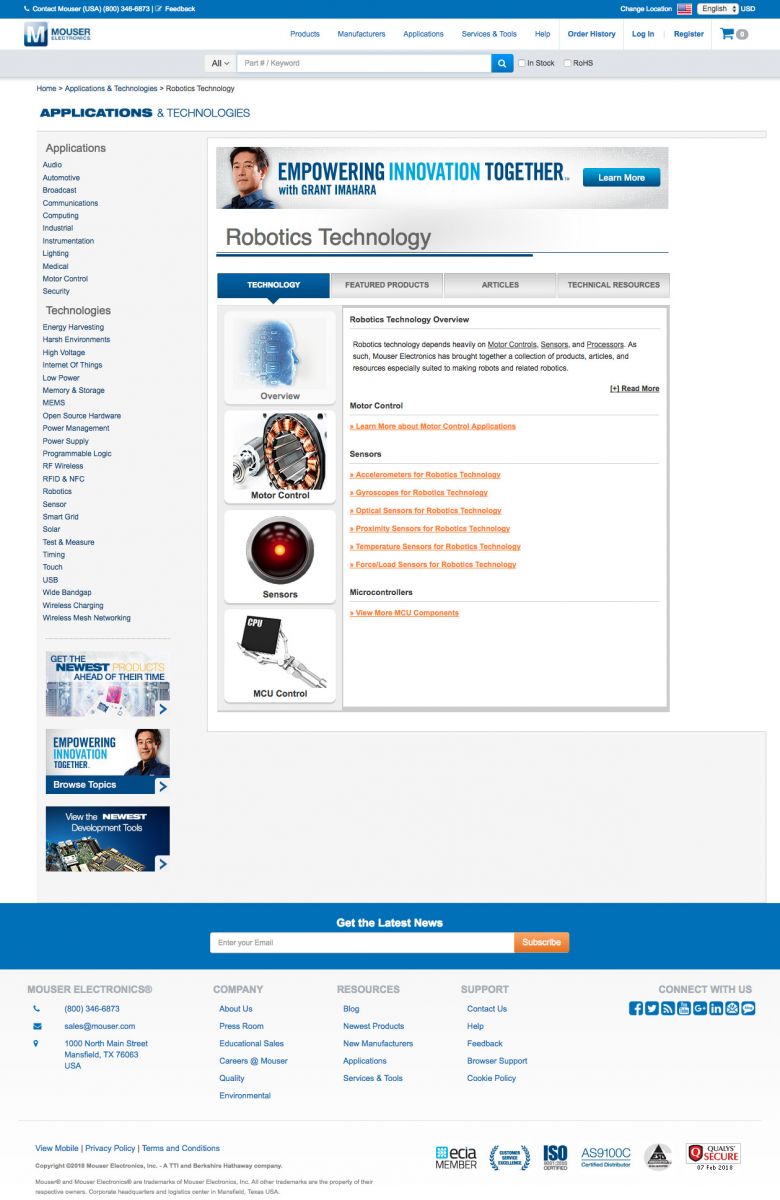 Mouser is known in the industry as the New Product Introduction distributor. Can you tell me about some of the featured products that relate to robotics?
Mouser stocks the widest range and most technologically advanced robotic products in the industry. Among the products from our line card of more than 700 leading suppliers, we offer:
Texas Instruments DRV8x Integrated Motor Drivers
The DRV8x family includes both motor drivers and FET gate drivers that support load currents as high as 100 A, enabling designers to quickly and easily spin motors, reduce time to market and greatly simplify design.
Cypress FM4-176L-S6E2GM MCU Pioneer Kit
This low-cost development platform for the Cypress FM4 S6E2G-Series of ARM® Cortex 32-bit microcontroller (MCU) is ideal for rapid development of cost competitive, high-performance, safety-critical, industrial systems applications.
Intel® RealSense™ Depth Camera D400 Series
The D400 Series includes ready-to-use cameras that can be easily added to your existing prototype devices and machines giving them the ability to perceive their surroundings and extract 3D information from a scene.
Tell me about some of the resources you have available on your website that relate to robotics.
Robotics technology depends heavily on motor control, sensors and processors. Mouser Electronics has brought together an industry-leading collection of products, articles and resources especially suited to making robots and related robotics. You can learn more at www.mouser.com/applications/robotics-technology
Mouser enlisted engineer Grant Imahara to be a spokesperson for Mouser and the Empowering Innovation TogetherTM program. How does this program apply to robotics?
Grant is much more than a spokesperson; he is a longtime Mouser customer who aims to teach, facilitate and inspire technological innovation everywhere — especially among budding engineers.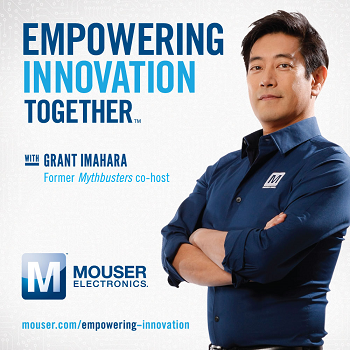 Grant has built some very famous robots for movies and television and is uniquely qualified to lead the Empowering Innovation Together program. Throughout the program, Grant's expertise in robotics guides the design, build, and refinement of robots.
The Empowering Innovation Together program invites readers and viewers to consider the unexplored possibilities that advanced technology such as robots can offer. The program presents information in a fun way that engineers of all ages can appreciate.
More information is available at www.mouser.com/empowering-innovation/robotics.
Mouser has long been a sponsor of many extracurricular educational programs, including the FIRST® Robotics Championships for high school students. Why has Mouser been such an ardent sponsor of such activities?
Science education is at the heart of who we are at Mouser. We are proud to continue sponsoring FIRST Robotics Competition, a program that supports the brightest young minds and future engineers. FIRST provides students with a platform for innovation, a chance to solve real engineering challenges, and an opportunity to build leadership, character and self-esteem.
Can you give us some examples of how today's leading-edge components that Mouser offers play a role in how robots do what they do?
From compliant actuators for next-generation "soft" robotics to advances in motor control technologies, building robotics subsystems has never been easier from a sourcing and development perspective. Mouser's supplier partners offer a wide selection of components, reference designs and evaluation boards that give engineers the tools to validate their designs, implement the right power management solutions and incorporate the latest sensors and controllers.
How does Mouser envision robotics changing our everyday lives?
Robots and robotics have been changing our lives for decades in industrial, military, and medical applications. But as the technology becomes more advanced and economies of scale drive down the cost to build, we will likely see robotics enter our homes and workplaces more and more. Similar to how vacuuming robots are now commonplace, robots may take over practical tasks in other areas. And advances in machine learning will speed the development of autonomous vehicles and robots designed to interact with humans.
The world of robotics is evolving rapidly. How will Mouser continue to be a leader in the distribution of components and in getting those components to the engineers fast?
At Mouser, providing our customers with service excellence and on-time deliveries will continue to be our top priority. This includes stocking the widest selection of the newest technologies and electronic components for robotics from our supplier partners.
We expertly manage inventory relative to market demand and ensure that the newest products from our supplier base are on the shelf, ready for same-day shipment across the globe. Through Mouser's strengths, buyers and engineers can secure the latest authentic products for their designs.
The content & opinions in this article are the author's and do not necessarily represent the views of RoboticsTomorrow
---
Comments (0)
This post does not have any comments. Be the first to leave a comment below.
---
Post A Comment
You must be logged in before you can post a comment. Login now.
Featured Product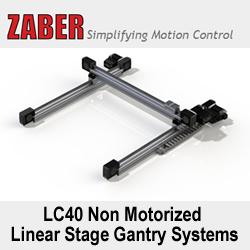 A Zaber gantry kit comes with everything you need to build a customized XY gantry system or XYZ gantry system. These gantry systems feature coordinated multi-axis motion, plug-and-play operation, easy integration with end-effector options, and built-in IO and E-Stop capabilities. An intuitive ASCII interface allows the user to easily communicate with the gantry systems using our free software, either Zaber Motion Library with APIs for several popular languages or Zaber Console. Third party terminal programs that can communicate over a serial port can also be used.