Sensors and gripper arms can simply be attached and removed as needed. You dont even have to be a specialist to quickly and easily replace a defective part, which makes the robots extremely flexible and economical to operate.
The Art of Building a Robot
Stefan Roschi | maxon motor
Reprinted with permission from the maxon motors blog:
Philip Norman used to be an architect and a painter. Then he made an invention that could prove to be a game-changer for the way robots are built in the future.
Canada-born Philip Norman has always been fascinated by simplicity. As an architect, he preferred a minimalist style, and as a painter, he reduced forms to their essence. One day as he was watching his children play, he began to ponder the question why toys couldn't be made simpler – using modular parts.
Fascinated by the idea, he got hold of a CAD drawing program and sat down in front of his computer. "I was really enthusiastic and forgot everything around me," he recollects. Finally, one year later, Philip Norman concluded the development of a modular component and applied for a patent. At the patent office it became apparent that nothing comparable existed, no one had yet thought in this particular way.
Now all that was left to do, was to find a suitable area of application. "I thought of the toy industry at first, but that didn't work out. A friend then pointed me in the direction of robots. I knew very little about robotics and had to teach myself a lot of things. But it quickly became apparent that this area offered great potential." Because today's robots are almost always developed and built for one particular purpose, their sensors and tools are permanently installed, with changes requiring a substantial cost and time investment. If anything breaks, the robot needs to be examined by an expert, which costs more time and money.
Robots of various sizes
Philip Norman's fledgling company Ross Robotics follows a different philosophy. The robots have a modular design, with each element featuring a brushless flat motor from maxon and the EPOS4 positioning controller. "I needed a motor that is very compact and at the same time delivers high amounts of torque," says Philip Norman.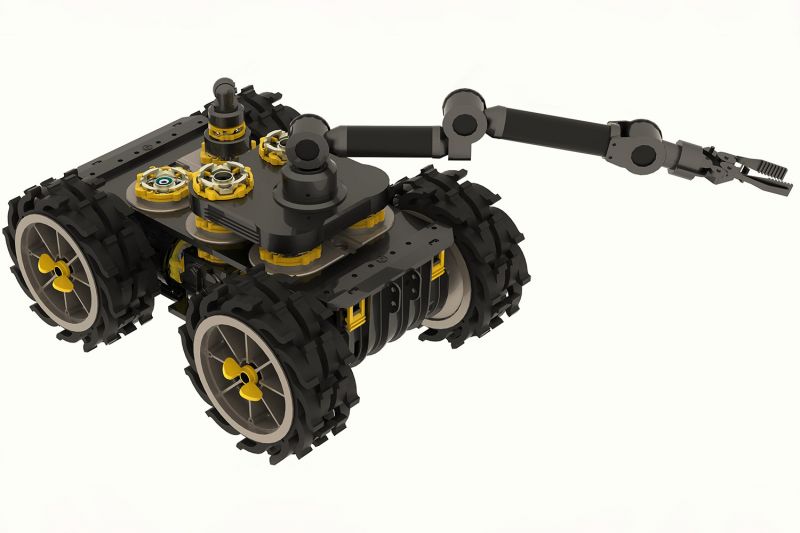 The modular design of this robot from Ross Robotics makes it suitable for many different applications.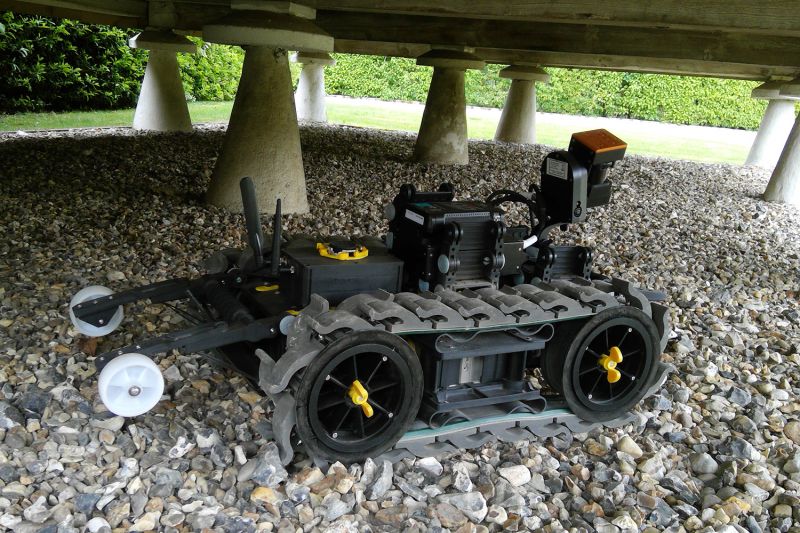 His modular components can be assembled into robots of various sizes. Sensors and gripper arms can simply be attached and removed as needed. You don't even have to be a specialist to quickly and easily replace a defective part, which makes the robots extremely flexible and economical to operate. If the application changes, the device's modular design can be adapted to the new situation.
Working at CERN
The startup sees great potential in the field of inspection robots. Several Ross Robotics models are already operating in this sector, including at the European Organization for Nuclear Research (CERN) in Meyrin, Switzerland, where one such robot is used in the particle accelerator. The models will soon be commercially available and are currently undergoing certification. Philip Norman is firmly convinced that his invention will change our understanding of robots. However, he wants his company to remain small enough to be able to continue focusing on research and development – there is much left that he would like to simplify.
The content & opinions in this article are the author's and do not necessarily represent the views of RoboticsTomorrow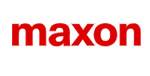 maxon group
maxon is a leading supplier of high-precision DC brush and brushless servo motors and drives. These motors range in size from 4 - 90 mm and are available up to 500 watts. We combine electric motors, gears and DC motor controls into high-precision, intelligent drive systems that can be custom-made to fit the specific needs of customer applications.
Other Articles
Revival Bionics was looking for the best performing materials. The quality of the products and the know-how of the teams convinced the start-up to rely on maxon for the propulsion. A look back at a successful collaboration.
Harmonic Bionics has developed a patented robotic actuator, which uses a load cell that is mechanically isolated from any extraneous loads. The result is that each load cell can sense the force exerted by only the joint of the robot it is mounted to.
Zurich-based startup MyoSwiss has developed a lightweight exoskeleton that works like an e-bike for the legs. It assists the wearer's movements with electronic reinforcement.
---
Comments (0)
This post does not have any comments. Be the first to leave a comment below.
---
Post A Comment
You must be logged in before you can post a comment. Login now.
Featured Product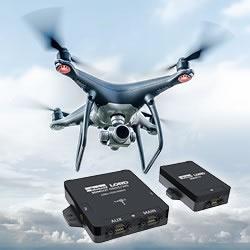 The new complete inertial navigation solution comes with GNSS/INS 3DMGQ7 sensor, 3DMRTK correction modem and real time SensorCloud RTK correction network. The sensor comes with Dual antenna GNSS, tactical grade IMU with centimeter-level accuracy with RTK. Low profile and light weight at 78 grams, this sensor is The sensor is optimized for size and weight in Unmanned Ground Vehicles, mobile robots and autonomous vehicles. The network interface 3DMRTK modem is seamlessly integrated into the 3DMGQ7 sensor supports industry-standard NMEA and RTCM 3.1 protocols. The network RTK support comes with cellular data plan. The SensorCloud RTK is a cloud-based RTK correction system with private encrypted data stream. Check out our G Series and C Series OEM products.