Safety gate system and safe interlocking for a core cutter. Where axles rotate, masses are in motion and cutting tools are in action, there is always the question of safety for man and machine.

Contributed by | Pilz
When drives cause movement in machines and heavy rollers and blades rotate, there are multiple hazards that must be guarded against. As Brodbeck knows, it is not products alone that make machines safe, productive and easy to operate; integrated automation and safety solutions are required. That is why the Swabian machine manufacturer has relied on automation solutions from Pilz for many years: In conjunction with the configurable control system PNOZmulti 2, the safety gate system PSENmlock and the coded safety switch PSENcode are used as a universal solution for almost all machine models.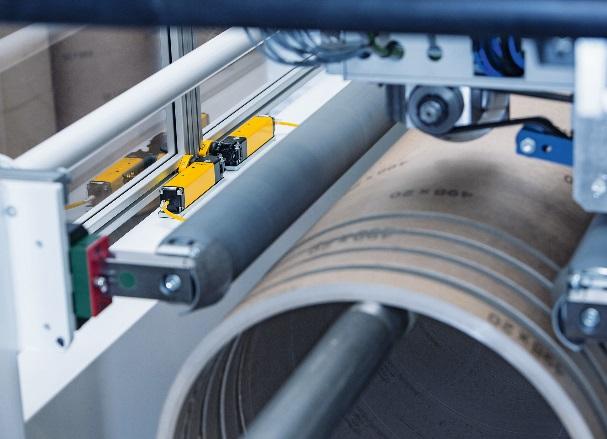 The safety gate system PSENmlock from Pilz is easy to apply and uses convenient diagnostic LEDs that are always visible to ensure a safe view of processes in any mounting position.
The cardboard tube, which weighs approximately 50 kilograms and has an outside diameter of 750 mm and a length of around two meters, rotates on a driven mandrel. Two external guide rollers support the drive movement, ensuring vibration-free rotation and stability. From a horizontally movable lower bed carriage, a rotating circular blade descends onto the cardboard tube. The cutting tool splits the sleeve into handy sections with predefined widths at one-second intervals. An ejector pushes the individual rings from the mandrel into the provided container.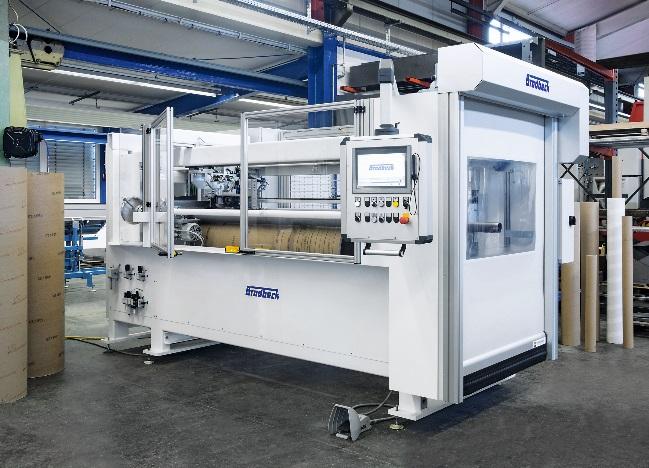 Brodbeck, the machine builder, counts on reproducible automation solutions from Pilz. Together with Pilz, Brodbeck focuses on solutions for customers, not machines.
Flexible cutting machine avoids tool change
The UNI 75 is a universal mandrel machine measuring about four by two meters, and two and a half meters high. It is currently completing its final test runs and in just a few days, it will have to prove its suitability for everyday use at the client's premises. "This machine will allow our customers to cut sleeves with outside diameters of between 70 and 750 mm without burrs using the same mandrel – no changing tools. It is fast, flexible and suited best to small and medium batch sizes," explains Siegfried Maier, design manager at Brodbeck.
The raw sleeves reach the mandrel via a roller shutter mounted on the long side. After the cut-off length is input via the display, sensors automatically detect the sleeve's lead end and wall thickness. The measured values are transmitted directly to the control unit, thus eliminating the danger of the circular blades being destroyed as a result of incorrect operation. A rack-and-pinion drive moves the guide rollers and a counter bearing stabilizes the mandrel on the feed side.
With its standard and special machines for winding, refining or dividing tubes made of paper, cardboard or plastic, the medium-sized family business from Metzingen in Swabia is internationally regarded as a technology leader. Brodbeck's strong sense of quality and service gives it an excellent reputation in the industry. Customers include paper mills, tube and foil manufacturers, printing plants and the textile industry.
Automation and safety are not mutually exclusive
Where axles rotate, masses are in motion and cutting tools are in action, there is always the question of safety for man and machine. With some of the Brodbeck machines, people have to intervene in the process, especially during feeding and discharging of material. However, safety devices must not interfere with the operability or productivity of the machine and they must certainly not encourage manipulation.
Brodbeck and Pilz have had many years of constructive cooperation. At the beginning, the conventional PNOZ relay for safe monitoring of emergency stops and safety gates was the focus of attention, but today, flexible solutions are seeing increasing use. "Innovative machine manufacturers such as Brodbeck are always interested in efficient, reproducible solutions that can be transferred to other machines and projects," says Timo Lurf, sales engineer at Pilz.
Redesign requires a modern safety concept
The goal was a complete machine redesign of the UNI 75 to update it to the state of the art. It was to be done systematically and include modern control, parametrization and visualization solutions. The latest technology was required for the safe guard locking of four safety gates: According to the risk assessment, it must not be possible to deliberately or accidentally open the safety gates during operation. Potential hazards are posed primarily by the driven mandrel, the guide rollers, the circular blade and the rotating cardboard tubes. Speed must be reduced to a safe level during the ejection process. "The safety gates must be able to withstand mechanical stress – tube segment impact, for example. Standard EN ISO 13849-1 was used to verify functional safety. From the risk assessment to determining the performance level to the final CE certification, there are many things that must be considered," explains Timo Lurf. Siegfried Maier adds, "No small to medium-sized company can do this alone and we are happy to rely on the competence and expertise of a qualified partner such as Pilz."
Safe interlock and guard locking in one device
The first step was the search for a suitable product for safe gate locking. Pilz proposed their new safety gate system PSENmlock as a solution: This robust, compact device fits all 40-mm profile designs and offers an extremely high holding force (7,500 N). "We tested PSENmlock in a pilot application. It won us over not only because it offers safe interlocking and guard locking in one device. The outstanding installation and diagnostic features are particularly convenient and we will be using the gate locking system on all our machines in the future," says Frank Stiefel, designer at Brodbeck. This also reduces storage costs and standardizes maintenance and service.
Device for all mounting positions
With Brodbeck's standard and special machines, the gate lock mounting position can vary considerably. The PSENmlock safety gate system has the advantage that the LEDs are mounted on three sides and, therefore, easy to read for diagnostic purposes. A flexibly mounted actuator also provides high tolerance compensation – in case a gate should sag. Technically, the safe guard locking is performed via a dual-channel control. The system is particularly suitable for machines with dangerous overrun (rotating spindles, blades, etc.) which make safe guard locking essential. The position of the rolling door is monitored by the coded safety switch PSENcode from Pilz. It is used both for monitoring the positions of safeguards in accordance with EN 60947-5-3 and for simple position monitoring. This allows PSENcode to guarantee maximum protection against manipulation even in the smallest of spaces, depending on design (key-lock principle). The safety calculator PAScal, also from Pilz, was used to verify performance level (PL) d for all the safety functions of the individual safety gates and protective hoods. The Pilz components used for the UNI 75 can be used up to the highest PL e according to EN ISO 13849-1.
Small control unit for all necessary functions
The configurable control system, PNOZmulti 2, with the corresponding modules is used as the central unit for monitoring safe signals in UNI 75. The base unit, PNOZ m B0, provides 20 safe inputs and 4 safe semi-conductor outputs. The narrow module, only 45 mm wide, can be flexibly expanded at any time. Profinet connects PNOZmulti 2 to the machine control system, giving it bidirectional communication. The PNOZmulti Configurator software tool allows the safety circuit to be configured quickly and easily using drag-and-drop. "In PNOZmulti 2, all the functions required for our machine are set up. Up to now, we have had very good experiences with the demand-oriented approach and flexibility in project configuration. That's why the flexible control system is also installed in almost all our machines," says Frank Stiefel.
The Profinet module of the configurable control system PNOZmulti 2 from Pilz ensures efficient diagnostics.
Ultimately, Brodbeck values quality and reliable customer service. Siegfried Maier takes the view that this continues to be the best recipe for a long-standing, stable customer relationship: "Our customers are not looking for machines – they want convincing solutions including competent advice and reliable service." This is an approach that Pilz and Brodbeck follow together.
Statement from Siegfried Maier, design manager at Brodbeck
"The latest technology was required for the safe guard locking of our machine: It must not be possible to deliberately or accidentally open the safety gates during operation. That is why we called on Pilz: In the risk assessment, performance level determination and final CE certifications, we were happy to rely on the competence and expertise of Pilz."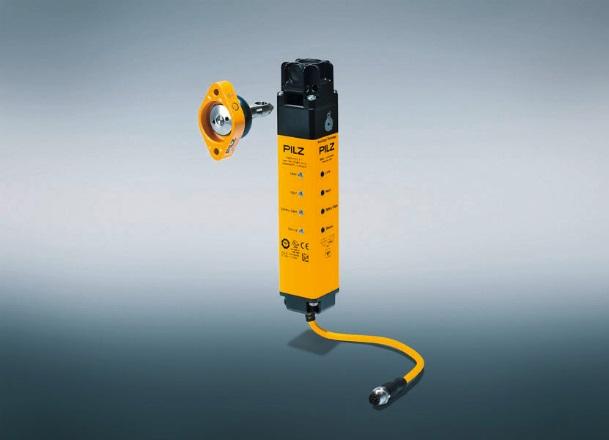 The safety gate system PSENmlock from Pilz combines two functions: safe guard locking and safe interlocking in a single device!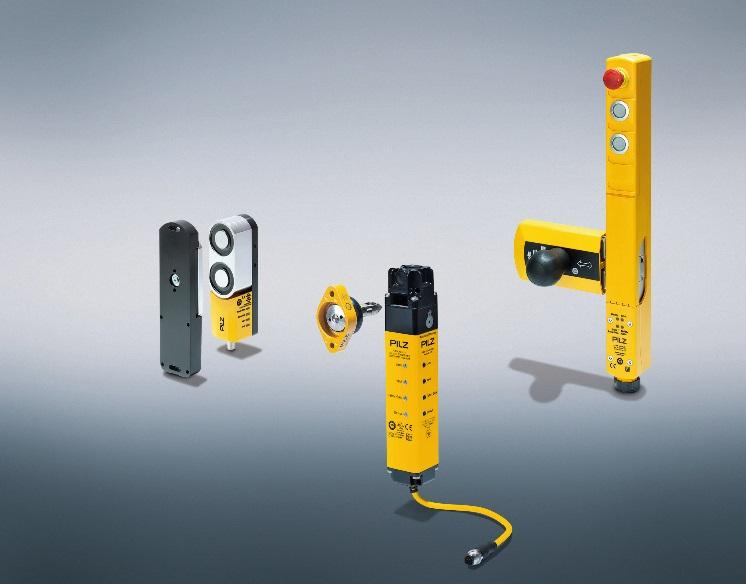 Pilz offers safety gate systems for safeguards which, in accordance with EN ISO 14119, reliably prevent shutdown and restart (interlocking) as well as manipulation or bypassing.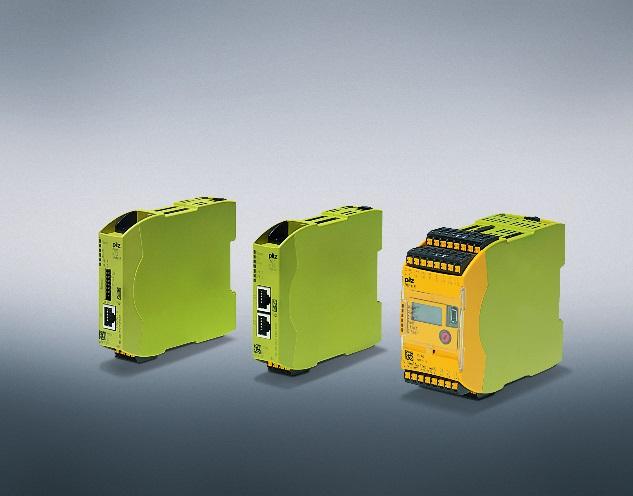 The configurable control system PNOZmulti 2 is also equipped with an expansion module that allows connection with all common fieldbus systems such as Profinet for Brodbeck.
The content & opinions in this article are the author's and do not necessarily represent the views of RoboticsTomorrow
---
Comments (0)
This post does not have any comments. Be the first to leave a comment below.
---
Post A Comment
You must be logged in before you can post a comment. Login now.
Featured Product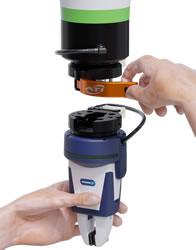 Simpler, stronger, and more precise. ATI Industrial Automation has developed a series of Manual Tool Changers that provides a cost-effective solution for quickly changing tools by hand. They feature a unique design that combines high strength, excellent repeatability, and a patent-pending screw-cam locking mechanism with multiple fail-safe features, which resists vibration and prevents loosening. These robust and compact Manual Tool Changers can handle payloads up to 80 pounds (36 kg) and pass pneumatics and electrical signals.