Exoskeletons are rapidly gaining momentum across myriad geographies. The huge presence of exosuit manufacturers and escalated product demand across military & healthcare sectors are anticipated to stimulate North America exoskeleton industry outlook.
Exoskeleton Market to Accrue Commendable Gains via Healthcare Applications Over 2017-2024
Mahesh Gore
ReWalk Robotics' soft exoskeleton launch has apparently taken exoskeleton market by storm. The product has been exclusively designed by the USA-based exoskeleton industry player to help in the rehabilitation of patients suffering from lower leg limb disability due to strokes. The device would also help patients diagnosed with Parkinson's and multiple sclerosis to heal faster and regain their balance. Characterized by technological innovations, exoskeleton market strives to bring about a transformation in rehabilitation devices for consumer comfort. In yet another breakthrough, Lowe's companies Incorporation, a key player across the retail industry, and Virginia Tech, an educational institute & university based in the U.S., have built a soft & light exosuit to help the employees working in Lowe's retail stores to easily lift and move heavy products across the store.
In the first quarter of 2017, Exoskeleton Market witnessed one of the most potentially lucrative deals, with Parker Hannifin Corporation, a key manufacturer of motion & control technologies, introducing a therapy software suite for its Indego exoskeleton across Europe. The new suite has made Indego a unique exoskeleton for non-trajectory based gait training & treatment. Furthermore, Lockheed Martin, a U.S. based aerospace, defense, and security firm, has also launched a computer-regulated exoskeleton device referred as FORTIS Knee Stress Release gear that helps soldiers counter stress on their legs & lower backs. It also improves their load carrying capacity and movement, preventing injuries and exhaustion. The advent of consecutive innovations will encourage other business players to follow suit, thereby contributing toward augmenting the overall exoskeleton industry size.
Recently, scientists have unveiled a robotic exoskeleton that helps in restoring balance through accurate gait correction, thus avoid dangerous falls. The new device is also expected to help the elderly, amputees, and disabled people to maintain balance and steadiness. The WHO claims that potential falls resulting in fatal injuries are one of major causes of death. This is evident from the estimates – falls result in the death of over 640,000 people per year, with nearly 37.3 million severe falls requiring medical treatment.
Exoskeletons find wide applications across healthcare, industrial, and military sectors. The introduction of new technologies across the healthcare sector to ensure the safety coupled with the allocation of funds for healthcare will spur the product penetration. Healthcare applications are expected to account for nearly half of the exoskeleton market share by 2024, having contributed a substantial share in 2016. Furthermore, notable initiatives taken by various defense departments for manufacturing advanced exosuits for their army personnel are expected to spur exoskeleton market trends across the military sector, which is forecast to contribute over USD 900 million by 2024.
Exoskeletons are rapidly gaining momentum across myriad geographies. The huge presence of exosuit manufacturers and escalated product demand across military & healthcare sectors are anticipated to stimulate North America exoskeleton industry outlook. This regional market, as per estimates, is expected to record a CAGR of over 48% during 2017 to 2024, with U.S. being one of the key contributors. Mounting awareness about the beneficial use of industrial robotics in manufacturing activities and the rise in the production of wearable robots across the defense sector are predicted to be the key factors driving APAC exoskeleton industry, with China and South Korea forecast to be the major revenue pockets.
North America exoskeleton market trends: Innovative product launches to fuel the regional growth:
One of the most remarkable factors that contributes toward the thriving North America exoskeleton industry share is the prevalence of prominent companies in the region. In addition, North America is the powerhouse of technological innovations and has already consolidated its presence in the overall business – statistics claim North America to have accounted for more than 45% of the overall exoskeleton market share in 2016.
Given that North America houses several product manufacturers, it comes as no surprise that some of the leading tech innovations define exoskeleton market take root in the continent. For instance, Ekso Bionics, one of the leaders in exoskeleton industry, recently raised USD 34 million for developing and commercializing strong exoskeletons for industrial purposes, supporting R&D initiatives to use the Ekso robotic exoskeleton at home, and accelerating the adoption of Ekso across the globe.
North America exoskeleton market growth is essentially centered in the U.S., given the massive demand for these products across the military and healthcare domains in the country. On these grounds, it has been forecast that North America exoskeleton industry share may grow at CAGR of more than 48% over 2017-2024.
The content & opinions in this article are the author's and do not necessarily represent the views of RoboticsTomorrow
---
Comments (0)
This post does not have any comments. Be the first to leave a comment below.
---
Post A Comment
You must be logged in before you can post a comment. Login now.
Featured Product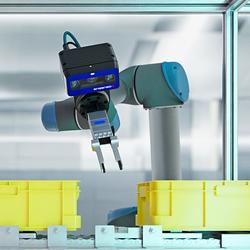 Combining the ease of use of a webcam with the performance and reliability of an industrial camera? The uEye XC autofocus camera from IDS Imaging Development Systems proves that this is possible. Its high-resolution imaging, simple setup and adaptability make it an invaluable tool for improving quality control and streamlining workflows in industrial settings - especially for cases where users would normally employ a webcam. The uEye XC autofocus camera features a 13 MP onsemi sensor and supports two different protocols: USB3 Vision, which enables programmability and customization, and UVC (USB Video Class). The UVC functionality enables a single cable connection for easy setup and commissioning, while delivering high-resolution images and video. This makes the uEye XC camera an ideal option for applications that require quick setup and need to manage variable object distances. Additional features such as digital zoom, automatic white balance and color correction ensure precise detail capture, which is essential for quality control.