A Robosuit® is a conformal, custom-fitted cover that protects a robot from extreme manufacturing (or operating) conditions. It fits over the robots castings and servo motors without impacting the robots articulation or work-envelope (reach).
Protecting your Robot with Robosuit
Contributed by | Roboworld, LLC
Since 1993, Roboworld® has been protecting robots and complete automation cells from extreme operating environments.
The largest robot manufacturers in the industry, along with integrators and end-users, have trusted us to design custom fitted suits for their robots. No matter the application, our line of protective suits will extend the life of your robots and the components within your complete automation cells.
What is a Robosuit®
A Robosuit® is a conformal, custom-fitted cover that protects a robot from extreme manufacturing (or operating) conditions. It fits over the robot's castings and servo motors without impacting the robot's articulation or work-envelope (reach).
Why put a Robosuit® on a robot?
Often-times a "bare" robot cannot operate in the intended environment. Extremes of temperature is just one example. Robots have upper and lower temperature limits (as established by the OEM). At the lower extremes, internal greases and lubricants will increase in viscosity leading to faults. On the upper-end of the temperature extreme, servo motors and other components can overheat. Robosuits can be augmented to supply either cooling or heating to keep the robot within OEM temperature specifications.
What does a Robosuit® do?
It isolates the robot from the extremes of your specific manufacturing environment. A Robosuit® will allow you to operate in environments outside of OEM-specifications. It also keeps caustic chemicals, grit, weld slag, swarf and blast media from destroying the robot in short order.
Give us an example of how to order Robosuit? Does each robot require custom measurement?
Roboworld has patterned more than 300 robots over the past 25-years. Since a Robosuit® is designed to fit over a bare robot, customizing the pattern is seldom needed. Each suit is manufactured from materials specific to the robotic application however. For example: A Robosuit® for an ABB IRB2600 robot operating in a welding booth can be constructed of a high-temperature aluminized Kevlar® material for radiant heat protection. If heavy slag or splash is expected—aprons and splash curtains can be manufactured from durable siliconized-fiberglass materials and fitted to the suit. Customized welding torch covers, platen or positioner covers and wire-feed covers are also common in heavy welding situations.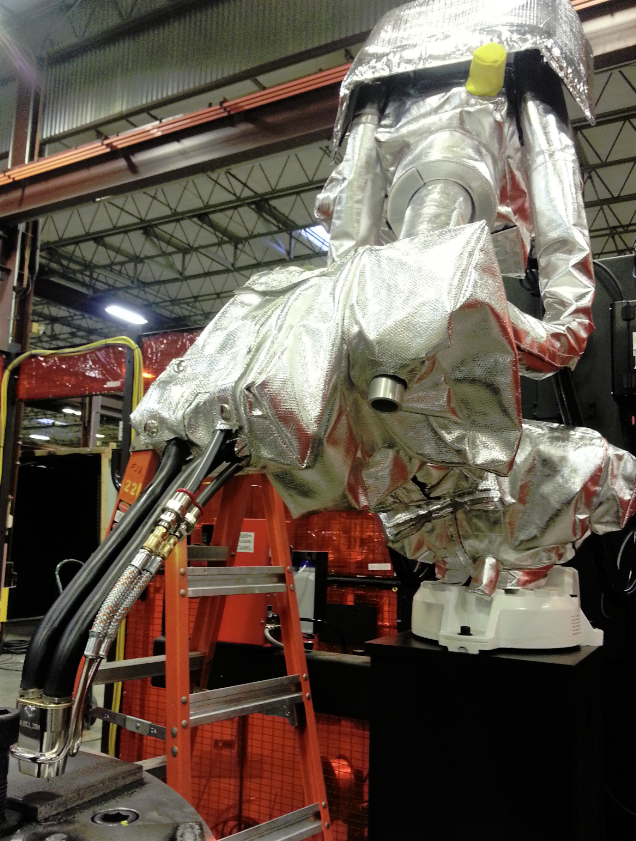 ABB IRB2600 Robosuit® Manufactured in Aluminized Kevlar® Customized Welding Torch Cover, Vision System Cover and Wire Feed Cover Shown Installed. (Courtesy Wolf Robotics)
The ordering process is very straightforward. A customer can start the process by calling, or simply completing a request for quotation form (online) providing the robot make/full-model description, and the intended application. We take it from there. We consult with the user to recommend the proper materials, better understand their desired coverage levels, and discuss any supplemental equipment needs such as suit pressurization, cooling or heating. If chemicals are present, an MSDS is requested to vet any materials with their intended application.
How can you determine if you need a full or partial Robosuit for your application?
It is ultimately up to the end-user to determine how much of the robot they'd like protected. Since our Robosuits are typically configured in 3-4 pieces—it is very easy to adjust the coverage to the customer's desires. And, given that you can order any one-particular component of the Robosuit®, when it's time to repair/replace a portion, you don't have to purchase a complete suit.
A good example is found in die casting applications where robots are used to ladle molten metals into an injection ram. Molten splash and radiant heat are concerns—but only near the ladle (as most robots have sufficient reach to keep the shoulder and lower-arms clear of the heat and splash.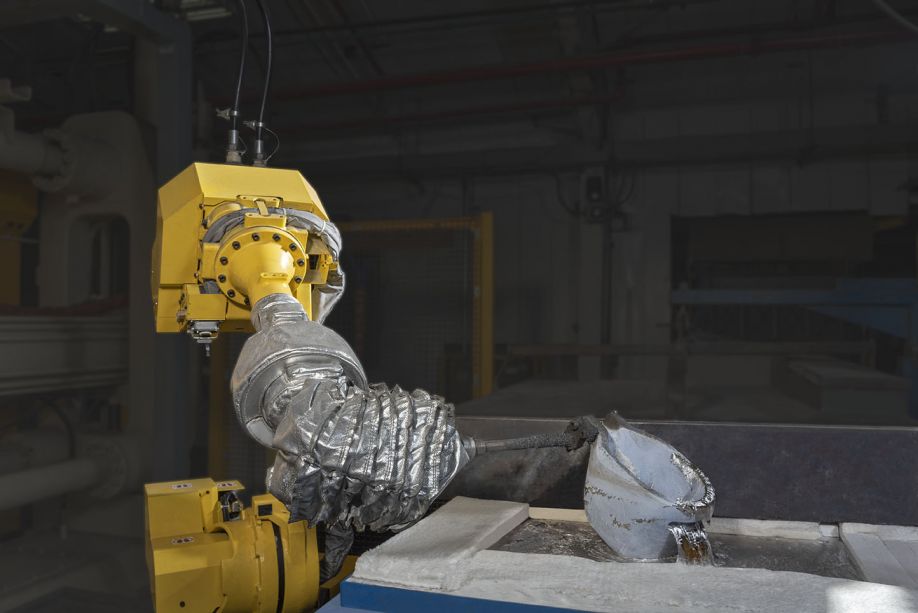 2-pc FANUC R1000iA-80F Upper-Arm Robosuit® Sleeve Manufactured in Aluminized Kevlar®. (Courtesy Sparta Metals)
How long will a Robosuit® last?
Every application is unique. It's akin to asking, "How long will a pair of sneakers last?" Well—it largely depends upon whether a 65-yr old woman will be wearing the sneakers, or a 10-year old boy! The same applies to a Robosuit®. If your robot is operating in an indoor, air conditioned, palletizing environment; are only operating the arm at 40% servo-speeds; take the necessary steps to keep cabling, pneumatic lines, and other obstacles from rubbing on the suit—you should expect years of service from your Robosuit®. On the other hand, if your robot is operating in an unconditioned, hot, wet, sandy, foundry application, where expose the suit to 1000F temperatures; move the arm at nearly 100% servo-speeds, allow cabling, pneumatic lines or other obstacles to rub against the suit—you will need to repair or replace it within a much shorter interval.
What is it that you think sets your protective equipment apart from other robot protective equipment?
We are one of only a handful of companies globally who manufacture protective suits for robots. Our designs are unique because we offer very low profile Robosuits®. Other manufacturers create large covers that must be inflated to keep the suit from interfering with the robot during operation. We employ interlocking rotational rings, cuffs and bellowed convolutions on Robosuits to ensure unencumbered robot operation with a Robosuit® installed. And with over 20 different fabrics, aramids and laminates to chose from, bespoke protection is easily achievable in any environment.
We go beyond just protecting the robot however. Roboworld Molded Products (separate business entity) introduced Pendant Armor® in 2016. Pendant Armor protects the most vulnerable component in a user's automation chain—the teach pendant. This is a Human Machine Interface (HMI) that often falls victim to a human's tendency to drop things! If you consider that you safeguard a $800 iPhone with a protective case, why wouldn't you protect a $7500 teach pendant? The rationale is identical. When programming a robot or teaching it to weld—operators must oftentimes crouch in precarious positions to reach their work. One slip of the hand, and the teach pendant is headed to the floor. Many pendants are pulled from their perch when someone walks by, and unintentionally trips or kicks the cable. Pendant Armor® protects those portions of the teach pendant that are most likely to suffer damage when dropped.
To date, we have 12 bumpers designed for ABB, Fanuc, Kuka, Universal Robots and Yaskawa-Motoman pendants, spanning three generations of pendant designs. Additional products are under development. Roboworld Molded Products also private labels Pendant Armor® product for several global robotic OEMs. We also leverage US and international distributors.
Screen protection, non-slip cups for pendant feet, and even cable protection is also offered.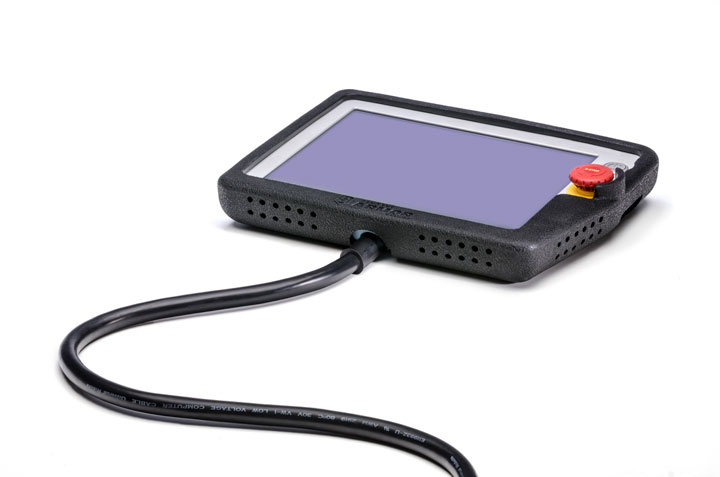 Pendant Armor® Bumper for Universal Robots Collaborative Teach Pendant


Can you share with us any unique or extreme environments your Robosuits have been used in recently and what type of feedback from the user have you received?
Applications abound!
We've protected robots in the aviation, automotive, food and beverage, electronics and welding sectors (to name only a few). Often times—a robot cannot be considered for automation unless it is kept within its operating ranges. We consider ourselves automation-enablers by opening-up more and more applications to robotic operations.
We have manufactured radar-absorbing Robosuits. We worked with an integrator to place a robot in a 204C (400F) oven. We have designed Robosuits to be utilized in military testing applications and demilitarization applications.
Milling and metal working robots are protected from swarf and sharp metal turnings. (Engine) Block washing robots must be protected from high-pressure, caustic cleaning agents that ensure the engine block is free of grit and debris.
Ice cream manufacturers use our Robosuits in palletizing operations where ambients are sometimes as low as -35F. Our fully automated heaters ensure that the robot is kept at the recommended operating temperature (inside of the Robosuit®).
Forging and metalworking applications are perhaps the most (visually) appealing—as sparks, molten slag and other contaminants could quickly render an unprotected robot inoperable.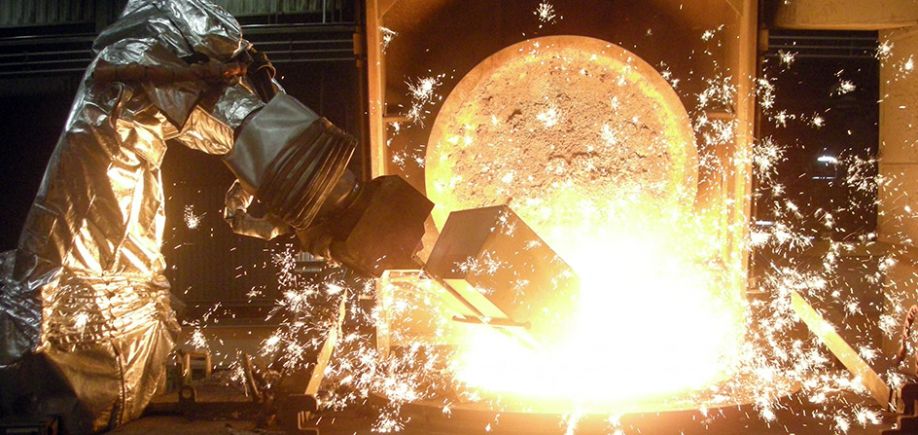 Kuka KR500 Operating on a Foundry Deck. Robosuit® Manufactured for Aluminized Kevlar® and Siliconized Glass Aprons
Robot OEMs (ABB, Fanuc, Kuka, UR, Motoman, etc.) are our biggest advocates. The OEM is typically at the forefront of specifying a robot. We have fostered relationships with each of them over the course of the past 25-yrs. They understand the capability Roboworld® brings to bear, they've specified our Robosuits® in their own applications, and have recommend Roboworld to their integrators, distributors and end-users directly. Having the backing of a global robotic OEM is what we are most proud of—and we work very hard at maintaining these relationships.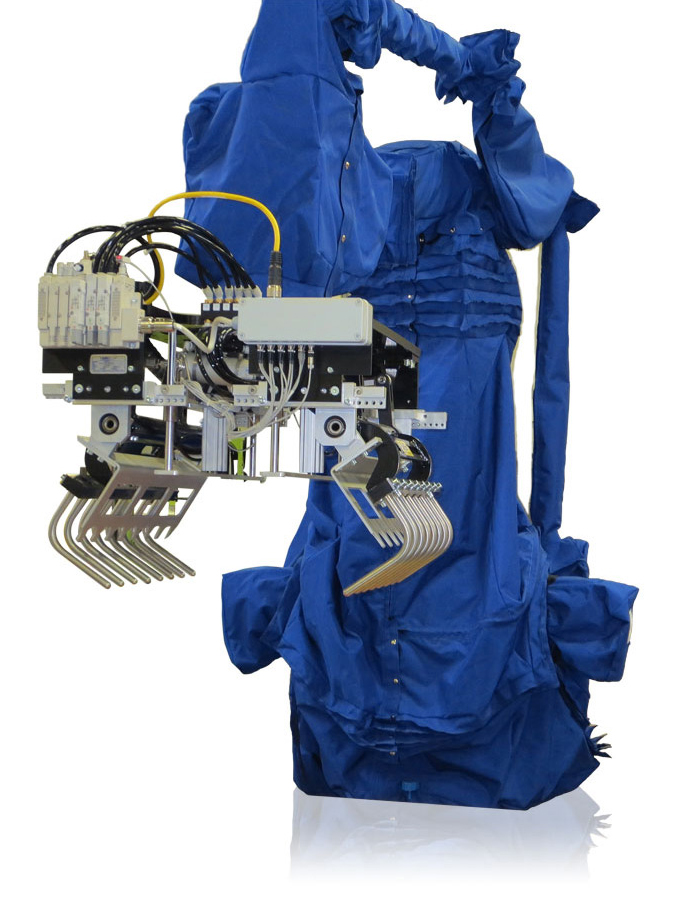 Motoman MPL160 Robosuit® in a Salt Palletizing Application.
As the use of Robots being used in harsh environments has grown rapidly in recent years, how has the business grown and what changes have you seen?
Manufacturers have gravitated to collaborative robots (COBOTS) much faster than we first anticipated. We originally felt that if a robot was going to work alongside a human, the chances that the environment would be harsh or extreme would be highly unlikely.
What we discovered however, was that collaborative hardware opened up industrial automation to more of the market by virtue of its lower cost and ease of use. This has pushed collaborative robots back into the realm of traditional industrial robots in applications that both the OEMs and ancillary product providers (like Roboworld®) didn't immediately appreciate.
Today—you will find collaborative robots welding, handling strong chemicals, in farming applications, and of course other (traditional) industrial robot applications. Currently about 15% of our Robosuit® orders find their way onto collaborative robots. I expect that number to grow on par with COBOT sales (35%-55% growth) over the next several years.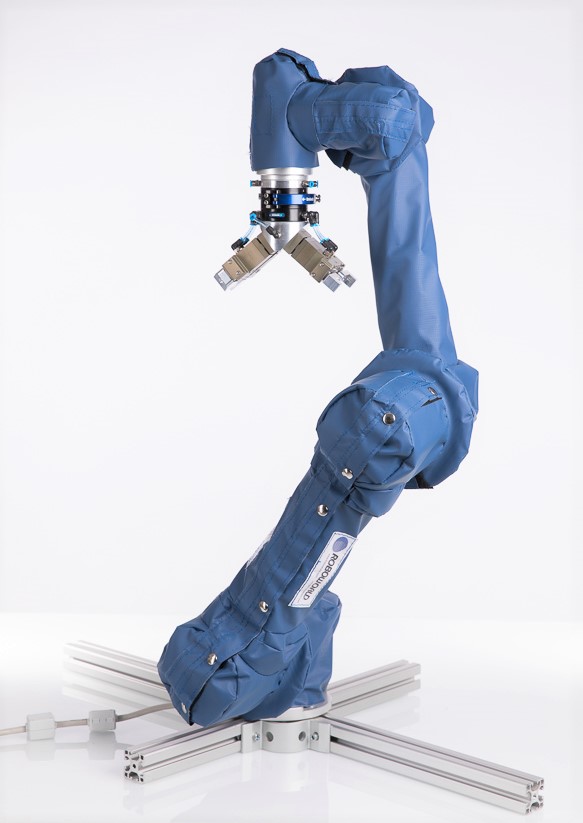 Universal Robots UR5 Hypalon Robosuit® for Machine Tending Applications.
Any other products you would like to tell our readers about?
Robotic applications that involve painting, spraying or in clean-room applications have benefitted from our disposable line of covers.
While a Robosuit® is intentionally designed to be a durable, long-lasting cover in extreme manufacturing environments, many robot manufacturers have dedicated designs specifically for painting applications. These robots/applications have different demands.
Our disposable (or paint) covers actually absorb aerosolized paint particles from the environment. This keeps the robot clean, free of paint and less likely to contaminate parts as they are sprayed (including whole car bodies). Suits are stretch-to-fit, intended to be quickly installed and removed as paint colors are changed, during predetermined intervals, or as site conditions dictate.
They are cleanroom laundered, HEPA dried and vacuum sealed. These typically meet, or even exceed, ISO clean room specifications.
Disposables are priced at a fraction of the cost of a durable Robosuit® and are an effective way of keeping the robot free from overspray.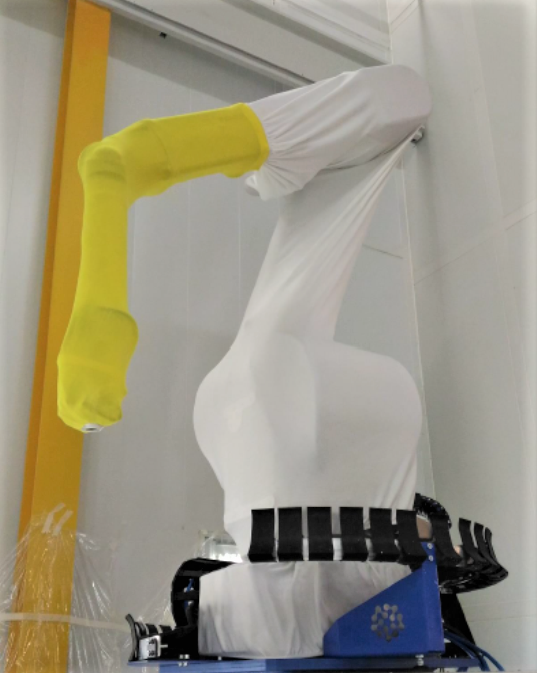 FANUC P250ib/15 Disposable Painting Suit
The content & opinions in this article are the author's and do not necessarily represent the views of RoboticsTomorrow
---
Comments (0)
This post does not have any comments. Be the first to leave a comment below.
---
Post A Comment
You must be logged in before you can post a comment. Login now.
Featured Product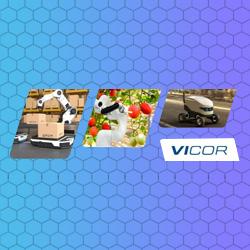 Intel® Xeon® Scalable Processors (3rd Gen) are optimized for cloud, enterprise, HPC, network, security, and IoT workloads with 8 to 40 powerful cores and a wide range of frequency, feature, and power levels. The Xeon® Scalable Processors (3rd Gen) are based on a balanced, efficient architecture that increases core performance, memory, and I/O bandwidth to accelerate diverse workloads from the data center to the edge.