Universal Robots and OCTOPUZ work together to automate Fibrelines manufacturing process while providing flexibility for the future.
Removing Production Bottlenecks Through Automation
Contributed by | Octopuz
Tufting, one of the most sought-after and classic upholstery styles, is commonly incorporated into the design of furniture. How is this Victorian button-like look achieved? We got some insight from Fibreline, the largest independently owned upholstery cushion fillings manufacturer in the UK. They are known for pioneering the use of carded synthetic fibres in upholstery cushions.
In the search for a way to efficiently drill holes through the pieces of foam used for the upholstery to create the tufted look, Fibreline determined automation was the key to achieving their production goals.
The first step was to make the investment in the right robot. Flexibility was the most important feature they were searching for, thus they elected to purchase two UR10 Universal Robots. Universal is known for their highly flexible collaborative robots and Fibreline liked the possibility of redeployment in different applications down the road.
Two years later Fibreline identified another bottleneck in their production process. They needed a way to more efficiently program their robot paths.
Fibreline's customers were sending DXF files for their drilling patterns which Fibreline then had to plot out and manually program using the UR programming functions. This was not only time consuming but also took the robot away from production.
This is when Fibreline contacted OCTOPUZ. Through OCTOPUZ they were able to program the robot offline, meaning the robot could continue to produce parts while the next part was being programmed. Universal Robots' user-friendliness combined with OCTOPUZ' powerful programming abilities lead Fibreline to achieve their production efficiency goals.
In addition, thanks to OCTOPUZ' ability to post in URP code, Fibreline was able to tweak and amend their programs directly on the controller, a flexibility that gives OCTOPUZ a competitive advantage in the market.
"We saved approximately 20% on programming time with far greater flexibility for tweaking and amending programs," said Marc Radcliffee, Technical Manager at Fibreline Ltd.
Furthermore, to smooth out the process, the OCTOPUZ team created an automated DXF add-on that allowed Fibreline to bring in the DXF files provided by their customers and convert them into paths. The OCTOPUZ team also assisted Fibreline by automating the drilling process, tweaking the movement speeds and subroutines. Altogether, this lead to a much more efficient and automated process.
"OCTOPUZ has helped streamline the programming process by taking it offline away from the robot, which means a lot less downtime!" said Marc Radcliffee, Technical Manager at Fibreline Ltd.
As displayed with Fibreline, the implementation of a robot and an offline robotic programming and simulation software can drastically change and optimize the process in which a facility operates. Once the investment is made, it is evident that it is worthwhile.
Marc also shed some light on the importance of making the investment as early as possible to start reaping the benefits of automation.
"Had we known OCTOPUZ was going to be a good fit for us we would have used them from the start. Instead we now we must convert our existing UR programs over to OCTOPUZ which is an additional step to our processes. Had I known how helpful it would be I would have engaged more people in the training offered by OCTOPUZ and I would have explored the additional functionalities that are available through the software that although aren't directly linked to our primary robotic function, would have been good to explore."
The future of robotics is bright. IFR World Robotics estimated that by 2020 there will be 1.7 million new industrial robots supplied worldwide. As the OCTOPUZ team looks ahead we project to continue to grow with the market and helping it innovate along the way. This is just the beginning, don't get left behind.
"In the future, for our business, I foresee more automation and more robots being added. We are evaluating potential improvements from adding vision systems to and further robotics" said Marc Radcliffee, Technical Manager at Fibreline Ltd.
About OCTOPUZ
Headquartered in Waterloo, Ontario, OCTOPUZ Inc. provides offline robot programming and simulation software for businesses of all sizes, from small shops to global corporations. Our focus is to provide a robotic software solution that not only enables companies to reach a higher level of efficiency with their processes but that also opens opportunities for them to enter new markets and expand their business potential. Our business was built on the concept of taking complex robotic programming and making it easy.
About Universal Robots
Universal Robots was co-founded in 2005 by the company's CTO, Esben Østergaard, who wanted to make robot technology accessible to all by developing small, user-friendly, reasonably priced, flexible industrial robots that are safe to work with. Since the first collaborative robot (cobot) was launched in 2008, the company has experienced considerable growth with the user-friendly cobot now sold worldwide. The company, which is a part of Teradyne Inc., is headquartered in Odense, Denmark, and has subsidiaries and regional offices in the United States, Germany, France, Spain, Italy, Czech Republic, Turkey, China, India, Singapore, Japan, South Korea, Taiwan and Mexico. In 2017, Universal Robots had a revenue of USD 170 million. For more information, please visit www.universal-robots.com or read our blog at blog.universal-robots.com
The content & opinions in this article are the author's and do not necessarily represent the views of RoboticsTomorrow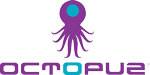 OCTOPUZ
For the past 15 years, OCTOPUZ has specialized in the design, development, implementation, and customization of superior Offline Robot Programming (OLRP) software for industrial robot applications. Our focus is to provide an industrial robot software solution that not only enables companies to reach a higher level of efficiency with their processes but also opens opportunities for them to enter new markets and expand their business potential. OCTOPUZ was built on the concept of taking complex robot programming and making it simple.
Other Articles
It's easy to show a robot being programmed in a matter of minutes inside of a controlled virtual environment. But those programs need to translate to something useful in the real robot cell. The points that the robot will follow need to line up with the part properly.
Visit the OCTOPUZ team at FABTECH 2019 in Booth B23113 to be the first to see what's new with the industry-defining OCTOPUZ Offline Robot Programming Software! In the meantime, be sure to stay tuned to our social media networks and website for more information.
Booth #8520 - In the OCTOPUZ booth, visitors will be able to see a Motoman MH5L performing a weld tracing operation on an automotive rim as well as a KUKA KR6 R700 deburring a helmet both programmed and simulated within OCTOPUZ.
---
Comments (0)
This post does not have any comments. Be the first to leave a comment below.
---
Post A Comment
You must be logged in before you can post a comment. Login now.
Featured Product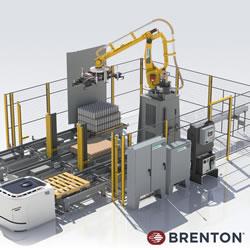 Brenton is a leader in robotic solutions with standard product offerings including palletizing and depalletizing for efficient an option for carrying hard-to-handle products, as well as larger scale systems with an optimized footprint; and case and carton loading solutions for numerous industries. In addition, Brenton works with customers on integrated solutions, offering robotics in a broad spectrum of robotics to fully integrate end of line systems. Brenton helps packaging customers protect their reputation and grow the trust of their consumers.