A recent report from QY Research looked at the global construction robots sales market and forecasted that the market would hit $420 million by 2025.
Global Construction Robotics Market to Hit $420 Million by 2025
Kayla Matthews | Productivity Bytes
Robots are playing a growing role in many different sectors. While construction has taken longer than some other industries to adopt robotics, automated technologies started to make a more substantial difference in the field.
A recent report from QY Research looked at the global construction robots sales market and forecasted that the market would hit $420 million by 2025. The market currently values at $200 million, making its compound annual growth rate (CAGR) form 2018 to 2025 10 percent.
Today, Europe and North America are the leaders in the construction robots market. The report predicts that the roles of China and Japan in the market will expand in the future.
In addition to market size, QY Research also examined types of robots, their uses, key players in the market and the regions where the robots are used.
Types of Robots
Some of the main types of robots the report looked at included remote-controlled demolition robots, bricklaying robots, 3D printing robots, and remote-controlled rescue robots.
According to the study, remote-controlled demolition robots make up 90 percent of the 2016 construction robots market.
These bots can perform demolitions remotely and are typically designed to fit into small spaces. They have arms to which you can attach tools such as crushers, breakers, drills and loader buckets. While they don't work as quickly as demolition crews, using them is much safer and less expensive.
The report's authors expect building robots to play a more prominent role in the future, but currently not many are commercially available. Beyond bricklaying robots and 3D printing robots, choices are limited.
These bots are impressive, though. 3D printing construction robots could potentially print an entire building. A brick-laying robot called SAM, short for Semi-Automated Mason, can lay approximately 3,000 bricks in eight hours, several times what a mason could do by hand. The robot still requires workers to operate it and perform part of the work, but it's still able to make bricklaying much more efficient.
Applications for Robots
Construction robots are mainly used for building, mining, tunneling and earthquake disaster as well as in the metallurgical and cement industries, according to the report.
Robots bring numerous potential benefits to the table when it comes to the construction industry. They stand to increase efficiency, productivity and worker safety.
Robots can take over the tedious as well as the dangerous parts of construction work, making the job both more enjoyable and safer. Autonomous machines are also not as prone to human error, which can also help make construction work more accurate and safe.
Robots can also help make job sites more efficient. When it comes to project planning, technologies and processes such as artificial intelligence and tech-assisted Building Information Modeling, or BIM, can help speed up the planning process and produce more accurate results more quickly.
Although automation brings concerns that robots will put construction out of a job, robots are helping to solve workforce problems for construction companies. In addition to innovation in the area of construction robots, circumstances such as labor shortages also play a role in the increasing prevalence of robots in construction.
According to a recent Associated General Contractors of America survey, 70 percent of construction firms have difficulty finding skilled workers. While automation may help companies fulfill their workforce needs, it might also mean retraining for some workers.
The Future of Robots in Construction
It's impossible to predict exactly what kinds of innovations in construction robots we'll see in the coming years, but reports indicate we'll see a lot more automation.
While this may cause some workforce changes and necessitate retraining for some workers, it could also make the construction industry safer, more efficient and more productive overall.
The content & opinions in this article are the author's and do not necessarily represent the views of RoboticsTomorrow
---
Comments (0)
This post does not have any comments. Be the first to leave a comment below.
---
Post A Comment
You must be logged in before you can post a comment. Login now.
Featured Product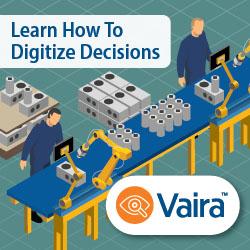 Vaira™ helps manufacturers digitize, automate, and upgrade error-prone manual processes and decisions to boost productivity and increase profits by helping humans make decisions consistent, reliable, and traceable. The camera-based solution is powered by a scalable suite of shop floor-ready apps built on proven machine vision and AI expertise for frontline manufacturing operations, with two-way integration to resource planning tools to help drive continuous analysis, insight, and improvements. Start digitizing immediately, streamlining processes customized to your unique requirements and reduce errors that lead to costs, delays, and quality concerns.