A motion control system is any system that entails the use of moving parts in a coordinated way. Most of the technology used in mechanical engineering is a result of the development and implementation of motion control systems.
5 Things You Need to Know About Motion Control Systems
Alex Hung | Kingstar
Reprinted with permission from Kingstar:
Motion control is an engineering technology that is highly utilized in the industrial sector. A motion control system is any system that entails the use of moving parts in a coordinated way. Most of the technology used in mechanical engineering is a result of the development and implementation of motion control systems. That said, the motion control market is set to experience significant changes by the year 2022. Here are 5 things you must know about motion control systems as they expand and evolve.
Motion control systems are part of our daily lives
Gears and motors are everywhere and are used daily. Motion control systems such as dc gear motors operate everything from elevators to mass transit buses and trains to coffee-making machines used in city offices. Motion control systems are used in shopping mall escalators, in cars, and to automate industrial processes. Across industries, more and more companies are embracing the use of conveyor systems and robotics to gain high-efficiency production and assembly margins.
The motion control market will be worth $22.84 billion by 2022
In 2015, the motion control market was worth $15.65 billion, a value that is steadily increasing and is expected to reach $22.84 billion by 2022. The core driver of this growth is the metal and machinery manufacturing industries, because industry players are working towards improving speed, accuracy, and production. Other value triggers are maximizing product assemblies and the ac motor market.
Robotics is the next motion control systems wave
The use of robots in industrial settings is expected to boost the motion control market value significantly. Robots have been highly embraced by warehouse owners for handling movement of materials and carts. For instance, companies such as Amazon are investing in robots to assist their warehouse employees handling product deliveries and organization. Additionally, robots are being used in delicate service and surgical operations.
Motion control systems fuel the medical industry
The medical industry is highly sensitive, with specific application requirements that must be met. The use of motion control systems in the medical sector includes wheelchairs that can traverse rough terrains and stairs, bionic prosthetics, transplanted mechanical valves and air pumps for respiratory use. As such, the biomedical engineering sector is expected to grow as the need for efficient and small medical devices that utilize motion control systems increases.
Motion control systems are ideal for use in the aerospace, defense, and automotive industries
In the aerospace sector, motion control systems are used in emergency fuel systems, pilot cooling system pumps and mobile weapon systems. In defense, motion control systems are designed to meet strict military operation standards that permit efficient operations in hazardous environments. The introduction of autonomous and electric vehicles will trigger an increased use of motion control in the automotive industry.
While the term "motion control" may be unfamiliar to many people, motion control systems are the backbone of critical systems used in different fields like transportation, medical, metal and machinery manufacturing, oil and gas, textile and energy, just to mention a few. Whether you know it or not, you make use of motion control systems every day.
About Alex Hung
A successful sales and marketing executive in the Taiwan market for nearly 20 years, Alex joined IntervalZero in April 2014 from Kionix, Inc., a global MEMS inertial sensor manufacturer. Alex is responsible for IntervalZero's sales and marketing initiatives in the APAC region and is based at our Taiwan headquarters. At Kionix, he was Taiwan Country Manager and General Manager, with P&L responsibilities for the Taiwan market. He led all sales activities and developed both the strategy and infrastructure for growing the business.
The content & opinions in this article are the author's and do not necessarily represent the views of RoboticsTomorrow

KINGSTAR
KINGSTAR Soft Motion Platform empowers you to dramatically reduce cost, time and complexity of hardware used for precision motion positioning and machine vision systems, with an industrial-grade real-time software-only solution. KINGSTAR's soft motion library and software PLC, built on EtherCAT standards and a real-time 64-bit Windows operating system, accelerate your time-to-market and enhance your efficiency and productivity with PC-based motion controllers for industrial machines.
Other Articles
There are numerous approaches to robot guidance using machine vision techniques, such as stereo vision and photogrammetry, time of flight, structured light, light coding, and laser triangulation.
Besides being expensive and proprietary, migrating to newer products is challenging when hardware components are involved.
In this evolving environment, can trainable robots and cobots go from tradeshow wow factor to actual industrial automation standard components, or will they go the way of Eric and be lost because the industry was too slow to take advantage of the available technology?
---
Comments (0)
This post does not have any comments. Be the first to leave a comment below.
---
Post A Comment
You must be logged in before you can post a comment. Login now.
Featured Product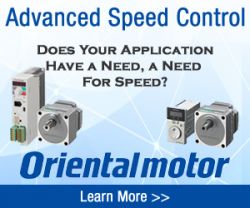 The BLE2 Series replaces our popular BLE Series and continues our brushless motor advantages by featuring an all new compact, high-power and high-efficiency brushless DC motor combined with a Driver that can be digitally set and controlled via external DC voltage or by the front panel. The BLE2 Series can easily compete with larger 3-phase inverter driven motors in many more applications, with built-in simple holding torque function, saving space and increasing performance thanks to the advantages of a brushless motor design. The BLE2 Series has a maximum speed of 4000 r/min, achieving a speed ratio of 1:50 (80 to 4000 r/min). The new motor structure is small than previous models and enables high power and high efficiency while incorporating easy setting, installation and wiring. The new motor connector offers IP66 degree of protection and allows for easy and direct connection between motor and driver with two available orientation of cable outlet direction. Standardized use of stain