There are over 450 exhibitors showcasing the latest innovations in robotic, vision and motion control automation technologies. If you want to see your business grow with the times, Automate is the show to attend.
Automate is the Show for Automation Solutions
Len Calderone for | RoboticsTomorrow
Automate 2019 presents a gamut of automation technologies and solutions. The show will be held at the McCormick Place in Chicago from April 8 to April 11; and this show is only held every two years, so don't miss this year's show. This is the event to find ways to automate every activity in your company and find solutions to your automation challenges.
Manufacturing executives are saying that 60 percent of current open positions in their companies are vacant due to a shortage of skilled workers. In the next ten years, we may see 2.4 million manufacturing jobs vacant. Over the road trucking is experiencing the worst driver shortage in its history. The warehousing market is faced with an unprecedented labor shortage. In California, there are four jobs available for anyone interested in working. The agriculture industry is so short of labor that in 2017 $13 million of produce was plowed under just in Santa Barbara County.
The overall economy will suffer if companies don't automate and this is the show to see the latest technology. Automate is presented by the Association for Advancing Automation (A3), which is the umbrella association for Robotic Industries Association (RIA), AIA – Advancing Vision + Imaging, Motion Control & Motor Association (MCMA), and A3 México. RIA, AIA, MCMA, and A3 México combined represent over 1100 automation manufacturers, component suppliers, system integrators, end users, research groups and consulting firms from throughout the world that are driving automation forward.
Whether you are just starting with automation or are looking for more advanced information, the Automate's conference has what you need, whether it is robotics, machine vision, motion control, assembly automation, sensors and more. The courses will give you a better understanding of the technology that you will see in the show exhibits.
Sponsored by the International Federation of Robotics (IFR), the International Symposium on Robotics is a show event that is hosted all over the world, bringing new awareness on the latest in robotics. The show also offers CVP-Basic and CVP-Advanced classes to help attain Certified Vision Professional certification, enabling you to demonstrate your specialized skills. Just attend the classes and then take the written exam.
The free show pass gives you access to over 400 exhibitors on the show floor, along with small group discussions, covering a wide variety of topics important to the automation industry.
Here are some of the exhibitors:
ABB (booth 4576) is a leading supplier of industrial robots and robot software, equipment and complete application solutions. They're in 53 countries and have installed more than 400,000 robots, supported by the broadest service network and offering in the industry.
ABB robot packing beer bottles
Autonics USA (booth 8928) is a provider of automation solutions from South Korea. They develop and manufacture a wide range of automation products such as sensors, controllers, motion devices, measuring equipment, laser marking systems, connection equipment and more.
Autonics Digital Multi Panel Meters
Applied Robotics, Inc. (booth 8366) is a global provider of robotic end-of-arm tooling and connectivity solutions, specializing in tool changing, collision detection, and gripping applications. In addition, Applied Robotics provides industry and application specific solutions to the most challenging problems. It is the only tool changer maker to offer a lifetime guarantee on the locking mechanism of their Epsilon™ family of tool changers.
Applied Robotics' tool changers
Basler (booth 8328) is a manufacturer of high-quality cameras and camera accessories for industry, medicine, traffic and a variety of other markets. The company's product portfolio encompasses area scan and line scan cameras in compact housing dimensions, camera modules in board level variants for embedded solutions, and 3D cameras. Basler has three decades of experience in computer vision. Their cameras are used for electronics and semiconductor inspection, food inspection, postal sorting and inspections of printed images. While the specifics differ greatly, the applications all use automated processes to recognize characteristics.

Basler Industrial Cameras
Becker Robotic Equipment North America, (booth 8921) is a global supplier to the automation industry. They primarily provide cable management systems and media supply elements for robotics. They manufacture cable assembly packages for all robot types. The cable management systems are engineered for all industrial applications and tools on the market. They have robot installation panels and hall installation panels (RIPs & HIPs). These compressed air & cooling water control assemblies supply stationary and robotic tools. They also provide testing equipment for downtime optimization.
Becker Robotics
Calvary Robotics (booth 7709) designs, develops and builds custom turnkey automation solutions, robotics platforms and material handling systems, as well as being a predominant integrator of third-party technology and equipment. Their experience includes integration of PCB manufacturing equipment, soldering/welding, functional testing, part marking and traceability, calibration, coating and sealing systems.
DRM (booth 8504) Total Plant Integration believes in using the best industry standard materials, equipment and design/build processes. Performance based machinery requires great component coupled with craftsmanship. The leading strengths of DRM include design, fabrication and installation in turnkey solutions.
DRM Systems Design
Elmo Motion Control (booth 7729) designs, manufactures, and implements comprehensive, field-proven motion control solutions that make clients' data-driven, smart machines smarter. The company's R&D department combines intelligent motion control technologies, real-time programming and control algorithms with advanced digital hardware to enable leaner, more flexible machines.
Elmo servo drive gold family
FANUC America (booth 7540) provides industry-leading robotics, CNCs, and ROBOMACHINE solutions. With over 24 million products installed worldwide, FANUC is the most familiar brand of manufacturing automation. They have the largest selection of robot models with payload capabilities from 0.5 - 2,300 kg, including collaborative robots. Their robots are used in virtually every industry and application such as assembly, material handling and removal, machine tending, packaging, palletizing, painting, dispensing and welding.
FANUC industrial robots
Z-LASER (booth 8573) is a developer and manufacturer of laser systems for industrial, medical and laboratory applications. Z-LASER finds innovative solutions and applications for optoelectronics and laser technology.
Z-LASER ZQ1 high power laser
Nachi Robotic Systems, Inc. (booth 7551) supplies a wide range of robots and successful turnkey solutions for many applications, including spot welding, arc welding, sealing, collaborative, material handling, machine tending, material removal, foundry, forging, packaging/palletizing and assembly.
Nachi automated welding and cutting system
Mobile Industrial Robots (booth 7368) is a manufacturer of collaborative, autonomous mobile robots. Their user-friendly robots are flexible and safe. They increase the efficiency of logistics operations, and redeploy human workers for more valuable tasks than transporting materials from A to B.
Mobile Industrial Robots for automated transportation
There are over 450 exhibitors showcasing the latest innovations in robotic, vision and motion control automation technologies. If you want to see your business grow with the times, Automate is the show to attend.
The content & opinions in this article are the author's and do not necessarily represent the views of RoboticsTomorrow
---
Comments (0)
This post does not have any comments. Be the first to leave a comment below.
---
Post A Comment
You must be logged in before you can post a comment. Login now.
Featured Product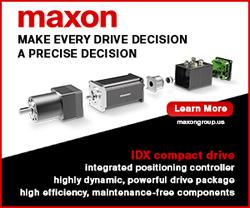 The compact brushless EC-i motor combined with an EPOS4 positioning controller delivers a highly dynamic, powerful drive package with field-oriented control (FOC), high efficiency, and maintenance-free components in a high-quality industrial housing. The maxon IDX drives are suitable for use across the entire speed range (from standstill to maximum speed) and have an extremely high overload capability. Together with a positioning controller, the integrated sensor (single turn) enables absolute positioning.