The cost and risks for small to mid-sized enterprises (SMEs) to train employees as well as implement and deploy robots for immediate impact is still too high.
Adding Robots in the Workplace Requires Robots Built for the Workforce
Contributed by | Waypoint Robotics
As companies struggle to attract and retain needed talent, they are turning to automation to make up for the shortfall. In their 2018 Industry Report, MHI, the nation's largest materials handling logistics and supply chain association, showed that over 70% of manufacturers surveyed plan to adopt robotics technology into their supply chain operations in the next five years. A recently published video by MHI titled "Robotics as the Solution to the Workforce Challenge" further illustrates this shift.
While technological advances and decreased hardware costs are helping drive this growth, small to mid-sized enterprises (SMEs) are largely being left behind in this trend. The cost and risks for SMEs to train employees as well as implement and deploy robots for immediate impact is still too high. Until ease-of-use and accessibility are the number one priority of robotics manufacturers, widespread automation and adoption will not happen.
Robotics Accessibility is Key to Workforce Competitiveness
At Waypoint, we believe that designing robots for the people who actually put them to work is crucial to eliminating barriers to adoption. Building powerful tools for the workforce helps them do more and go home at the end of the day with more energy for their families. With these user-friendly robots, the workforce expands its capabilities and the company grows by leveraging years of invaluable experience, loyalty, and know-how.
We have a responsibility to deliver great robots for the workforce. Automation is the way of the future, and our easy-to-use robots will help get you there. Currently, empowering the existing workforce with technology to close the skills gap appears to be an under-vocalized idea, but one we hope is gathering momentum in the industry.
We agree that robotics can be a solution for the workforce challenge but until robots are as easy to use as an elevator, adoption for the average small to medium-sized business will be slow.
The content & opinions in this article are the author's and do not necessarily represent the views of RoboticsTomorrow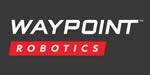 Waypoint Robotics, Inc.
Waypoint Robotics, located in Nashua, NH, develops and manufactures fully autonomous mobile robots that are easy to use, industrial strength, and designed to be setup and used by the workforce that is on the job today. Vector, MAV3K, and supporting products can be put to work immediately, adding to workers' capabilities, increasing their efficiency, and strengthening their companies. For more information, visit www.waypointrobotics.com or follow us @waypointrobo on social media.
---
Comments (0)
This post does not have any comments. Be the first to leave a comment below.
---
Post A Comment
You must be logged in before you can post a comment. Login now.
Featured Product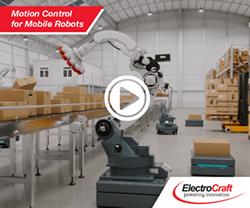 The new MPW86 offers a best in class 500lb per wheel load with speeds of up to 4.3 meters/second. The MPW86 offers powerful starting torque of 35 Nm and 20 Nm continuous. The MPW86 integrated design provides increased performance and reliability at an affordable price compared to traditional motor/gearbox/wheel combinations. The MPW86 is an ideal drivetrain solution for medium to large payload mobile robots and AGVs.