Manufacturing

Marketing Partner
---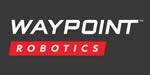 Waypoint Robotics, Inc.
Waypoint Robotics, located in Nashua, NH, develops and manufactures fully autonomous mobile robots that are easy to use, industrial strength, and designed to be setup and used by the workforce that is on the job today. Vector, MAV3K, and supporting products can be put to work immediately, adding to workers' capabilities, increasing their efficiency, and strengthening their companies. For more information, visit www.waypointrobotics.com or follow us @waypointrobo on social media.
---
Mailing Address:
248 Main Dunstable Road
Nashua, NH 03062
United States of America
Tel: (603) 945-4040
Fax: Waypoint Robotics, Inc
Email: info@waypointrobotics.com
Website: http://www.waypointrobotics.com
Company Category: Mobile & Service Robots
Geographic Region: USA - North East
Company Sector: Manufacturing
Keywords: autonomous mobile robots, manufacturing, industry
Partner Status: Marketing Partner
---
Products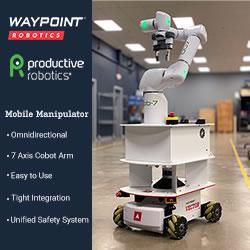 Waypoint Robotics/Productive Robotics omnidirectional 7 DoF mobile manipulator combines the easiest to use, most capable omnidirectional autonomous mobile robot with the simplest and most flexible 7 axis collaborative robot arm. The Vector AMR's omnidirectional mobility enables fast, precise docking in any direction or orientation so the OB7 can perform accurate and precise grasping or picking tasks, taking full advantage of the cobots' 7 degrees of freedom (7 DoF) and superior dexterity. It can be powered using Waypoint's EnZone wireless charger that provides on-demand energy and opportunity charging for longer run times. Workers can use this mobile platform to perform repetitive tasks such as machine tending, quality assurance sampling, material replenishment, packaging, and many others, so they can focus on the high skilled jobs for which they are uniquely qualified. It has never been easier or more cost effective to deploy a mobile manipulator for manufacturing and logistics applications.
---
Articles
The cost and risks for small to mid-sized enterprises (SMEs) to train employees as well as implement and deploy robots for immediate impact is still too high.
---
White Papers
This Company does not currently have any White Papers
---
---