With ATI Deburring Tools, Concept Systems developed a robotic material removal solution for their customer that enables them to produce higher quality parts in less time. The solution reduces scrap and rework, and alleviates safety concerns associated with hand-grinding...
Concept Systems and ATI Deburring Tools Reshape Aluminum Manufacturing Processes
Contributed by | ATI Industrial Automation
Concept Systems is a system integrator based out of Albany, Oregon. Their mission is simple: to partner with their customers and achieve manufacturing excellence. The automation experts at Concept Systems service manufacturing companies across many industries, helping them streamline challenges and deliver platform-independent solutions that increase yield, decrease waste, and promote higher levels of productivity and efficiency.
Despite scores of successful applications, integrators can face challenges in getting customers on board with new technology. Recently, Concept Systems designed and implemented an automated material removal system for a well-known manufacturer in the aerospace industry. The customer was using manually-operated die grinders to apply an edge-break to machined aluminum components. After using manual techniques for many years, they felt uncertain about moving to an automated material removal system. Concept Systems had to verify their proposed solution would be able to meet or exceed the customer's current specifications for quality and throughput.
For aerospace manufacturers, quality is paramount as part tolerances and specifications are extremely stringent. Many manufacturers believe drilling and grinding by hand are best because human hands are able to feel and compensate for variation in part geometry. The perception that humans are better skilled at material removal tasks is widespread, but in actuality, these manual jobs are dangerous and inconsistent, producing results which lead to high levels of rework and scrap. Manufacturing jobs like manual deburring are also affected by the ever-widening skills gap. High turnover leads to even more quality issues and potential injuries. This climate makes material removal processes ripe with opportunities for change.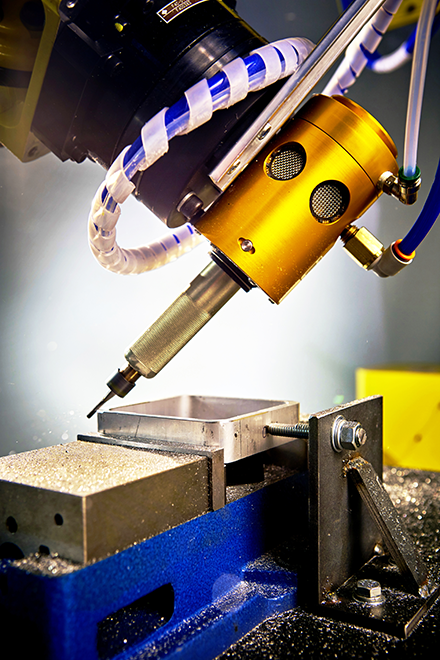 Images courtesy of Concept Systems, Inc.
FANUC robots and ATI Industrial Automation's Robotic Deburring Tools helped Concept Systems bring their vision for robotic material removal to light. From an operation side, Concept Systems' design yields higher quality finished goods and dramatically increases the customer's throughput. Ryan Wasmund, Sales and Marketing Director at Concept Systems says, "We were able to produce parts under real-world tolerance stack-ups at a consistency we believe to be about twice as fast as the manual process." Such results can help manufacturers maintain their competitive edge. The potential is even more significant for aluminum manufacturers as working with aluminum is a bit more complicated than other metals.
Aluminum has a high strength-to-density ratio and is commonly used in both automotive and aerospace manufacturing for this reason. It is also a softer metal that produces burrs when machined. Burrs are those sharp, uneven edges of the workpiece that influence the dimensions and create a hazard for the workers handling them. Aluminum deburring processes must be sure to take away burrs and break edges without gouging into the material–which is arguably why manual methods are so popular. A successful robotic material removal system would have to balance several factors: the malleability of aluminum, the speed of the tooling, and the agility of the robot.
Concept Systems integrated the FANUC M710iC and ATI's RS-340 Radially-Compliant Deburring Tool in their material removal system. The RS-340 from ATI is a light duty, general purpose tool well suited for aluminum deburring tasks. The right amount of speed combined with great handling gives users enough power to remove material and validate the edge break, while keeping cycle times low and reducing scrap. The single axis compliance of the RS-340 ensures that the tool returns to a repeatable center, and maintains surface finish by reducing chatter in the part path.
With ATI Deburring Tools, Concept Systems developed a robotic material removal solution for their customer that enables them to produce higher quality parts in less time. The solution reduces scrap and rework, and alleviates safety concerns associated with hand-grinding parts as well. For operators, the new robotic process comes with a transition to more engaging jobs and opportunities for growth and skill development. At its best, automation makes life easier. ATI's goal is to make automation easier and is thrilled to support this application.
The content & opinions in this article are the author's and do not necessarily represent the views of RoboticsTomorrow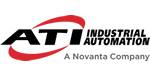 ATI Industrial Automation
ATI INDUSTRIAL AUTOMATION is the world-leading engineering-based developer of robotic accessories and robot arm tooling, including Automatic Tool Changers, Multi-Axis Force/Torque Sensing Systems, Utility Couplers, Material Removal Tools, Robotic Collision Sensors, Manual Tool Changers, and Compliance Devices. Their robot end-effector products are found in thousands of successful applications around the world. Since 1989, their team of mechanical, electrical, and software engineers has been developing cost-effective, state-of-the-art end-effector products and solutions that improve robotic productivity.
Other Articles
We will have a large variety of robotic demonstrations featuring the latest ATI Tool Changers, Material Removal Tools and Force/Torque (F/T) Sensors as well as technologies from our automation partners.
Producing the world's most advanced air defense missile requires technological innovation, especially when annual production is set to increase to 500 by 2024.
ATI has pulled out all the stops for our IMTS 2022 exhibit, with our largest booth, largest show staff and most robotic demonstrations ever! In addition, we have a variety of newly-released Force/Torque Sensors, Material Removal Tools, and Robotic Tool Changers
---
Comments (0)
This post does not have any comments. Be the first to leave a comment below.
---
Post A Comment
You must be logged in before you can post a comment. Login now.
Featured Product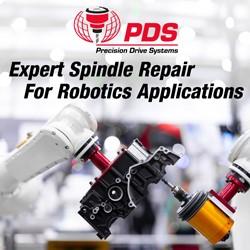 Precision components machined by CNC robot machining systems require compact, lightweight, and high-speed motorized spindles capable of delivering higher efficiency, performance, and reliability than those used in many other industries. That's why manufacturers of milling, cutting, trimming, grinding, polishing, and deburring trust Precision Drive Systems (PDS) to provide accurate and dependable spindle repair to perform to the most exacting standards.