By using robot arms controlled through a computer, surgeons are now able to perform small incision surgeries that are minimally invasive and offer an improved level of precision.
Surgical Robots and Their Rapid Adoption in Minimally Invasive Surgeries
Shikha Sinha for | Global Market Insights
Surgical robots have gained massive momentum over the past few years, in terms of development and testing as well as deployment in routine hospital procedures. By using robot arms controlled through a computer, surgeons are now able to perform small incision surgeries that are minimally invasive and offer an improved level of precision. Bearing in mind the increasing number of people suffering from chronic disorders, the demand for robotics in surgeries could rise considerably owing to benefits such as reduced pain, shorter hospitalization periods, reduced blood loss and faster recovery time.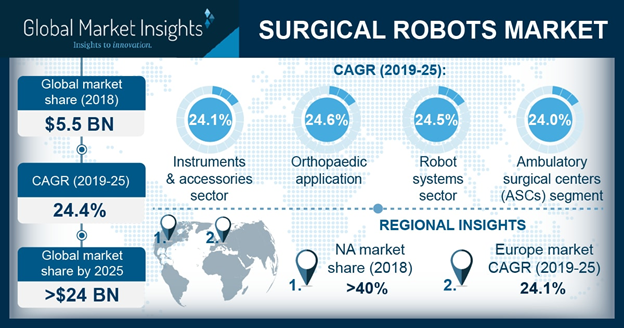 Initially, the high-costs involved in procuring these helpful robots seemed to slow down the industry growth, but many institutions have realized their long-term benefits and are investing in associated technologies. Worldwide, the surgical robots market is projected to surpass US$24 billion in annual revenues by 2025, according to Global Market Insights, Inc.
Providing surgeons with enhanced control, dexterity and flexibility, surgical robots effectively allow them to complete difficult surgeries, along with much less pain and scarring for the patients. Although the outcomes and quality of conventional surgeries have not particularly dropped, inducing robotics in the procedures add numerous advantages for doctor and patients, including lower probability of infections.
It must be noted that surgeries usually entail significant amount of costs for the patients and healthcare payers, as insurance companies have to reimburse expenses depending on the procedure, duration of hospitalization and other necessary components. Reduction in various expenses related to recovery and days spent in the hospital could be another driving factor for the utilization of surgical robots in both, routine and complex surgeries.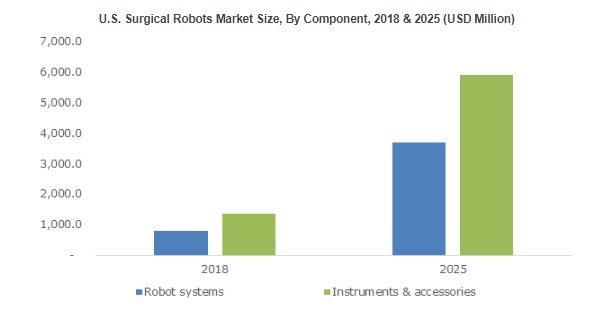 The da Vinci surgical system: Influencing the surgical robot's industry with proven success worldwide
The world's most advanced surgical robot, and apparently the only one approved by the U.S. FDA, the da Vinci surgical system is being used by respected surgeons since the year 2000 for performing complex surgeries and following the minimal invasive approach. The system not only offers surgeons maximum precision and motion, but also consists of high-definition 3D camera to help guide its arms during the procedure.
Even though a surgeon operates the da Vinci system via a console located meters away from the patient, its advanced controls allow the functioning of all four arms simultaneously to perform different tasks. Seemingly, the movements of the robotic arms and components can also be scaled, giving unparalleled control over the surgical environment.
The latest da Vinci Si model boasts of two high-definition, stereoscopic cameras for providing magnified images of the procedure site, which are 40% sharper than earlier models. It has an extra arm and allows for more scalability and wrist action, signifying the continuous improvements being made to the technology and the favorable views of medical professionals.
Demonstrating how the system has made an impact on the overall popularity of surgical robots, consider the Emory Saint Joseph's hospital in Atlanta, Georgia, U.S. The facility is one of the few offering robotic heart surgeries in the country, using a da Vinci system operated by their most experienced surgeon. The hospital performs 97% of all mitral valve repairs with the help of the surgical robot, as the surgeons are able to make more precise maneuvers and stiches, besides the patients needing lesser time to recover.
The da Vinci system is being used and tested all over the world for complex procedures like heart surgeries, representing a vast opportunity among medical professionals to adopt similar technologies over the coming years.
Rising competition and technological awareness promises rapid deployment of surgical robots in the future
In addition to Intuitive Surgical' s da Vinci system creating a favorable environment for robotics in the healthcare community, many other solutions have gradually found their way into distinct surgical applications. Companies have been developing innovative robots to be used by doctors since the early 2000s and several of them are accepted by surgeons, indicating the tremendous potential of surgical robots.
For instance, US-based Medrobotics had recently sold its first Flex Robotic System in Europe, which is aimed at gastroenterology applications. The system would offer physicians and patients advantages like robotic precision, clear 3D visualization as well as a possible reduction in surgery times. As colorectal cancer patients and those having non-malignant lesions are also treated by colorectal and gastroenterology surgeons, the Flex Robotic System would enable easier and minimally invasive surgeries for cancer.
Continuously evolving consumer lifestyle has led to increase in the occurrence of various disorders over the past decade, including spinal problems and injuries. Spine surgeries can be quite complex and require high precision, becoming a vital application area for cutting-edge surgical robotics.
The ExcelsiusGPS Robotic Navigation platform from Globus Medical brings together navigational capabilities and a rigid robotic arm for enhanced precision during spine surgeries. It uses high definition images and real-time information to deliver improved accuracy and optimized patient care. Working in the similar field, Mazor Robotics' Renaissance Robotic Surgical System is enabling more efficient spine procedures and is being deployed in hospitals globally.
With 650,000 to 700,000 spine surgeries being performed in the U.S. every year, there is a broad scope for using surgical robots across both hospitals and ambulatory services. The advancement of healthcare facilities in recent years has made them equipped for adopting upcoming tools and technologies, while patients are also gaining awareness about novel treatment options.
The global presence of other industry participants, including Accuray, Hansen Medical, Stryker, MedTech and Zimmer Biomet, among others, will certainly ensure the availability of vital surgical robots for enhanced patient care. The industry is poised to expand further as surgeons are realizing that robots are primarily being developed to aid them in complex procedures and not to replace them entirely.
About Shikha Sinha
Shikha Sinha is an active contributor on digital media outlets where she majorly reports, deciphers, and analyzes the impact of the technology realm on today's businesses. Her portfolio of media channels as a contributor includes Page125.org, Algosonline, Thecampingcanuck, etc. Besides writing for these portals, Shikha also manages the editorial board at a couple of online media channels including L2Food and Packing Materials. As her first stint in writing, Shikha contributed on Yahoo Voices, where she penned down poems and customized pieces. She holds a Bachelor of Technology degree in Electrical and Electronics Engineering.
The content & opinions in this article are the author's and do not necessarily represent the views of RoboticsTomorrow
---
Comments (0)
This post does not have any comments. Be the first to leave a comment below.
---
Post A Comment
You must be logged in before you can post a comment. Login now.
Featured Product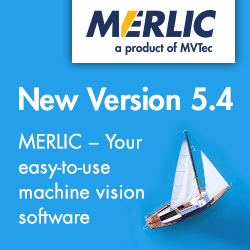 MVTec has launched the newest version 5.4 of its easy-to-use machine vision software MERLIC on Oct. 25. Its focus is on easier process integration. MVTec MERLIC 5.4 includes state-of-the-art machine vision technologies, plug-ins for direct communication with different PLCs and can be used to create complete machine vision applications. Try the new MERLIC 5.4 now!