Three mobile robots from Mobile Industrial Robots (MiR) are helping Honeywell Safety & Productivity Solutions keep its manufacturing processes lean and agile and optimizing workflows by automating the transfer of materials throughout the facility.
Flexibility of Mobile Robots Supports Lean Manufacturing Initiatives and Continuous Optimizations of Internal Logistics at Honeywell
Case Study from | MiR - Mobile Industrial Robots
Equipped with top module conveyors, the mobile robots are fully automating the internal transportation of materials throughout the multi-storey facility, where the robots are autonomously navigating, collecting materials, opening doors, and control a lift, freeing up employees for higher-value tasks.
Honeywell Safety & Productivity Solutions in Poole, UK produces gas-detection equipment that is used in off-shore oil and mining as well as consumer-grade detection for homes. As part of its optimization efforts, Honeywell uses automation and robotics extensively in its production, and in 2016 the company decided to also automate the transportation of raw materials and assemblies, which were being moved around the 91,000 square meter plant on trolleys pushed by employees. Automating that task was a challenge due to the facility layout, in which the warehouse is on one floor and manufacturing across two floors. Delivering materials between manufacturing lines and the warehouse involves navigating multiple narrow corridors and double fire doors, and controlling lifts to travel between floors. At the same time, Honeywell wants to be able to change things around, to move lines around to suit production, and to pick some of throughs for optimization. Therefore, Honeywell needed a flexible logistics solution that was not fixed, could navigate autonomously and close to people and connect to third-party equipment to e.g. control lifts and doors. Mobile robots from MiR was the obvious choice.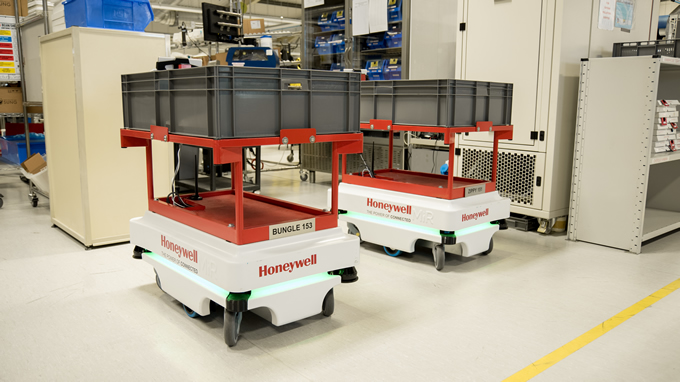 Significant time-savings and elimination of errors in material handling thanks to fully automated transportation
When Honeywell implemented the robots in 2016, they started with a phased approach. They introduced the robots into a semi-automated workflow, where they were equipped with a box and manually loaded in the warehouse, and the employees sent the robot to a workstation via a tablet.
Today, Honeywell has upgraded the application and developed a conveyor system for a fully automated workflow where employees have minimal interaction with the robots. The robots can now go down to the warehouse and collect raw material from a conveyor that connects to the top module conveyor on the robot and then they deliver it to different lines. Currently, Honeywell has 15 delivery stations in the production that the MiR robots are servicing. Advanced Manufacturing and Engineering Leader Stuart Harris explains: "We have integrated RFID scanning technology to the robots, so that we can check what's in the box. The robot knows what line that product needs to go to, so it automatically takes the box, scans the content and take it to the correct manufacturing line". This automated workflow has eliminated the risk of errors in goods delivered from the warehouse, as the RFID scanner ensures that the robots always take products to the correct line.
By having implemented the mobile robots in the first place, Honeywell freed up a significant amount of time for the employees, that were manually handling the internal transportation.
Design Engineer Timothy Ward said: "The main challenge with the MiR robot we want to overcome is the staff, who are allocated to pushing carts. We wanted them to get back onto the production line and drive efficiency. By bringing the MiR robots on-site, we are freeing up six full-time staff members to produce more and make the line more efficient." Having fully automated the internal transportation via the conveyor system, Honeywell is now having even more time savings for the employees, that do not have to spend time interacting with the robots and communicating where certain products have to go to because the robots are capable of figuring that out on their own.
Optimized processes and infrastructure thanks to highly adaptable robots
A key part of the flexibility of the MiR robots is that they are simple to customize for specific applications. The automation team at Honeywell Safety & Productivity Solutions has been able to design and integrate the conveyor system on their own thanks to the open interface of the MiR robots. Harris said: "When you want to integrate the top module, normally with automation the integrating to different manufacturers, brands, or products is where the challenges happen. Fortunately, with MiR, they have an open interface, so we can connect third-party equipment to the robot, such as the RFID scanner, the top module conveyor and other sensors, which we've needed to add". In this way, the structure of the MiR robots have allowed Honeywell to fully customize an application for their need and supported the company to move towards a fully automated logistics workflow.
The flexible conveyor solution is overall optimizing the infrastructure of Honeywell Safety & Productivity Solutions that are able to make changes in the facility without taking the internal logistics into account. Timothy Ward explains: "By putting the conveyor on the MiR, we gain the flexibility of being able to move anything where we want around the factory, which means with our LEAN principles we can tailor lines, we can move things. We don't have to have a conveyor running throughout the whole factory, which is very fixed and expensive to move. We just tell the MiR the new location. It just goes and automatically updates its mission to go to that position".
MiR robots offer fast payback and support automation plans at other Honeywell plants
Harris described the advantages of using robots for low-level tasks that have historically been done by workers. "It means that there is a whole wealth of efficiencies that we touch upon. There is no waiting for people when they are on breaks, or lunch, or even out of hours before you come in to work or when you go home from work. Robots can continue working and doing the tasks."
Honeywell typically looks for a return of investment in two years, which has also been achieved by the MiR robots including the conveyor system. Harris said: "The total investment for all the steps of our project has paid back within two years." Honeywell has implemented MiR robots at four other sites in the U.K where they are inspired by the phased approach towards fully automated internal transportation that has been done at Honeywell Safety & Productivity Solutions.
The content & opinions in this article are the author's and do not necessarily represent the views of RoboticsTomorrow
---
Comments (1)
Yes, I do agree that mobile robots are the future of warehouses as hardly 1% of warehouse are fully automated at present. But it is a new angle where we are using it for internal logistics - from manufacturing to warehouses. It is really a great initiative but speed of mobile robots including safety is a still a challenge. we have received the similar feedback during our Warehouse Automation Market study which we had completed recently for AGV/AMR, ASRS, WMS and AIDC https://www.thelogisticsiq.com/research/warehouse-automation-market/
Post A Comment
You must be logged in before you can post a comment. Login now.
Featured Product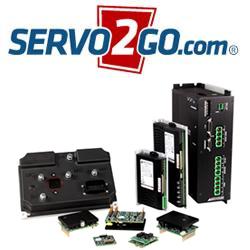 Engineered to drive brushless and brush servomotors in torque, velocity or position mode, Servo2Go.com offers a broad selection of servo drives in a wide range of input voltages and output power levels.