Staubli will be illustrating assembly and packaging of medical devices with the TX2 Stericlean variants, which is the first choice for clean room or aseptic processes and applications. Booth #LS5956

PACK EXPO Q&A with | Staubli
Tell us about your company.
Stäubli's North American headquarters is located in Duncan, South Carolina offering support to Connectors, Robotics and Textile customers, while Stäubli Electrical Connectors (formerly Multi-Contact) operates its business in Windsor, California. The dynamic Stäubli sales force is strategically placed in MI, SC, West Coast, Canada, Mexico, and elsewhere throughout the continent.
Stäubli is a mechatronics solutions provider with three core activities: Connectors, Robotics and Textile. We are an international group that currently operates in 29 countries, with agents in 50 countries on four continents. Our global workforce of 5,500 shares a commitment to partnering with customers in nearly every industry to provide comprehensive solutions with long-term support. Originally founded in 1892 as a small workshop in Horgen/Zurich, today Stäubli is an international group headquartered in Pfäffikon, Switzerland, delivering innovative solutions to all industrial sectors around the world.
Your company will be exhibiting at PACK Expo, what is it that makes this an important event for your company?
Staubli Robotics provides process and packaging solutions for most industries, especially in sensitive environments such as Food in which we offer our HE (Humid Environment) wash-down robot and Medical aseptic in which a Stericlean robot would be used. It is important for Staubli to educate customers on robot solutions that can help them improve process and packaging.
What makes your booth a must visit for PACK Expo Attendees?
The company also will showcase an innovative application for primary food processing, featuring a TX2 HE 6-axis robot will feature ultrasonic cutting, cake decorating and bread scoring.
Staubli will be illustrating assembly and packaging of medical devices with the TX2 Stericlean variants, which is the first choice for clean room or aseptic processes and applications. Highly stressed parts are made of stainless steel. Before the robots receive their top coat of paint, the surfaces are subjected to a special treatment, which increases corrosion resistance and ensures reliable operation in VHP environments. The final coating completed a high surface standard. All Stericlean six-axis robots comply with the strict "Good Manufacturing Practice" (GMP) Class A guidelines.
At PACK EXPO, Stäubli will also be showcasing solutions for case packing with its Fast Picker TP80 and its TS2 SCARA 4-axis robot. The completely redesigned four-axis machines feature hollow shaft technology, which allows all the cables to be routed internally to create a revolutionary hygienic design for use in sensitive environments. This new series of SCARA robots has been reimagined, incorporating our JCS drive technology that has greatly improved the performance and versatility of our six-axis machines which allows for ultra-short cycle times and enormous performance gains for the new four-axis TS2."
The new line consists of four models, the TS2-40, TS2-60, TS2-80 and TS2-100 to provide a solution for a wide range of manufacturing scenarios. With the four-axis TS2-100, Stäubli has extended the working radius of the TS series (400 to 800 millimeters) up to 1,000 millimeters. Compared to the previous TS models, the new TS2s also feature a more compact design, and each four-axis machine can be ordered with an optional integrated tool change system. This allows the SCARA's grippers and tools to automatically replace themselves, significantly increasing the uptime in certain applications. Tools or grippers also can be changed manually within seconds by means of a bayonet locking mechanism. All media and signal connections are automatic, there is no external bundling of cables and no irregular contours, and the new TS2s feature a completely sealed housing. The quill can be optionally protected with a cover and affixed with special screws and concealed connections can be housed under the robot pedestal. The TS2 offers the latest and greatest in hygienic design.
When you get a chance to walk the exhibit hall floor yourself, what is it you will be most interested to see? Any educational sessions, pavilions etc. you plan on attending?
Many participants in PACK EXPO are already customers or partners which gives us an opportunity to visit, walk the floor with them and talk about future projects. We also enjoy learning what the industry in general is doing to enable us to better serve our customers. There typically isn't that much time to walk the floor because our booth is typically busy with people in the industry looking for automated solutions that Staubli Robotics can provide.
The factory floor is undertaking rapid advancements, be it automation, robotics, machine vision or data. Automation Technology is a huge part for many manufacturers, give us an idea on how your company and product is being utilized now in the smart factory.
Staubli's smart production line includes connected robotic solutions collaborating with humans in an Industry 4.0 setting. Industry 4.0, the integration of digital technologies and automated processes, is transforming production for industrial players, accelerating the convergence of the virtual and real worlds. Interconnected robots enable machine-to-machine communication and the exchange of data between devices. Stäubli experts can determine how its solutions can transform big data into smart data to optimize processes and change manufacturing scenarios for greater cost-effectiveness and flexibility.
Stäubli's vision for the factory of the future is built on interconnected devices that operate collaboratively with humans to improve efficiency and the quality of goods. A disruption in the supply chain, for instance, can affect how and when goods need to be produced and Industry 4.0 solutions informs production to enable it to be smarter and more responsive.
Give us your thoughts on what the future holds for manufacturers and automation technology.
Robots will continue to evolve based on customer demands and technology development. There is no doubt that AI will become a part of this development in the future.
The content & opinions in this article are the author's and do not necessarily represent the views of RoboticsTomorrow

Staubli Corporation
Stäubli is a leading manufacturer of textile machinery, quick release couplings and robotics systems. With a workforce of over 4500 employees Stäubli is present in 25 countries supported by a comprehensive distribution network in 50 countries worldwide. Stäubli's North American headquarters is located in Duncan, South Carolina and has over 200 employees supporting Textile, Connectors and Robotics customers, with a dynamic sales force strategically placed on the West Coast, Canada, Mexico, and elsewhere throughout the continent.
Other Articles
When you visit us at booth 2632, you will be able to experience a live demo of our robotic tool changer system, as well as our new end-of-arm-tooling solutions for material handling in automated manufacturing processes including gripping, suction, and cutting.
When you visit us at booth 3323 , you will be able to experience a live demo of our robotic tool changer system, as well as live presentations throughout each day.
Last month, Stäubli introduced 5 new models of tool changers to round out our MPS product line. These new models open up much of the smaller payload robots to using tool changers.
---
Comments (0)
This post does not have any comments. Be the first to leave a comment below.
---
Post A Comment
You must be logged in before you can post a comment. Login now.
Featured Product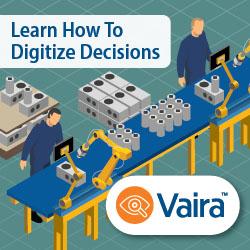 Vaira™ helps manufacturers digitize, automate, and upgrade error-prone manual processes and decisions to boost productivity and increase profits by helping humans make decisions consistent, reliable, and traceable. The camera-based solution is powered by a scalable suite of shop floor-ready apps built on proven machine vision and AI expertise for frontline manufacturing operations, with two-way integration to resource planning tools to help drive continuous analysis, insight, and improvements. Start digitizing immediately, streamlining processes customized to your unique requirements and reduce errors that lead to costs, delays, and quality concerns.