Service robotics is an emerging field that aims to eliminate labor and improve efficiency by replacing manual and labors tasks. Innovation has taken place across the world to solve the labor shortage issue with cooking robots.
Service Robotics to Reach Greater Feats With Innovation and Advanced Technologies
Research from | Allied Market Research
Service robotics is an emerging field that aims to eliminate labor and improve efficiency by replacing manual and labors tasks. Innovation has taken place across the world to solve the labor shortage issue with cooking robots. Firms have been developing technologies to develop robots than can cook food and undertake complex tasks. Moreover, a service robotics firm has launched innovative products and cloud-based platform to offer infinite computing power to carry out tasks at the faster rate. These activities have been taking place in the industry and will result in significant growth in coming years. Following are some of the activities taking place that would shape the industry in next few years:
Cooking robots to make up for scarcity of labor:
Innovation has taken place in the industry with collaborative efforts taken by firms. The food delivery service firm from South Korea Woowa Brothers Corp. joined hands with robotics engineers from the University of California, Los Angeles. The collaboration aims to develop cooking robots for extending the scope of business of Woowa Brothers. The Korean firm made a deal with Robotics & Mechanisms Laboratory (RoMeLa) of UCLA for development of robots that can cook food at homes and restaurants. The collaboration aims to develop robots that are advanced than those available in the market currently. Woowa Brothers and RoMeLa engineers have been striving to develop robots that will perform complex tasks such as food supply ordering and preparing number of dishes. This would bring innovation to the dining culture. The development will be completed by next three to four years. This is another attempt by Woowa Brothers after opening a robot-serving restaurant with the name Merry-Go Kitchen in Seoul. Customers order food through Baemin Smart Order system in the Baedal Minjok app and self-navigating robots offer dishes made by human chefs.
Another firm looking for development of cooking robots is Connected Robotics, Inc. The firm has raised 850 million yen ($7.82 million) in its Series A investment round. The lead investor was Global Brain Corp. In addition, 31VENTURES Global Innovation Fund, the Sony Innovation Fund, UTokyo Innovation Platform Co., and 500 Startups JP LLC have been other investors. This brings the total investment in Connected Robotics up to 950 million yen ($8.74 million). Yasuhiko Yurimoto, the CEO of Global Brain, said that the decision to invest in Connected Robotics was due to capability of the firm to develop cooking robots with deployment of advanced technology. The technology will fulfill the shortage of human resources in the food & beverage industry.
Commenting on the development of cooking robots, Tetsuya Sawanobori, CEO of Connected Robotics, mentioned that he worked in a restaurant after graduation and his health broke down after a year due to overwork and manual labor. This experience inspired him to bring relief to those workers and develop cooking robots to replace humans.
Service robots to have infinite computing power:
The computing power for service robots will not be limited to its chips. The cloud would provide the infinite power required. CloudMinds, one of the leading market players in the field of service robotics, has gained an international presence for its services of offering "brain" to the robots. It has developed a cloud-based platform that can operate smart consumer service robots simultaneously. Traditional robots have chips installed in them and the capacity of data-processing is restricted. On the other hand, CloudMinds offers an access to infinite computing power and data by offering them from the cloud. The operating platform has three vital parts, a nerve network, a cloud brain, and robot controllers. The platform provides scalability and enables partners customization for their robots that can be employed in shopping malls, banks, hotels, and even hospitals for handling customer queries or preparing coffee.
Richard Tang, the Chief Financial Officer of CloudMinds, outlined that the CloudMinds model is like the smartphones, operating systems, and some apps. The firm has filed with the U.S. Securities and Exchange Commission (SEC) for an initial public for raising up to $500 million. In the filing, it stated that it is the world's first firm "to commercialize products and services related to the end-to-end cloud robot system." The cloud brain or Human Augmented Robotics Intelligence with Extreme Reality (HARIX) platform can operate millions of connected robots that perform different tasks. The AI system involves capabilities including natural language processing, computer vision, and vision-controlled manipulation, assisted by human inputs and supervision. With the surge in need for service robotics as labor costs and demand for greater productivity increase, CloudMinds has expanded its portfolio with CloudPepper, security robots, Cloudia virtual AI robot, and others. According to the research firm Allied Market Research, the global service robotics market is estimated to reach $34.7 billion by 2022. Bill Huang, the CEO and Co-Founder of CloudMinds, said that the firm will develop a number of smart compliant service robots based on advanced technologies. They will leverage the high bandwidth and low latency of 5G network.
The content & opinions in this article are the author's and do not necessarily represent the views of RoboticsTomorrow
---
Comments (0)
This post does not have any comments. Be the first to leave a comment below.
---
Post A Comment
You must be logged in before you can post a comment. Login now.
Featured Product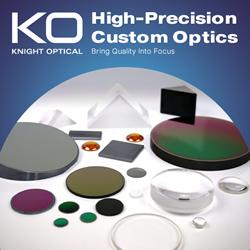 In the era of Industry 4.0, automation and machine learning drive the future. Knight Optical stands at the forefront, collaborating globally to supply precision optical components that power the robotics and automation sector. From UAVs, drones, and robotics to machine vision, LiDAR-driven car sensors, and renewable energy, our optics empower innovation. Optical components play an important role within the industry, including: Optical windows and domes safeguard systems in unmanned vehicles while preserving the field of view for cameras. Infrared lenses with aspheric surfaces elevate thermal imaging. Optical filters excel in machine vision, with colour glass, interference, and dichroic filters in our stock. Knight Optical provides stock components and custom solutions made to your exact specs. With every component undergoing rigorous metrology and QA checks before shipment, you are sure to experience true precision, innovation, and assurance.