Local manufacturers don't want to run 1-2 parts because it interrupts their workflow. They would much rather get an order for 1,000 pieces than have to stop, load material for your job, setup the machine, cut it, ship it etc.
The Future of Metal Manufacturing for Robotics
Jim Belosic | SendCutSend
Tell me about SendCutSend. When did it launch, and why did you see a need for it in the market?
We officially launched on February 11, 2019 and have simplified metal manufacturing processes by allowing users to create custom, one-off parts, at a fraction of competitors' prices. By automating the traditional process, SendCutSend provides a quick turnaround for parts that would generally interrupt the workflow of local or mass manufacturers.
What makes it different than other laser-cut metal shops?
Our ability to instantly quote online, our fast turnaround time, our ability to accept a wide variety of file types and our lack of minimum order quantity. Right now, parts ship within 3 days or less.
Do you have multiple locations or is the work done in one central factory?
Our primary location in Nevada along the I-80 corridor allows us to deliver to both coasts in about 3 days. However, we think that a second location closer to the East Coast would be beneficial in the future.
Is there a minimum order or could a designer run off one piece for prototyping?
The majority of our orders are single parts or small runs (less than 10) for prototypes. We also run large production orders, usually on our overnight shift. Serving designers who need a single part is our primary focus.
How did your previous experience in tech lead you to start SendCutSend?
Over the last 10 years, our team has been primarily focused on software. Our core business is in software, but the actual team is more than just computer nerds.
We're a team of fabricators, designers and software engineers who love to make cool stuff whether it be for work or as a hobby. From electric Deloreans and Tesla-powered-Hondas to Land-Speed Cars...we've had projects that required parts that we couldn't make in-house, and we've found that when parts needed to be outsourced, it became a nightmare.
Local manufacturers (if you are lucky enough to have local manufacturers) don't want to run 1-2 parts because it interrupts their workflow. They would much rather get an order for 1,000 pieces than have to stop, load material for your job, setup the machine, program it, cut it, ship it, etc. AND, the process is labor intensive and drives the price way up. With many shops, the cost for one part is about the same as the cost for 20, because the setup time involved is so expensive.
We figured that if we had these issues, there are a lot of other people like us who could benefit from a low cost, quick turn service like SendCutSend. We saw an opportunity to bring our software and process-efficiency expertise to the world of sheet metal.
How can advanced manufacturing, factory automation and 3D printing industries best work with SendCutSend?
Our speed, precision and ability to deliver multiple design iterations in a short amount of time allow engineers and designers to get their product to market faster. Also, since we don't have minimum quantities, we can supply custom, one-off parts for projects that would traditionally be cost prohibitive.
How do you see the future of SendCutSend playing out?
We think that Manufacturing-on-demand is the future. Our customers want more flexibility with their designs, so being able to revise parts on the fly is critical. Being able to make rapid iterations without affecting inventory on the shelf is very efficient for small manufacturers.
The content & opinions in this article are the author's and do not necessarily represent the views of RoboticsTomorrow
---
Comments (0)
This post does not have any comments. Be the first to leave a comment below.
---
Post A Comment
You must be logged in before you can post a comment. Login now.
Featured Product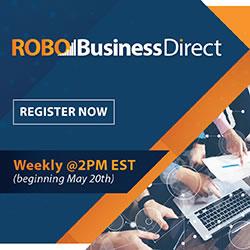 RoboBusiness Direct is built to foster robotics innovation in all its forms, expand robotics business opportunities, and build a community of like-minded problem solvers with the goal of driving the growth of robotics businesses. More than a webinar or virtual event, RoboBusiness Direct is an ongoing, integrated series of presentations and media coverage delivered by brightest minds from the leading robotics and automation companies from around the world - Nuro, FedEx, Lockheed Martin, Samsung, Siemens and more.