It combines high-performance force control, computer vision and advanced AI technologies, which enables the robot to adapt to the complicated environments, and accomplish better "hand-eye" coordination like human does.

Contributed by | Flexiv
Can you please tell us a little bit about the kind of robot that you created/are going to create in the future?
Flexiv has brought out the 3rd generation robotic technology---the adaptive robot Rizon. Rizon is the first applied product of our adaptivity technology. It combines high-performance force control, computer vision and advanced AI technologies, which enables the robot to adapt to the complicated environments, and accomplish better "hand-eye" coordination like human does. There are three key features which differentiate adaptive robots from others: high tolerance of position variance, great disturbance rejection, and transferrable intelligence.
It can be applied in diverse industries such as automotive, consumer electronics, aerospace, agriculture, logistics, health care, and retailing. In existing application scenarios, adaptive robots can finish tasks of plugging and assembling, curved-surface processing, flexible picking and sorting, etc.
Why do you think adaptive robots are the future of robotics? Could you please name some scenarios or tasks that specifically requires robot's adaptivity, which can hardly be fulfilled by traditional robots or co-bots?
While addressing the limitations of traditional industrial robots, they come with their own set of issues in the face of current and future automation needs. To achieve safety, cobots typically have to sacrifice payload, velocity and force limits that are crucial for productivity; they cannot be easily deployed by non- professionals and still rely on integrators with more advanced skills; Cobots also need collaborate with human to accomplish complex tasks. To many roboticists, collaborative robots appear to be a transitional phase between traditional robots and more advanced ones, and there are opportunities to further improve these systems. In particular, they should be more flexible, intelligent and adaptive. With adaptivity, robots can accomplish more complicated tasks, and adapt to more uncertain environments.
The first three application scenarios of adaptive robots include:
plugging connectors with wire harness

identify plug models and positional attitudes in complex environments and cable configurations without external assistance.
avoid obstacles in real time, and adapt to unknown disturbance and deviations, thus efficiently complete tasks like grabbing, inserting, and assembling.
integrate plugging quality inspection with force and vision perception.
with AI knowledge engine and force-guided skills, realize high transferability for various production scenarios.

precision component assembling

with unique force sensing ability, adaptive robot can react quickly and accurately to the tiny force change during the assembly and ensures working quality and efficiency.
with the incorporated AI-based hierarchical intelligence structure, the robot system can not only overcome errors in all aspects of the process and improve the automation level of high-precision assembly, but also gradually form more general and standardized assembling skills by incessant iterative optimization.

soft-material surface processing

through complex force control capabilities, it can perform complex surface polishing and moving methods, which can then be used to finely grind and polish complex textures of different materials
compatible with a variety of tools, and independent, multi-dimensional active polishing with realtime adjustment.
perfectly fit the surface of complex workpieces without trajectory teaching, and monitor surface treatment in real time to ensure processing quality.
great disturbance rejection, no need of precise positioning tools or fixtures.
Can a traditional robot or co-bot be programmed to be adaptive?
Traditional cobot is designed for collaboration with human, so the requirements on hardware functionality and performance are quite different. For example, in terms of force detection and control, co-bot only need to detect collision to ensure safety, and able to implement teaching by dragging, so the force control accuracy and bandwidth does not need to be perfect. In comparison, continuous fine force control in all directions are required for robot to complete challenging manipulation tasks, which current co-bot hardware cannot fulfill.
What is Flexiv's competitive advantage when compared with past robots or other robotic companies?
There are three points concerning the competitive advantages of adaptive robots as below:
Beyond conventional automation
Restrained by position control, the automation level and task scope of traditional robots are limited. Developed in a new methodology that fuses fine force control and vision, adaptive robots are able to accomplish a larger set of tasks in more open, complex and uncertain environments. Many existing automation challenges can therefore be well overcome.
More flexibility to production
With transferable intelligence, it becomes much easier for enterprises to deploy adaptive robots to adapt to similar scenarios and similar workpieces or to redeploy robots for new production lines. In addition, the adaptivity helps simplify the line by reducing additional devices and mechanisms commonly required in traditional automation solutions. Both production flexibility and cost effectiveness will be improved significantly.
Adaptivity unleash the power of Artificial Intelligence
AI technology, especially deep learning, has been developing rapidly, which enables machines with more sophisticated perception and decision-making ability. However, the nature of this methodology always leads to a trade-off between detail accuracy (e.g. position accuracy of a detected object) and universality (robustness against variation and corner cases). It causes heavy constraints when AI is combined with automation lines that are highly sensitive to position error. A robot with good adaptivity can truly exploit the power of cutting-edge AI technology. Besides, the capability of fine force control provides the feeling of touch and better dexterity, which facilitates more space for artificial intelligence to prosper in the field of robotics.
You mentioned developing software as well as hardware by yourself, is it hard for a startup to build things from scratch? How do you balance the investment (both time and money) in the research & design and the business development progress (probably need to move quickly) as a startup?
As a start-up with proprietary technology, we have been constantly optimizing the structure of software and hardware research and development team from the very beginning. Until now, we have achieved more than 100 team members globally, and there are over 60 researchers from top AI and Robotic labs in Stanford University, UC Berkeley, Carnegie Mellon University, Shanghai Jiao Tong University, Zhejiang University, and Tsinghua University, etc. Flexiv also has 100+ patented algorithms. With all these experiences and knowledges in AI and robotics, we are the first team to introduce the idea of "3rd Generation Robotic Arm: Adaptive Robot" while developing our software and hardware independently.
In addition to working on the design of the adaptive robotic arm itself, we are also thinking about how to broaden the scope of our products, and strive to provide industrial customers with more cost-effective automation solutions and services, so that they can provide scalable services with affordable development effort. For example, Flexiv has developed a versatile AI platform with a hierarchical architecture that allows companies to easily migrate their previous tasks to similar scenarios, learn similar objects, learn new skills, and quickly adjust to new production lines. This greatly reduces the investment required for installation.
Flexiv also provides an excellent one-stop solution for enterprise customers, with the ability to do their jobs efficiently in an uncertain environment, with high versatility and adaptability to change. The Flexiv robots could be applied to industrial manufacturing, logistics, agriculture and industries facing more human interference like healthcare and retail in the future.
How we manage to balance R&D and business:
1) R&D efforts need to be focused on key components and potential breakthroughs that can form deep technology barrier for the company, so it is very important to have the right persons in team that have clear ideas about the full picture and development plan, and assign the right developer and researcher on the tasks that fit best.
2) Need to be fully aware of how much time each R&D project need to take, and prevent immaturity of product caused by planning problem, or the cadence being interrupted by too aggressive business plan. Flexiv have attracted a large number of talents that are competent on the aforementioned aspects, and we believe that everything have been kept in good balance.
Who are the founding members? Why this team is a good fit for developing and commercializing adaptive robots?
Flexiv is founded by a group of scientists from Stanford University Artificial Intelligence and robotics Laboratory with excellent knowledge on robotics and AI. The company has more than 100 breaking through patents and algorithms on robotics, Computer Vision, AI Application, etc. Besides the founding group, we have many talents with diverse backgrounds from top-tier companies like KUKA, FANUC, ABB, Apple, McKinsey, etc.
Shiquan Wang, co-founder, CEO and Chief Product Officer.
Shiquan holds a Ph.D Degree from Stanford University Biomimetics and Dexterous Manipulation Lab focusing on Robotics. Shiquan has over 10-year robotic experience in robotic development and designing. During his study in Stanford, he was focusing on the Flexible Dexterous Mechanical Hand Design, Modeling & Simulation, Sensor Design and Fusion Algorithm, Driver Design, and Deep Learning in robotics. He has multiple patents in China and the U.S., and has published over 20 papers on top international journals such as IJRR, IROS, ICRA, RSS, Science Robotics, etc. The research on Multi Limbed Climbing humanoid robot that was led by him won Best Paper Award at International Conference on Intelligent Robots and Systems (IROS). His researches also include the underwater humanoid robot Ocean One and the project SupraPed that studies the humanoid robot stability in unstructured environment.
Shuyun Chung, co-founder, Chief Scientist.
Shuyun Zhong graduated in Mechanical Engineering and System & Control from National Taiwan University with a Ph.D degree, and he was an Post-PhD in Stanford University Artificial Intelligence Laboratory. He was also a visiting scholar in the Robotics Institute of Carnegie Mellon University, and with over 15-year research experience in Robotic Industry. He has published papers in the top international journals such as TRO, IROS, ICRA, etc., and his research SupraPed on humanoid robot stability in unstructured environment was published on National Science Foundation as one of the Annual Key Researches, that was widely reported by medias in more than 20 countries.
Xiyang Yeh, co-founder, CTO.
Xiyang Ye holds a Ph.D in Mechanical Engineering from Stanford University Artificial Intelligence Laboratory. His professor is Oussama Khatib, who is an leading scientists in human-centered robotics, the President of International Robot Research Foundation, and an IEEE Fellow. Xiyang has over 10-year experience in robotic as had been a researcher in Agency for Science, Technology and Research in Singapore, and with multiple national robotic projects experience in the U.S. The underwater humanoid robot Ocean One that was led by Xiyang has passed the test at the depth of 100 meters in the ocean in 2016, and assisted in an archaeological excavation. Ocean One in the excavation was widely covered by international medias such as CNN and BBC.
Cewu Lu, co-founder, Chief AI Scientist.
Cewu Lu holds a Ph.D in Computer Science from CUHK (The Chinese University of Hong Kong). He is a Research Professor at Shanghai Jiao Tong University (SJTU) and has founded the SJTU Machine Vision and Intelligence Lab. Before he joined SJTU, he was a research fellow at Stanford University working under Prof. Leonidas J. Guibas. He has published over 40 paper in leading computer vision conferences such as CVPR and ICCV. He has won Best Paper Award at the Non-Photorealistic Animation and Rendering (NPAR) 2012 and was the first author of a most cited paper in SIGGRAPH in recent 5 years. He was the nominee of China's 1,000 Talents Plan and has been selected as MIT TR35 China in 2018.
How will this change the course of automated production in the future?
The automated production will be definitely changed by introducing adaptive robots. Firstly, adaptive robots can automate more complicated tasks than conventional robots do, thus automation level of production will be raised, and people can be released from those tedious and harmful work. Secondly, more flexibility can be brought to production and production lines will be flexible enough to adapt to the changing market. Let's imagine a production line equipped with adaptive robots: the line can easily adapt to inconsistent supplied materials, different SKUs of workpieces, diverse tasks and various types of errors, all of which cannot be handled by traditional robots. Automated production will be much simpler and more adaptive, and the deployment cost and effort will be largely decreased as well.
Are you working on any other projects you would like to talk about here?
Rizon is the first robot we launched to the market, and we are expanding its applications step by step. In the future, you can expect more practical and cross-industry solutions leveraging our adaptivity technology, as well as more innovative robotic products on the way.
The content & opinions in this article are the author's and do not necessarily represent the views of RoboticsTomorrow
---
Comments (0)
This post does not have any comments. Be the first to leave a comment below.
---
Post A Comment
You must be logged in before you can post a comment. Login now.
Featured Product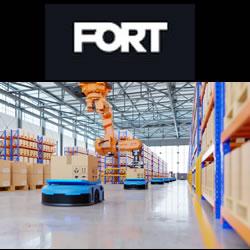 Machine safety and security are two critical components of any industrial operation. Our latest video explores this question and provides insights into how security measures can enhance machine safety. Nivedita Ojha, VP of Product at FORT, breaks down the key considerations when it comes to securing your machines and keeping your workers safe, explaining why there is no safety without security.