The warehouse robotics have offered a more efficient, reliable, and accurate way of handling demand and supply equation by letting robots perform functions such as pick-place, packaging, transportation, and palletizing.
Rapid Launches and Strategic Acquisitions Propel Growth of Warehouse Robotics
Research from | Allied Market Research
Automation is everywhere we look. The technology portrayed in movies such as WALL-E is now a part of our daily lives. We have autonomous cars that can pick and drop passengers wherever they want. In fact, millions of people are now used to having conversations with a robot named Alexa. While people keep guessing how automation would transform our day-to-day activities, it has already started to transform our lives and has become an integral part of our lives. The warehouses are not far away from the touch of automation.
The warehouse robotics have offered a more efficient, reliable, and accurate way of handling demand and supply equation by letting robots perform functions such as pick-place, packaging, transportation, and palletizing. The integration of warehouse and robotics has helped increase accuracy while boosting the warehouse storage space. According to a research firm, Allied Market Research, the global warehouse robotics market is estimated to reach $5.19 billion by 2023, registering a CAGR of 11.6% from 2017 to 2023. Moreover, various strategies such as partnerships and acquisition have helped the major market players such as Amazon to boost their revenue and maintain their foothold in the industry.
Amazon acquires warehouse robotics startup
The most successful e-commerce company, Amazon, has recently acquired Canvas Technology, a Colorado-based autonomous robotic startup, to strengthen its portfolio in warehouse robotics. In addition, this helps the company to meet with the growing demand for robotic center machines. Canvas Technology was founded in 2015 and has already made its name for itself and raised a $15 million Series a led by Playground Global.
Amazon confirmed the acquisition in its statement, stating that the company is glad to invest in Canvas Technology as now both companies share the same vision for a future where people could work side-by-side with robots to enhance safety and improve the workplace experience. The spokesperson said, "We are eager to work with Canvas Technology's team to continue developing new innovations for customers."
A while back, Canvas Autonomous Cart was on display at the Playground's open house, where the cart showed an impressive performance avoiding people and obstacles, even in the crowded space. The driverless cart used 3D imaging and its in-house software solution that could be utilized in an autonomous car in a warehouse setting. Thus, Amazon added Canvas's technology would improve safety as the hardware offered by Canvas is designed to directly interact with workers on the floor. Thus, it is easy for Amazon to adopt such technology for some of its existing systems.
Locus Robotics to produce warehouse robotics
A Massachusetts-based company, Locus Robotics, recently announced that it has bagged around $26 million in Series C funding. The five-year-old company develops autonomous mobile robots for e-commerce order fulfillment. Moreover, the company's "multi-bot" picking system includes two software: LocusBots and LocusEmpower that integrates the warehouse management system.
According to Rick Faulk, the CEO of Locus Robotics, the steadfast growth of the warehouse robotics industry and dearth of skilled labor have pressurized warehouse operators to find a cost-effective as well as scalable solution. He added that the company witnessed a massive increase in demand for flexible automation incorporated into Locus's multi-bot solution. Moreover, the new funding is expected to help Locus Robotics with new deployments in Europe and accelerate product development. The company has raised around $66 million since 2015.
Future of warehouse robotics
It's no secret that automated warehousing systems make routine processes more efficient, error-free, and reliable. As the demand for quicker, better-automated systems continues, it is a vital competitive advantage for market players. In future, customers would expect more transparency and traceability. They would expect to know the exact location of their product as soon as they purchase it. Thus, to keep up with customer's demand, manufacturers need to trace the product in the supply chain with the help of radio-frequency identification RFID tags integrated into the warehouse management system.
Automated guided vehicles (AGVs) and robotics have boosted the demand for customized warehouse configuration. From warehouse to the overall floor plan, strategic warehouse design helps implement the latest automated system in a warehouse. For instance, boxes and bins can be designed in an automation-friendly way so robots can seamlessly pick and place and shelves can be built to be more mobile and conductive according to the latest automation trends. In fact, AGVs would be one of the major trends in the warehouse robotics industry. AGVs can follow wire or markers on the floor and move products efficiently around the warehouse. For instance, Amazon acquired company, Kiva currently uses around 100,000 robots to automatic picking and packaging process inside the company's warehouses.
The rapid developments in artificial intelligence (AI) and machine learning would further improve the current warehouse robotics. Along with AI, the advent of 5G and innovations in cloud computing would disrupt warehouse automation technology to make it more accurate, effective, and human-friendly than ever.
The content & opinions in this article are the author's and do not necessarily represent the views of RoboticsTomorrow
---
Comments (0)
This post does not have any comments. Be the first to leave a comment below.
---
Post A Comment
You must be logged in before you can post a comment. Login now.
Featured Product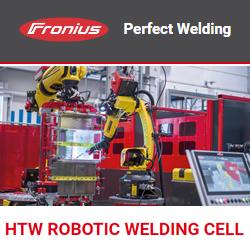 Modular, collaborative, and flexible: the "Handling-to-Welding" robotic welding cell joins parts of different geometries and materials. The task is carried out by two robots - the handling robot positions the workpieces, the second robot performs the welding. Depending on the cell configuration, lock gates are available for the inward and outward transport of parts. Furthermore, various positioners, a TCP measurement system, a torch cleaning system, a gripper station, and a contact tip change system are also possible.