Understanding the opportunities created by robotics in healthcare and why human nurses can never be replaced, is significant if both are to work in tandem to complement the tasks performed daily.
Human Nurses and Robotic Nurses: A Symbiotic Relationship
Article from | Mardax
As with any other sector, rapid technological breakthroughs are spearheading a major revolution in the nursing and healthcare industry as well. The exponentially evolving use of robotics in consonance with other convergent functionalities such as Artificial Intelligence (AI) is radically transforming and restructuring the ways of providing healthcare services by making laborious and repetitive tasks much easier and efficient. Healthcare providers today are faced with increasing labor costs and a shortage of workers and are thus investing in robotics. Quicker to train and cheaper to maintain, nurse service robots are programmed to deftly accomplish routine nursing tasks dictated solely by prescribed procedures, thereby reducing the human staff's perception of workload and stress. Also, the need for automation may be more imminent than we think. The U.S. Census Bureau estimates that nearly 25 percent of the population will be 65 or older by 2060. This means higher demands for more accessible and effective care, which is a positive determinant for motivating the shift to robot nurses. A growing elderly population, coupled with a scarcity of healthcare workers, makes nurse robots incredibly helpful.
An estimate by McKinsey Global Institute states that 800 million workers worldwide could be replaced by robots by the year 2030. In another study conducted by the Duquesne University School of Nursing, the healthcare robotics market is projected to grow up to $2.8 billion in revenue by 2021. Despite the positive changes, use of nurse robots is considered an invasion taking away jobs from human nurses. In such a scenario, human nurses need not fear being rendered redundant. Rather, they should consider integration of robotics a welcoming opportunity to grow; giving them the deciding voice as to which aspects of their practice can be delegated to technology. They can oversee and subsequently help in the expansion of research and employment of robots into the practice. Mardax explores the concept of why nurses in the future will become delegators and not just care providers.
While it need not be a case of pitting human nurses against the robotic ones, it should be more of a symbiotic relationship prioritizing the universal aspects of healthcare and wellness. Establishing a middle ground will help in maximizing the benefits for both patients and the nursing staff. Understanding the opportunities created by robotics in healthcare and why human nurses can never be replaced, is significant if both are to work in tandem to complement the tasks performed daily. So, while the robots are doing routine tasks such as taking vitals, administering medicines, giving bed-baths, moving the patient, combating inactivity in the elderly, etc. nurses could attend to the finer aspects of healthcare. In coordination with robots, nurses can ensure the appropriate delivery of holistic care and support. The machines can help ease out the pressure on nurses, enabling them to spend ample time on patient interaction- to become familiar with the patient's condition, preferences, needs, and forming an emotional bond. Nursing is an expression of genuine caring and not just fixing a person physiologically. This is purely a human trait, and in matters of emotional support, robotic nurses can never outperform human nurses. No matter how well-programmed, robots lack common reasoning ability and empathy. They can only do what that specific algorithm requires them to do. When faced with a new unusual situation, they may put a patient's life in danger by taking time to respond. For example, an experiment tested a robot's ability to protect other robots (called human proxies) from entering a danger zone on a table game. In 14 out of 33 trials, the robot wasted time to make a decision, which resulted in both human proxies falling into the hole. Because the robots are unable to gauge the unpredictable aspects of nursing, human workers can provide more participative care.
The nursing education will need to revamp its curriculum by incorporating research on the effects of technology and machine learning specific to the nursing profession, with a focus on leveraging AI technology to aid human healthcare personnel. Nurses will need to learn how to adapt to robotic co-workers and develop skills to direct and manage them. So, in the years to come, nursing education and research will undergo a transformation to encompass a metamorphosed demand for professional nursing practice with, and not for robots in healthcare. This way, healthcare professionals will feel confident of meeting the demands of their profession without compromising on providing quality personalized care.
The content & opinions in this article are the author's and do not necessarily represent the views of RoboticsTomorrow
---
Comments (0)
This post does not have any comments. Be the first to leave a comment below.
---
Post A Comment
You must be logged in before you can post a comment. Login now.
Featured Product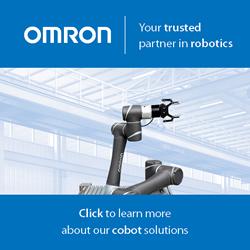 Humans and robots can now share tasks - and this new partnership is on the verge of revolutionizing the production line. Today's drivers like data-driven services, decreasing product lifetimes and the need for product differentiation are putting flexibility paramount, and no technology is better suited to meet these needs than the Omron TM Series Collaborative Robot. With force feedback, collision detection technology and an intuitive, hand-guided teaching mechanism, the TM Series cobot is designed to work in immediate proximity to a human worker and is easier than ever to train on new tasks.