The sanitary crisis linked to the diffusion of Covid-19 requires everyone to apply measures of social distancing. Motorized and automated solutions are being developed at high speed as a solution.
Covid-19: Drive Technology and Physical Distancing
Article from | maxon group
Delivery and logistics robots
To decrease the risk of contamination, the demand for non-contact deliveries has increased sharply, all over the world. To allow stores to remain open, without customers having to move around or exposing a delivery person, Starship Technologies has deployed a fleet of delivery robots. Like a mini icebox mounted on six wheels, this compact robot travels the streets autonomously to deliver food and other essentials. Equipped with sensors, a camera and high-performance motors, it avoids obstacles to carry out its mission. Once it reaches its destination, it can be unlocked via an app to retrieve the order. For automated guided vehicle (AGV) applications such as these, maxon compact drives are a great fit. The maxon EC Flat and EC Frameless DC motors, and also maxon motors with integrated IDX electronics are popular with this type of application.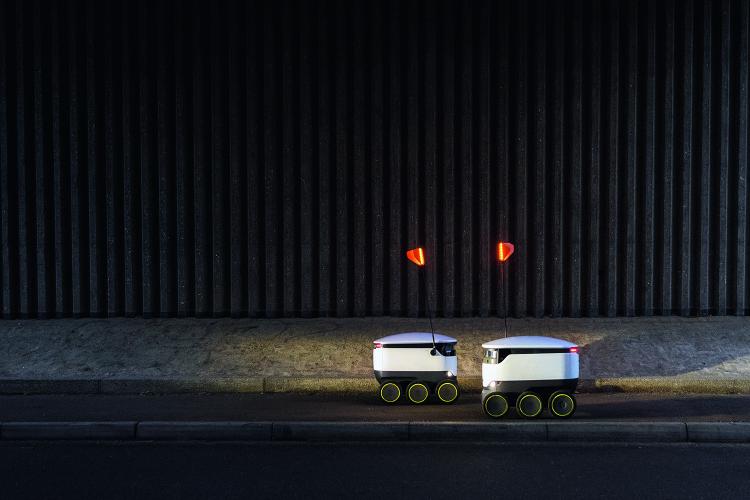 AGV's from Starship Technologies.
In other cities, robots such as Colossus, from the French company Shark Robotics, apply a hydroalcoholic gel to disinfect roads and public places. Built with maxon DC motors, this robot operates in hostile environments and high-risk situations. Colossus also worked alongside the firefighters at the Notre Dame fire.
Delivery of medicines by drone has also been used in the United States as it minimizes contact. Currently, the products delivered may not exceed a certain weight and deliveries are limited to a defined perimeter. Delivery by drone is also subject to numerous regulations.
maxon has developed a new range of products specially designed for UAVs that comply with the most stringent safety standards in force and whose energy consumption is kept to a strict minimum for higher overall efficiency and therefore longer flight time.
Assistance and companion robots
In several cities around the world, friendly-looking "humanoid" robots are deployed to help the elderly and sick. At the Circolo Hospital in Italy, a wheeled robot goes to the bedside of Covid-19 patients to collect information on their state of health. In India, the robots were responsible for bringing medicines and food to the patients directly to their rooms. In Japan, the robot, Pepper, welcomed and ensured the comfort of patients with mild symptoms that were confined to a hotel. Never tired, impossible to contaminate and free from wearing protective equipment, the robots proved particularly useful in the hospital environment.
Designed in France before being acquired by Softbank, Pepper is equipped with a microphone, a screen and uses a tele-presence application to allow patients to communicate with their relatives without risk of contamination. Equipped with maxon motors in the fingers and wheels, this humanoid robot, designed with a friendly face, has also been tested at the Pitié-Salpêtrière hospital in Paris. Pepper, controlled remotely, was first used in the intensive care unit before being redeployed to the hospital reception desk. Now the robot informs the public about safety rules and also offers relaxation exercises to hospital staff.
Such assistance solutions can also be used in stores to guide customers: an operator controls the robot remotely and communicates by video.
Because they allow contact with the outside world without exposure, companion robots have also proved their worth in institutions for the elderly. A start-up in northern France (Roubaix) has made about twenty of its companion robots, Cutii, available free of charge. Cutii provides various activities to residents while allowing them to make video calls with their loved ones on its screen. The robots offer gentle gymnastics, stories, history information and a zero-waste workshop.
Although they limit physical contact between humans, these assistance and companionship robots also strengthen virtual human interactions.
And what about motor technology? The ease of integration of drives in designs is sometimes constrained by technical requirements, temperature management or power supply, for example. Greater design freedom is a guarantee of success for creators of robotic systems dedicated to the human-robot relationship. maxon has worked for many years on optimizing the compactness of its motors and electronics and today also offers battery systems (and BMI - Battery Management System).
Industrial Automation and Logistics 4.0
The automation of production, especially packaging machines has advantages in terms of social distancing. With predictive maintenance, remote and real-time control, it is possible to limit the number of operators around production machines. These principles of Industry 4.0 also offer flexibility in adapting production rates in real-time.
Thanks to maxon's high-performance ZUB multi-axis controllers for positioning and synchronization of motors, remote control is possible. The operator can recognize a malfunction immediately, without having to move near the machines. The EtherCat, Can Open or I/O communication busses used in maxon's compact IDX drives offer performance, reliability and connectivity.
Logistics: Automated guided vehicles (AGVs) and Automous mobile robots (AMRs) have been invaluable during this health crisis. Autonomous and capable of carrying heavy loads, these vehicles make it possible to limit human interactions. For example, the collaborative and independent robot iLogistics, developed by the French start-up iFollow, or Skylog, developed by Exotec. The DC motors must be compact and efficient. maxon's motorized wheels, batteries and management system, are recommended. maxon's positioning controllers and compact IDX drives are also used.
In conclusion, the limitations of physical distance during the global pandemic of 2020 opens the door to connected, autonomous and intelligent innovations. It is possible to maintain the human link, develop business relationships and offer more connectivity and personalization. The technologies provided by maxon make it possible to bring remote movement to life and to keep people ever closer to one another.
The content & opinions in this article are the author's and do not necessarily represent the views of RoboticsTomorrow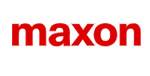 maxon group
maxon is a leading supplier of high-precision DC brush and brushless servo motors and drives. These motors range in size from 4 - 90 mm and are available up to 500 watts. We combine electric motors, gears and DC motor controls into high-precision, intelligent drive systems that can be custom-made to fit the specific needs of customer applications.
Other Articles
An instance of reshoring within a wider policy of genuine corporate social responsibility, and one which paid off. This is a story about robots, to be sure, but one in which humans are never far away...
Although at present robotic automation forms only a small part of warehouse spending it is predicted that it could grow from $3.6bn in 2021 to $18bn in 2025. As technology and AI's improve, automation systems will grow even faster.
Drone technology continues to advance depending on specific applications. For this article, we'll be looking at compact drones used in a variety of applications that need continuous and autonomous inspection of chimneys, shafts, and tanks.
---
Comments (0)
This post does not have any comments. Be the first to leave a comment below.
---
Post A Comment
You must be logged in before you can post a comment. Login now.
Featured Product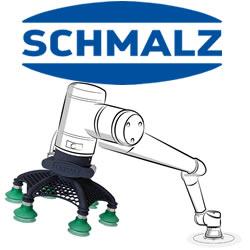 In order to interact with their environment and perform the tasks, lightweight robots, like all industrial robots, depend on tools - and in many cases these are vacuum grippers. These form the interface to the workpiece and are therefore a decisive part of the overall system. With their help, the robots can pick up, move, position, process, sort, stack and deposit a wide variety of goods and components. Vacuum gripping systems allow particularly gentle handling of workpieces, a compact and space-saving system design and gripping from above. Precisely because the object does not have to be gripped, the vacuum suction cupenables gapless positioning next to each other.