With more affordable, more adaptable and easier to program robots spurring greater utilization of robotic automation, especially for small- to mid-size enterprises (SMEs), manufacturing productivity continues to increase.
What Jobs Have Robots Created?
Josh Leath | Yaskawa Motoman
With more affordable, more adaptable and easier to program robots spurring greater utilization of robotic automation, especially for small- to mid-size enterprises (SMEs), manufacturing productivity continues to increase. Widely used to perform dull, dirty and dangerous tasks, robots also help to augment labor, optimize operations and increase product quality for greater competitive edge. At the same time, the uptick in robot usage is helping to redeploy current workers to other value-added tasks, as well as create new occupations for current and newly hired employees such as:
Programmer: ideal for an experienced welder, this position can be solely dedicated to programming new robot jobs. This often entails using offline robot simulation and programming software such as MotoSim®, giving a programmer the ability to create, test and adjust a robot program or job from the convenience of a desktop computer before it is implemented on the factory floor. It is important for a robot programmer to keep current with the latest manufacturing requirements that may impact programming, and he or she should be prepared to help with robot (or workcell) design, assembly and maintenance as needed.
Robot / workcell operator: robots aid the workforce in a variety of ways, alleviating workers from the daily grind of performing dull, dirty and dangerous tasks. Redeploying manual workers to jobs such as loading and unloading of parts, checking part quality, or monitoring and reloading weld-wire and other consumables, can go a long way to sustaining a successful operation. These individuals are also helpful in jogging and resetting a robot in the event of a crash, saving time from having to call the robot programmer.
Robotic technician: companies that have a lot of robots, may choose to keep an in-house maintenance guru that can build, wire and test robotic systems as needed to keep operations running smoothly. This will minimize the need for service contracts and visits from robot integrators or manufacturers.
Workcell champion: a more complex position, this job entails someone who is completely accountable for existing robotic operations on the shop floor, ensuring full utilization and success of any robots and workcells, including implementation, maintenance, programming and operator training. To ensure the best ROI, a person in this position should also be tasked with looking for new parts to automate.
Rework / custom welder: while robotic automation is highly precise, sometimes, it is necessary to have an employee available to check for flaws or to touch up parts, as needed. Similarly, some companies cultivate customer satisfaction and keep competitive by offering custom welding, which is often done by a primary welder.
Tooling engineer: wide adaption of automation may require an employee that is focused on dedicated tooling design and fabrication. While this type of tooling tends to have higher initial costs, it may be more financially sound in the long run, given a knowledgeable engineer that can help oversee the design phase.
Controls engineer: a highly analytical person is best suited for this position and is responsible for ensuring that the best possible products are produced in the most efficient manner. This role is ideal for environments that have introduced a great deal of automation, and where every machine needs to communicate together.
Other positions: while the list of jobs created could go on and on, several other notable positions include logistics manager, operations manager, sales manager or representative, product technicians (depending on product line), purchasing manager or representative, and safety manager.
Because many of these occupations will demand a higher skill level, it is of the utmost importance for companies to have a comprehensive plan for upskilling current workers as production needs and initiatives change. Likewise, contributions should also be made to training future employees for a more sustainable workforce. This is often done through public-private sector collaborations, maintaining the positive impact that robots have already made.
Keep in mind, that while the shift to easy-to-use robots is lessoning training requirements for some of these positions, the demand for these jobs still exists and does not remove the need for human resource requirements (even though they may look slightly different in a few years).
Moving forward, traditional robots will continue to be widely used across the industrial landscape, while collaborative robots that work with or alongside humans will continue to permeate a wide range of markets. Each performing their designated tasks to positively impact production operations. Moreover, companies that choose to invest in robotic automation and successfully adapt to the organizational changes that it can bring will more than likely be able to handle market fluctuations with greater confidence and ease, retaining employees, staying profitable and keeping competitive1.
Interested in Upskilling?
If robot implementation will soon be a reality for your organization, it is important for employees that will interact with the robot(s) to have hands-on training in application-specific classrooms through an IACET ( accredited provider, like Yaskawa Academy. This will help to ensure robot uptime, worker safety and better ROI.
*1 The Impact of Robots on Productivity, Employment and Jobs, International Federation of Robotics (IFR), 2018
The content & opinions in this article are the author's and do not necessarily represent the views of RoboticsTomorrow
---
Comments (0)
This post does not have any comments. Be the first to leave a comment below.
---
Post A Comment
You must be logged in before you can post a comment. Login now.
Featured Product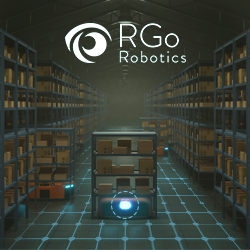 RGo's intelligent vision and AI system, Perception Engine™, provides mobile robots with 3D perception capabilities, enabling them to understand complex surroundings and operate autonomously just like humans. Its camera-based system operates is able to localize, map, and perceive in even the most robust environments including indoor/outdoor and dynamic or unstructured environments.